Get the Password
Click the Buy Now button. You will arrive at e-junkie, a fully automated and secure payment service that sends you the password immediately after you pay with a credit or debit card. Your statement will show a charge of $4.95 from Glenn McAllister.
The password is good for unlimited use. It will also work for new recipes and pages that are published on the website in the future where a PDF version is offered. BackpackingChef.com may offer additional digital products which will be sold separately, but this password will access all PDF versions available for content that appears on the website.
Two Serving Sizes with Calories
The PDF versions show two serving sizes –regular and large. The website versions only show the regular serving size. I've also calculated the approximate calories for each meal in the PDFs.
Adjustable Viewing
Increase the size of the text for easy reading by clicking the + button. The photos are larger also.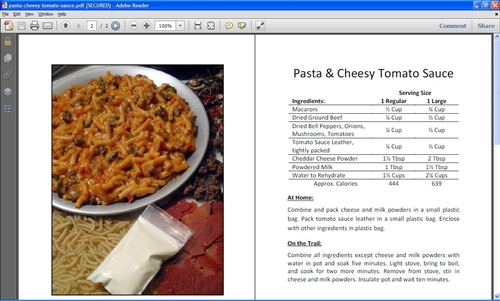 Easy Printing
Photos are always on the left, odd-numbered pages and the recipes are on the right in black and white. Save your expensive color ink by printing only the even-numbered pages. After you click the printer icon, change the Print Range from "All" to "Pages." Then enter 2 or 2, 4 for a 4-page recipe.
To print the recipes on 8½ by 11 size paper, select "Fit to Printable Area" from the Page Scaling field. This will give you an easy-to-read copy to take to the kitchen or to add to your collection of recipes in a notebook.
Enhance your viewing and printing capabilities while supporting the work at BackpackingChef.com.
Since building the first page, I've answered more than 1,000 questions sent in by readers. The free newsletter goes out to 3,200 subscribers monthly. Over 1,500 folks stop by the website every day for a heaping helping of first hand knowledge about dehydrating food and how to use it in recipes.

Thank you for your support!