I had hoped to send this second installment of Recipes for Adventure much sooner, but I got busy dehydrating food for this year's Appalachian Trail hike; and then I was on the trail for a month in Virginia. I had a great time rolling north for 380 miles with this year's wave of thru-hikers and will post the memories soon.
In the last edition of Recipes for Adventure, I discussed how to make healthy instant rice by pre-cooking and dehydrating brown rice. To add more flavor to the rice, I cook it in beef, chicken, or vegetable broth instead of plain water. Soy sauce and hot sauce can be added to the cooked rice for additional flavor.
If you missed it, you can read it here:
New Potato Bark Recipes
Another starchy food that carries flavors well when dehydrated is potatoes. Like brown rice, I make mashed potatoes with beef, chicken, or vegetable broth. I don't add any milk or butter because the potatoes would spoil due to the dairy fat.
To make Potato Bark, run the mashed potatoes and broth through a blender until smooth and then spread as thinly as possible on dehydrator trays covered with non-stick sheets or parchment paper. The web page has the specific details.
Do you like the tangy taste of barbeque? The Potato Bark page has been updated with new instructions for making Barbeque Potato Bark and a recipe for BBQ Beef Stew. You replace eight ounces of the beef broth with eight ounces of barbeque sauce.
While out on the Appalachian Trail this summer, I cooked Cheddar Mashed Potatoes as a side to my main meal on several evenings. I have added the recipe to the Potato Bark page.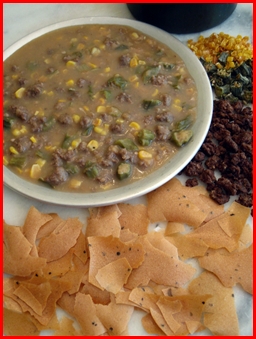 View the new Potato Bark recipes here:
Potato Bark, BBQ Beef Stew, Cheddar Mashed Potatoes
New Sweet Potato Bark Recipe
I love Sweet Potato Bark as a snack or as Mashed Sweet Potatoes. I have updated the Sweet Potato Bark page with a new breakfast recipe called, "Sweet Potato Apple Crunch." Eat it as a healthy dessert, too.
View the Sweet Potato Apple Crunch recipe here:
Sweet Potato Bark, Mashed Sweet Potatoes, Sweet Potato Apple Crunch
Your Best Backpacking Recipes
We've had several good recipes submitted recently. Congratulations to these winners of the monthly drawing for a free dinner and dessert prepared by Chef Glenn.
April: Dawat's Foil-Wrapped Veggie Dinner
May: Megan's Crunch Breakfast Banana
June: RollingStone's Chicken Carbonara
July: Tony's Cinnamon Breakfast Bannock
I'm still looking for more submissions and the monthly drawing is in effect through the end of the year. Let's see what you are cooking up. Click here to view the recipes or to submit a recipe:
Coming Soon…
2010 Appalachian Trail Journal
How to Dehydrate Tomato Sauce and Salsa
Chef Glenn's Stoves and Cooking System
Thanks for subscribing to Recipes for Adventure. Please let me know if you have any comments or suggestions about the newsletter.
Happy Trails,