Don't carry a jar of tomato sauce into the wild when you can dry it into tomato sauce leather at home before you go. Run your sauce through a blender to a smoothie-like consistency and spread it thinly on dehydrator trays. With tomato sauce leather, you can make all kinds of delicious, Italian-style meals like: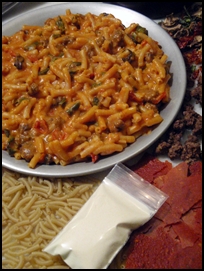 Macaroni with Cheesy Tomato Sauce
Unstuffed Peppers
Seafood Raminara
Spinach & Bean Raminara
Click here to learn how to make tomato sauce leather and use it in the above recipes.

I received an interesting letter from Amy in Washington State after the last newsletter. It's great to hear how folks are getting creative with their dehydrators. In 2011, I will add a new function to the website so that you can easily share your experiences on different topics.
Here is Amy's letter:
Thank you! I love your recipes. Once I started dehydrating I realized one can do just about anything for trail food. Sure as hell beats the MRE's I was conned into taking on my first backpacking trip. :-)
A friend made me a cheesecake in exchange for gifting her parts of my old dehydrator when it died and I went for an Excalibur. Not one to want to eat the whole cheesecake I turned it into cookies - I blended it with water and dropped it on the Teflon sheets and smoothed it out (a plastic melon baller seemed to work right for portions and smoothing). I had done that before with pumpkin pie (also blended). The pumpkin pie cookies (rounds) were a bit thick, the cheesecake a bit thin and fragile but wonderful!
Also, I've made chocolate pudding (Jell-O chocolate fudge mix) with bits of ginger in it. I blend the candied ginger with the milk before adding it to the pudding mix. If you like chocolate and ginger it is fantastic! And, the pudding gets a bit soft but not all melty in the heat the way chocolate candy does on the trail in the summer.
The other day I ended up with a pound of salad greens after a potluck – way more than I could eat before they would spoil. I chopped them in a blender, added them to hummus, mixed well, dehydrated it at about 130' to maintain the nutrients in the greens and then reduced it to powder.
I've dehydrated Spanakopita, stuffed grape leaves, whatever I have too much of. I blended the vegetarian stuffed grape leaves with yogurt into a paste, dried them and made them into a dip on the trail. My trail mates were put off by the color of the stuffed grape leaves but they tried them and discovered that looks aren't everything. The Spanakopita made great bark and great additions to a hummus wrap.
I must confess that a lot of the things that go through my dehydrator come from Costco - their apple pie is fantastic! The cherry pie they had last February turned into lovely pink chips.
Thank you for adding to the store of knowledge that keeps us happy on the trail! Amy
And thank you, Amy, for sharing these ideas.
I have wrapped up the "Best Backpacking Recipes" drawing for dinner and dessert prepared by Chef Glenn. Thanks to everyone who submitted a recipe. The submission form is still open if you have a good recipe to share.
The final three winners were:
Lucky's Beef Stroganoff
Tracy Stewart's Trail Tacos
PasnThru's Hudson Bay Bread
Click here to view these best backpacking recipes or to submit one of your own.
I hope you enjoyed the first few editions of Recipes for Adventure in 2010. If you missed any, I placed a link to back issues on the newsletter sign-up page. If you have any friends who would enjoy receiving the newsletter, feel free to forward this to them. If you are on Facebook or other social media, you can click the "share this page" button at the bottom of any web page.
I have something very exciting to announce in the January newsletter. Until then, I wish you safe travels during the holidays and a very Merry Christmas.
Happy Trails,



Chef Glenn at BackpackingChef.com