Every time my sweetie arrives from Switzerland, I meet her at the airport with a dozen red roses. When the roses wilt, I pull the petals off and dry them in the dehydrator. When she returns to Switzerland, she spreads the rose petals along her favorite hiking trail. In that way, we stay together.
Which leads me to the announcement I mentioned in the last newsletter – Chef Glenn is getting married! Dominique and I met on Facebook. She was looking for relatives in the U.S. and by chance some of those relatives turned out to be friends of mine from high school. We started chatting and fell in love. It's as simple and sensational as that.
We will live in both countries. I'll be sending dispatches from Switzerland soon. Dominique has a new bicycle waiting for me and the Alps are calling. We will backpack a bit of the Appalachian Trail for our honeymoon in September. I'll do the cooking.
Dehydrating Chicken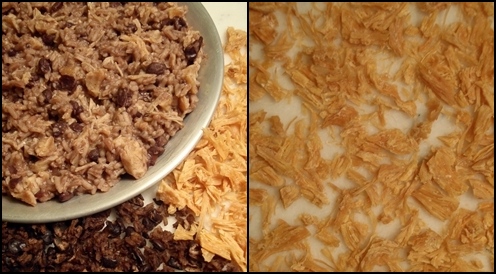 This month, the mystery of dehydrating chicken has been solved with the help of PasnThru. The chicken breasts that I had been cooking at home and dehydrating did not rehydrate well. The chicken was tough as leather. The secret to tender chicken is pressure cooking. I don't own a pressure cooker yet, but canned chicken is pressure cooked. You can read the details on the new page, Dehydrating Chicken.

Coincidentally, Squidbilly's Wife submitted a recipe recently for Jamaican Jerk Chicken with Rice & Beans. I made a batch and it was delicious and filling. I also received a recipe for Chili Corn from Mr. Dog. View these new recipes or submit one of your own at Your Best Backpacking Recipes.

I appreciate the encouraging notes you send on the contact form. Thank you for writing. I'm happy so many folks are upgrading their backpacking menus with nutritious, homemade food. I try to answer questions promptly, but sometimes I fall behind. The questions give me guidance on what content to add to the website or when something needs to be explained better. And, thanks to everyone who has submitted a recipe or a good idea.

That's all for now folks. Happy Valentine's Day! See you on the trail or back here at BackpackingChef.com.

Folgen Sie Ihren Hunger,




Chef Glenn at BackpackingChef.com