Dominique and I frequently walk to Jucker's Farm & Apple Orchard which sits atop a hillside overlooking the Lake of Pfäffikon, Switzerland. The apple harvest is in, so we loaded up a backpack with apples last weekend and made some awesome apple sauce.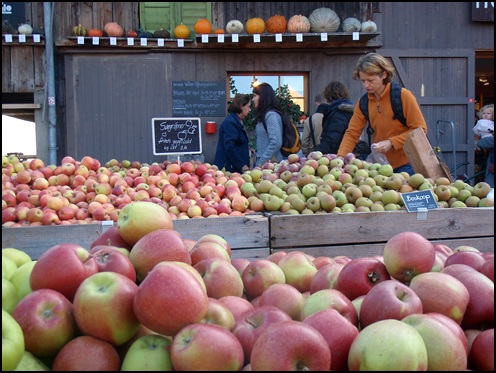 We choose a variety of apples for our apple sauce: Gala, Cox Orange, Sparta and Boskop. The apples were plenty sweet, so we did not add any sugar to the sauce.

We used eight small to medium size apples to make one batch. The starting weight before peeling and coring was 2 pounds, 11 ounces (1.23 kg).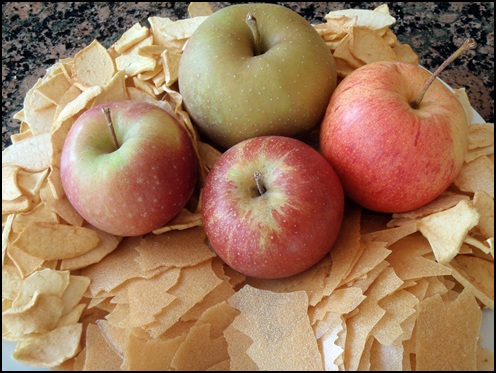 How to Make Apple Sauce
Ingredients:
8 Apples, peeled and cored
1 Cup Apple Juice or Cider
Small Pinch of Salt
1/8 tsp Cinnamon
Cut apples into small pieces and place in pot with apple juice, salt and cinnamon. Set stove temperature on high for five minutes and then reduce to simmer. Cover pot and simmer for thirty minutes. Allow mixture to cool. We let ours sit in the refrigerator overnight.
Put cooled apple mixture in a blender and blend until smooth. Eight small to medium size apples will produce approximately 32 ounces of apple sauce (946 ml).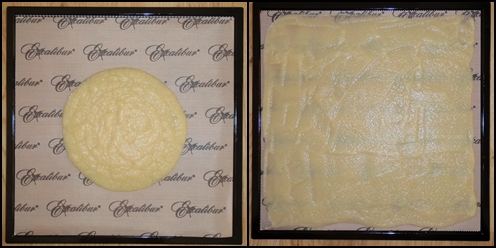 How to Make Apple Sauce Leather
Spread apple sauce thinly on trays. I use non-stick Paraflexx sheets with my Excalibur Dehydrator. Other dehydrators usually come with fruit leather inserts. One batch of thirty-two ounces covered two Excalibur trays. Dry the sauce at 135° for ten to twelve hours. After eight hours you should be able to peel your leather off the non-stick surface and flip it over, removing the non-stick sheet. Your apple sauce leather will be pliable when finished drying, not brittle. There should be very little tackiness when done, but there will be some tackiness, especially if you spread the mixture too thick.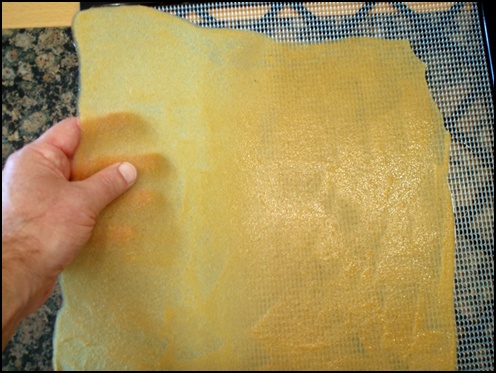 Roll up apple sauce leather with plastic wrap and cut it into strips to make fruit rolls or simply tear it into small pieces. Apple sauce leather will keep for a week or two in an air-tight container, but store it in the refrigerator for best results. Vacuum seal if you need to store it longer outside of the refrigerator. If vacuum sealing, roll the leather up with plastic wrap instead of tearing into pieces because the pieces will stick together from the pressure of vacuum sealing.

Apple sauce leather makes a delicious chewy snack or you can turn it back into apple sauce by soaking it for a few minutes in either cold or hot water.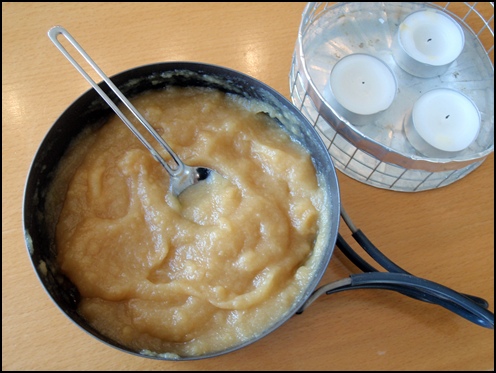 Combine an equal quantity of apple sauce leather with water. A half-cup is a good quantity for one serving, but it is so delicious that you could easily eat a full cup. Our eight apples produced two cups of apple sauce leather which weighed five ounces (0.143 kg).

I eat dried apples as snacks or in recipes every day when backpacking. For links to recipes such as Sweet Potato Apple Crunch, Apple Cinnamon Crunch Oatmeal, Apple Pie, and Granny Smith Pumpkin Apple Bark, visit my web page about Dehydrating Apples.

Chef Glenn Update:

In case you are wondering why you have not received a newsletter in a few months, it is because Glenn and Dominique got married in September. We exchanged our vows in an historic rock barn in the United States, but now we are back in Switzerland for the winter. Life is very good.

Wishing you glorious days in nature,



Chef Glenn at BackpackingChef.com

If you have any problems viewing the photos or links in this email, you can click on the free newsletter button on the home page of BackpackingChef.com where you will find a link to this edition of the newsletter as a webpage.