I recently finished writing a page about my alcohol and candle stoves. I cook a side of vegetables in a fry pan lid over three tea light candles while the main meal cooks in a pot over the alcohol stove. You know how Chef Glenn likes his vegetables! With this dual-fuel cooking system, I enjoy sides of mashed sweet potatoes, hot apple sauce, sweet corn, beets, mixed vegetables, and rice pudding.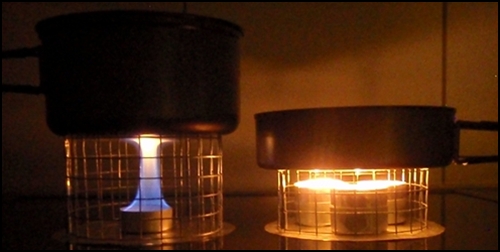 My alcohol stove is an empty tea light candle cup filled with alcohol. The cup weighs less than one gram. To use the alcohol stove and candle stove, all you need to do is make some pot supports and windscreens. The article shows you how I made mine.

Visit the Backpacking Stoves page.

I frequently mention using a pot cozy to insulate your meal after you remove the pot from the stove. A pot cozy saves fuel because the cozy holds the heat in the pot and continues the cooking process, eliminating the need for simmering. If you cook dehydrated backpacking food, your meal will finish rehydrating while staying hot in the pot cozy for ten minutes.

Visit the Pot Cozy page.

Cooking with a pot and fry pan lid is a big improvement over the tuna fish can I used to cook vegetables in. I recently added new photos and re-wrote the backpacking cookware page.

Visit the Backpacking Cookware page.

Recent Submissions to Your Best Backpacking Recipes:
Beef & Bean Burrito by PasnThru
Apple Cobbler by Shelley Lauzon
Cinnamon Biscuits by Mark S. Leathers
Click here to see these new backpacking recipes or to submit one of your own.
Thanks again to everyone who has shared their recipes. Good luck as you begin your food preparations for backpacking adventures in 2012. Dominique and I are in Switzerland for the winter with a section hike on the Appalachian Trail planned for late spring. The photo below was taken a few weeks ago at the Lake of Pfäffikon. It's a nice five-mile walk from my front door and around the lake.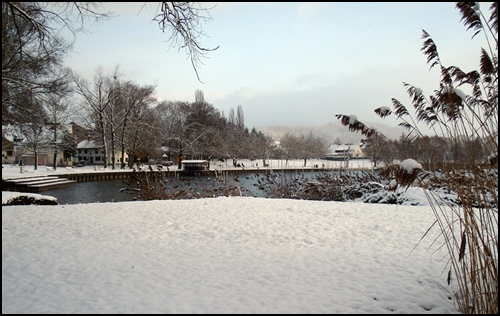 Warmest regards,


Chef Glenn at BackpackingChef.com