Thru-hiking Kitty
In 2010, I hiked for a month with a wave of Appalachian Trail thru-hikers in Virginia. I ran into James (Skidmark) and the thru-hiking kitty on my way up to Dragon's Tooth and snapped the photo on this month's cover. Skidmark and Dana (Sk'Rabbit) picked up the kitty near Damascus.
Here's the story and an update from Dana:
Skidmark and I found her along the highway near a truck stop in Abingdon, VA. She was all alone under a bush with barely enough strength to meow. At first I thought I heard a dying bird, which is why I looked under the bush in the first place. She was only about a month old when we found her. After much deliberation, we named her Yogi.
We took turns carrying her. She occasionally pooped or peed on us, but we soon realized that if she was restless and trying to get off the pack, it meant potty time. When hiking in the rain, I used an umbrella and Skidmark wore his raincoat like a poncho and draped the hood over her. I think the umbrella worked better.
We started testing to see if she would follow us after a couple weeks of carrying her. She would go a tiny ways, less than a 10th of a mile, until she was tired. By the time we reached Pennsylvania, she was walking a mile or two a day. In New Hampshire and Maine she sometimes walked four miles, keeping up the whole time. We let her walk as long as she would follow just so she would get tired enough to relax on the rest of the hike while being carried on the backpack.
Tons of day hikers asked what we fed her. We carried canned cat food for a month or so until she could eat dry cat food. She started catching mice in Massachusetts. If she wandered off while we were at camp or the shelter, we could trust that she would be back before bed time. She responded to whistling, like a dog, if it was time for her to eat.
I was quite a bit ahead of Skidmark by the time we reached Vermont, so he took her the rest of the way to Maine. I saw them a few times in Maine. Yogi now lives full-time with Skidmark in Georgia. Since I am in Maine, we both couldn't keep her after the trail. Hope you're well! -Sk'Rabbit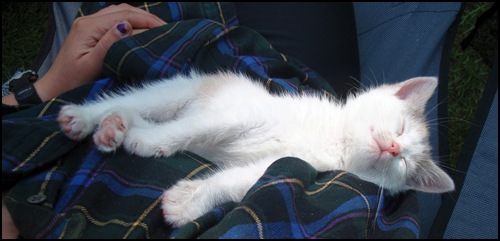 Dana Sk'Rabbit & Yogi
Don't forget... you can submit a photo for the cover of Trail Bytes here.
From the Mail Bag:
Question: My boyfriend is hiking the AT right now. I'm responsible for sending him maildrops to places where he doesn't have good resupply options. I was reading about dehydrating meats and shrimp. It looks to me like I can't send shrimp through the mail since it needs to be refrigerated until use. Is that correct? I want to make some of his meals unique, so he doesn't get too bored eating the same old thing. -Mary
Answer: You can send him shrimp, no problem. Dehydrated imitation crab meat is good, too. Keep it frozen until you are ready to pack the meals to extend its shelf life. If you are going to dry it and pack it within a few days, then you don't have to bother freezing it. You might want to read the section on packing. Vacuum sealing daily rations is a great way to store the meals in the boxes that you mail.
Question: I'm busy preparing many of your recipes for my husband's Appalachian Trail hike. Once I get a day's food supply ready, is it okay to seal them and store them in a cool place, meat included? I'm running out of freezer space. -Cathy
Answer: Go ahead and seal the daily rations if you are out of freezer space. This will also give your husband an opportunity to do a trial loading of his backpack. I usually carry between four and six days rations on the Appalachian Trail since there are many maildrop opportunities. Don't worry about storing dehydrated food in "cool" temperature after vacuum sealing. Normal conditioned household temperature is fine once you vacuum seal the food.
Sometimes the seals fail due to tiny perforations in the bag caused by a pointy piece of dried food. You may need to replace some bags. You will know within 24 - 48 hours if a seal failed as the plastic will not be scrunched around the food anymore. Number the daily rations so you can use the oldest first. I print and insert my daily menu on a paper towel with a number in the corner. Enclosing two paper towels, one above and one below the meals, can help prevent sharp food items from piercing the seal.
Print Recipes Directly from Web Pages?
Work continues on the e-book. It occurred to me that you might also like to print recipes directly from the web pages at BackpackingChef.com. I have added this capability to the Hawaiian Shrimp & Rice recipe. Basically, you click the link which opens a PDF version of the recipe that you can print easily. I would appreciate your feedback to see if you like this feature. There is a form right under the recipe for you to make comments.
Dehydrating Boots
Married life is good. I am becoming more civilized, taking off my boots before entering the flat and such. I suppose I shouldn't be surprised that Dominique requested that I refrain from drying my boots in the dehydrator. Something about germs or toe fungus in the same appliance that I dry her bananas in that she didn't like. So I guess this means that I CAN dry my boots in the Excalibur Dehydrator, but I MAY not.
This gave me the opportunity to remove the picture of my boots in the dehydrator from the Choosing a Food Dehydrator page. While I was at it, I rewrote the page with a more thorough analysis of the features of the three leading brands – Nesco, L'equip, and Excalibur.
I have placed a form at the bottom of the Choosing a Food Dehydrator page for you to share comments about YOUR dehydrator. I'd love to hear what you like or don't like about your dehydrator, what works well and what doesn't. Don't forget to include the manufacturer and model. Your input will help others who are getting ready to purchase one. It's very easy to submit your comments at the link below.
Update from Switzerland
Sunny days and t-shirt weather have arrived in Switzerland. Flowers and trees are blooming, but the pollen isn't as bad as what my friends back in Georgia are talking about. Dominique and I took a train ride and day hike earlier in March to Sedrun, a ski village in the Swiss Alps. Plenty of snow left up there.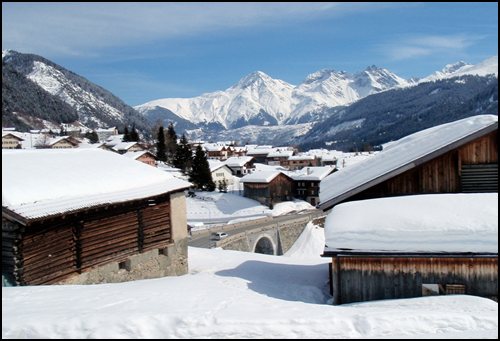 Thanks for your help and trust. I wish all the thru-hikers a grand adventure. And, thanks to all the support folks at home who are dehydrating and mailing food to their loved ones.

Warmest regards,




Chef Glenn & Dominique

PS If you have comments or questions about this issue of Trail Bytes, please write to me on my contact page.
I may update the newsletter with your comments in the archives.