Hello,



This month's cover features Mark Warren, a Dahlonega, Georgia based naturalist and wilderness skills instructor. I first met Mark when we both led hikes for a Nature Conservancy event called Celebrate Etowah. My hike was through the Etowah River headwaters area starting a few feet off the Appalachian Trail at Hightower Gap. Mark led a hike further downstream along a stretch of the Etowah River aptly named Chuck Shoals. I was familiar with that stretch of river for I had once been chucked out of my canoe there.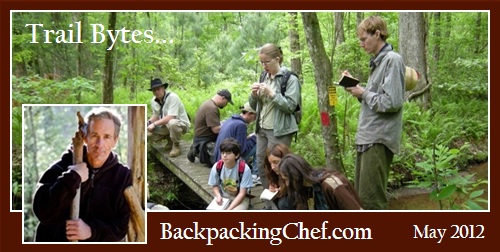 Mark's hike covered fifty yards, no more. We stopped every few feet while he showed us which plants you can eat and which ones cure ailments. I learned that a Mountain Laurel salad might satisfy a deer, but would surely kill me. Mark confided that he relocates the copperheads he captures at his wilderness school to the Etowah River headwaters area. Good to know.

Mark Warren's book, Two Winters in a Tipi, has just been published. Mark lost all of his possessions and several literary and musical compositions when his farm house burned down. In Two Winters in a Tipi, Mark tells us in his soulful and insightful voice, how he rose from those ashes to begin anew. His narrative of life inside and out of the tipi establishes Mark as one of the finest nature writers of our time. Worth its weight if you throw it in the backpack this summer!

Visit Mark's website, Medicine Bow to learn more about his Primitive Wilderness School or to purchase the book.

Q & A From the Mail Bag:

Lee Ann: We're preparing for a backcountry canoe trip in June in the Bowron Lake circuit in BC, Canada so your ideas/recipes for dehydrating are great. Why do you put your dehydrated meat in the freezer for storage? I have some of mine in jars, others in vacuumed sealed bags. Just wondering if I should put them all in the freezer? How do you thaw them before sealing everything up for a trip?

Chef Glenn: I store dried meat in the freezer if I don't plan to pack the meat right away for a trip. Basically, it stops the clock. I don't like to waste bags by vacuum sealing food more than once, so I store my dried meat in jars in the freezer. You don't need to freeze dried meat if you plan to eat it within a month or two, assuming you dried it well and used meat with low fat content. If you are going to keep dried meat in a jar for more than a month, consider using oxygen absorbers. Vacuum sealing helps organize and protect daily rations from air and moisture on a canoe outing.

When you remove dried food from the freezer, allow it to return to room temperature before opening the container and packing with other ingredients. Otherwise, condensation can form on the food. If this happens, pop it into the dehydrator for thirty minutes.

Your Best Fruit Leather Recipe

I've been munching on fruit leather all week. I don't really like the way home dehydrated blueberries turn out, so I mix a cup of blueberries in a blender with a banana and a tablespoon of blueberry jam. Strawberries, raspberries and blackberries can be combined with apples or bananas to make fruit leather that tastes better than the berries dried whole.

I added a new page to the website about how to make fruit leather. You will find simple fruit combinations that I like and a form at the bottom of the page for you to share YOUR best fruit leather recipe.

I already heard from Amy from Tacoma, WA with her method of drying Rhubarb rounds. She rehydrates them with her morning tea and eats them like jam on Rye Krisps.

Bev K from Australia submitted her Banana Biscuit Recipe which she enjoys with a cuppa.

Amy and Bev both dried their leather into rounds like cookies, only flexible instead of crunchy. I made some leather cookies with banana and pineapple garnished with coconut.

Visit Your Best Fruit Leather Recipe to see these recipes or to submit one of your own.

Enjoy the Memorial Day Weekend!


Chef Glenn & Dominique

PS If you have comments or questions about this issue of Trail Bytes, please write to me on my contact page.
I may update the newsletter with your comments in the archives.