Hello,



This month's cover of Trail Bytes comes from Pat Barnes of Georgia. Pat is section hiking the Appalachian Trail. A few weeks ago he came across these three bears in Central Virginia. Over the course of a week he counted eleven bears.

Suggestions from the Mail Bag

Liz: I wish that all your recipes had a "Print" button so that they could be printed without all the website menus.

I'd like to make your recipes part of my dehydrator bookshelf. I am also into dehydrating foods for longer-term shelf storage in case of emergency, and I like the lower cost of making my own, plus I love knowing what's in it, with no preservatives, additives, artificial flavorings or colors.

I want the rehydrating & cooking instructions where I can access them even if power is down for an extended period and I cannot get to my computer files or to the internet.

What I have to do now is to copy the text & photos from your website, throw it all into a Word document, and then format that sucker. I have to delete some of the long "columnar" photos because I cannot format them to fit the document. I wish they were separate pictures so I could use them individually with the info about the item in the photo.

Keep doing what you're doing. I'm really enjoying your website.

Wayne: I must congratulate you on a fabulous site once again.

Having done a lot of hiking and food prep for multi-day and multi-week expeditions I have become a real calorie counter. I want the smallest of weight food to carry the highest yield of calories possible and also be nutritionally sound.

It would be good for your site if you were able to calculate the approximate calories for various meals so that hikers can get the biggest bang out of what they are carrying.

Chef Glenn: Thank you for your suggestions. I have been working hard on these requests.

You will now find 32 recipes on the website available in PDF format for enhanced viewing and easy printing. The links are all listed on a new "Print Recipes" page which will serve as a Table of Contents for all available PDFs. My main activity in the days ahead will be to convert the dehydrating instructions into PDFs also and to integrate the links throughout the website.

It took a lot of research to collect calorie data from various sources, check my yield notes, and convert the calories in "wet" food to "dry" food. Chef Glenn had to exercise his brain with lots of algebra and fractions! The work is done now and the approximate calories for the recipes are included in the PDFs. Additionally, the PDFs list ingredients for two meal sizes – regular and large. The large sizes are 40% to 50% bigger than the regular size. I pack the regular size for myself, but I also prepare a side of vegetables and a dessert with my meals.

You need a password to open the PDFs. There is a small fee of $4.95 to receive the password. Once you have the password, it is good for unlimited use and will work for the additional PDFs that I will be posting in the days ahead.

Enhancing your viewing and printing capabilities with this small fee will support my work at BackpackingChef.com. It takes money and a lot of time to build and maintain a website. Fortunately, I enjoy all of the backpacking, cooking, and eating that goes into it.

What about the e-book? Since the completion date for the e-book looks like it will be after the hiking season, I felt it was important to provide the PDFs now so you could start using them right away. Additional PDFs, accessible with the password, will be added to the website as soon as they are created, rather than holding them until the e-book is finished. The e-book will sell for a little more, but you will be able to use the password to reduce the price by $4.95 if you choose to buy it.

Visit the "Print Recipes" page to see the list of recipes that are ready to download now and to get the password.

Update from the trail:

Dominique and I enjoyed some wonderful hiking and paddling this spring in Georgia. The photo below is from one of my favorite water hikes along the Jacks River in the Cohutta Wilderness. We're back in Switzerland now for the summer with plans to visit Lucerne.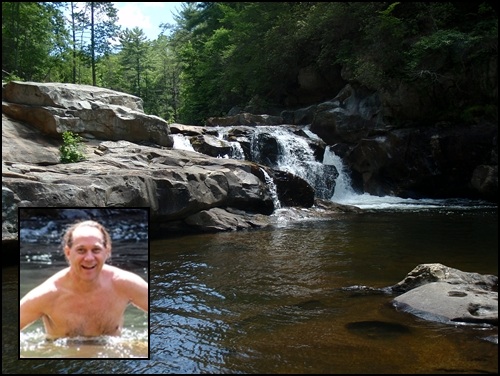 Thanks for your support. I hope you find the new enhanced PDFs helpful in your food preparations. Have a great summer!




Chef Glenn & Dominique

PS If you have comments or questions about this issue of Trail Bytes, please write to me on my contact page.

I may update the newsletter with your comments in the archives.