Hello,



This month's Trail Bytes features BSA Troop 107 from Corona, California rafting on the Kern River. The two guys in the inset are my nephews, Justin and Joshua Jones. Upon earning his Eagle rank last month, I asked Josh (background) what scouting means to him.

"The personal significance of Scouting derives from the countless experiences we have shared with fellow boys. From those memories, we procure a rare knowledge of the great outdoors that so few children learn of today. Furthermore, the Boy Scouts of America places heavy emphasis on admirable qualities that are necessary to the composition of fine young men. With such characteristics, we can reflect on current and past behavior for the purpose of becoming better individuals. Both of us really appreciate everything Boy Scouts of America has offered us and we hope to give back as adults." –Joshua Jones.

Congratulations to Josh and to all who contribute their time and talents to Scouting.

I have presented a few cooking demonstrations to scouts. Seeing the flurry of activity prior to the start of one meeting, I wondered if I could hold the boys' attention. The scout master assured me that I had two of the top three things that will hold a boy's attention – food and fire. We cooked peas over candles and they gobbled them up.

From the Mail Bag:

Ashley C: Have you had any luck dehydrating risotto? I would like to dehydrate my eggplant risotto leftovers to take them on a backpacking trip.

Chef Glenn: The two main benefits of precooking rice and drying it is that you can add flavors to the rice when you cook it and you can then cook it on the trail as fast as instant rice, saving fuel.

Risotto is made from short grain rice which releases more starch than long grain rice when you cook it. The only difference when dehydrating risotto compared to long grain rice is that it is more stuck together when you start dehydrating it. All you have to do is pull it apart after three hours and then once more an hour later when it is almost dry. It's easy to separate the nearly dry risotto by crumbling it in your hands over the dehydrator tray and then spreading it back out for the last hour of drying. It doesn't matter if some of it remains stuck together, as long as it is dry all the way through, because it separates when you heat and rehydrate it.

Dominique and I made a delicious mushroom risotto with saffron which we dried. You will find the recipe on a new web page, Dehydrating Rice and Risotto. If you follow the link trail from there you will find some new backpacking rice recipes I have added this month including Curry Chicken & Rice, Salsa Rice & Beans, and Rice Pudding.
Michael C: Might I suggest as an incentive to "purchase" your PDF files, that the small fee of $4.95 be applied to the purchase of the e-book. Win-Win?

Chef Glenn: Yes, absolutely. When you purchase the $4.95 password to view and print individual PDFs on the website, you will be able to apply the $4.95 cost to the purchase of the e-book which will sell for $9.95. With the e-book, you will still be able to print individual PDFs from the website, but have the added benefit of being able to print the whole e-book at one time.

Birthday Present: To celebrate my birthday on Sunday, I'd like to offer a special present to you and receive one at the same time! Purchase the $4.95 password between now and August 31, 2012 and you will get the e-book for no additional charge. I will send a special discount code to password purchasers when the e-book is ready. (Not before) This includes everybody who has already purchased the password.

I am working hard to finish the e-book by September or October while at the same time adding more PDF pages to the website. I'll have PDFs for the breakfast and dessert recipes up soon followed by all the dehydrating food instructional pages. The password is good for unlimited use.

Get the Password & Save $5 on the e-book Until 8/31/12. Thank you!

Other than that, rumor has it I will receive a proper Swiss watch and a carrot cake from Frau McAllister.

New Recipe Submissions:

Patrice's Mulberry-Sour Cherry Fruit Leather, Michelle's Vanilla Scented Strawberry-Rhubarb Fruit Leather, and Tory's Brown & White Chocolate Plop Cake. Thanks for sharing!

Visit Your Best Backpacking Recipes to see these recipes or to submit one of your own.

Update from Switzerland:

We have seen two ugly ducklings on the lake this year. Last year there were six.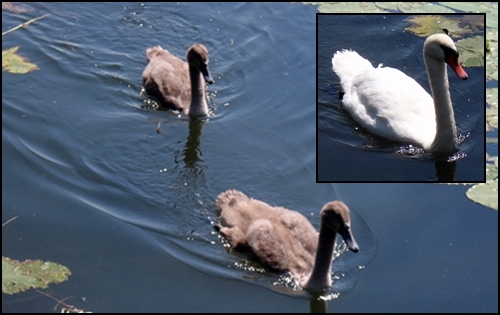 We wish you a summer filled with great adventures.

Freundliche Grüsse,




Chef Glenn & Dominique

PS If you have comments or questions about this issue of Trail Bytes, please write to me on my contact page.
I may update the newsletter with your comments in the archives.