Appalachian Trail Journal Day 1
Low Gap, TN US Rte 421 to Double Springs Shelter
3.5 Miles
I met my friends Randy and Carole and their children Ethan, Will, and Ava at the truck stop in Ringgold, Georgia. They were moving from Georgia to Vermont and offered me a ride to Tennessee in their rented moving truck. As it turned out, their stuff exceeded one truck's capacity, so I ended up driving a second, similarly stuffed truck, to Bristol, Tennessee and then Carole took over from there. We arrived at the trail late afternoon. Carole and the kids hiked the first hundred yards with me. After hugs and a picture, I turned south towards Georgia and they headed north to a new life in Vermont.
My new life, as Appalachian Trail sojourner, began with the 30 pounds of cargo on my back. The sky was overcast and when the light breeze died down, the gnats came out to greet me.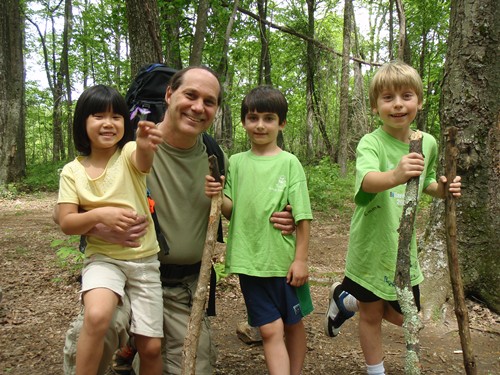 I stopped and chatted with the first of many northbound thru-hikers who I would meet over the coming month. Note to self-- remove pack when having long conversations on trail. Strider, a tall and lean college student from Pennsylvania, told me he eats 4,000 – 5,000 calories per day. Most thru-hikers don't eat that much and consequently lose weight. For one meal, Strider combines a whole box of macaroni and cheese with a package of instant mashed potatoes. Yum? For a hungry thru-hiker… you bet.
I ambled into Double Springs Shelter around suppertime, my fresh legs feeling confident and only a few beads of perspiration rolling down my brow. My shirt still smelled like clean laundry. With the first three miles checked off my itinerary, I imagined myself cake-walking all the way back to Georgia-- one of several delusions the trail would convict me of soon enough.
Eddie, from Easton, Pennsylvania, was already settled in for the night and simmering some noodles. After a little chitchat, I fired up my homemade alcohol and candle stoves for a first supper of Beef Stroganoff, a side of peas, and Grahma Nanna Nilla Pudding for dessert. The candle stove did a fine job of warming and rehydrating the peas and then the bananas.
After supper I attempted to hang my food bag from a tree limb using the PCT (Pacific Crest Trail) method. The advantage of the PCT method is that the rope dangles loosely from the food bag so a bear can't break it like he could if the line was tied tautly to another tree. Of course, it helps if one practices the PCT method a few times before entering the woods. I had a hard time pulling the bag up over a flimsy branch and then tying the clove hitch knot in the rope above my head around the twig that would catch in the carabiner next to the suspended food bag. Get that? Unfortunately, shelter areas do not usually present you with the perfect branch at the perfect height to toss a line over. So, this first night I tied the line off to another tree and hoped for the best. More practice tomorrow.
Continue Reading...