Appalachian Trail Journal Day 12
Uncle Johnny's Nolichucky Hostel, Erwin, TN to near No Business Knob Shelter
6.1 miles
I eventually rose from the soft mattress and made my way to the bathhouse for another shower… just because I could.
I cooked a package of Golden Grain Chicken Flavored Fettuccini for breakfast which I had carried since Mountain Harbour Hostel. After breakfast, I restocked my pack and reorganized myself. My food drop had arrived safely with four days provisions plus I purchased some Gator-aid powder and three Snicker Bars for later.
I mailed my cell phone home because I could not get a signal with A T & T in the mountains. Verizon worked better for other hikers. I drew up a new, less ambitious itinerary with a better understanding of what my body was capable of. My objective was to enjoy myself and not worry about meeting unrealistic mileage goals.
I joined a van-load of thru-hikers for Johnny's lunch shuttle to the AYCE Pizza Plus. I think the Plus stands for salad bar, which I stocked up on. The guy across the table from me was dipping his cinnamon and sugar glazed dessert pizza in chocolate pudding which I thought was over the top. Of course, I had to try it… and liked it. Across the street, I picked up some Aleve which I planned to alternate with the Motrin I was already taking.
Back at the hostel, a thunder storm rolled in, so I wrote in my journal on the front porch of one of the cabins until it passed. Six young men decided to stay another night. They had been hanging out for a week now, sucked in by the creature comforts… and Johnny's afternoon beer run. I was lucky to escape by late afternoon.
The climb out of Erwin was steep but manageable with the switchbacks. Every few hundred yards a better view opened up looking down at the Nolichucky River. As I turned away from Erwin at the last overlook, a train barreled through town blowing its whistle. I had felt the rumbling trains and heard their whistles a few times during the night. A little further up the trail, a couple of hikers coming my way said the No Business Knob Shelter was full. I thought about hiking beyond the shelter, but it was getting dark due to the storm clouds rolling in.
I spotted a clearing with a couple of pine trees close enough together to string up my tarp quickly. With thunder booming nearby and a few advance rain drops hitting my head, I got right down to business. It started pouring just as I tied down the last corner guy, and I ducked under the tarp with my pack in the nick of time. I tied down two side guys by extending my arm from under the tarp.
The scent of pine breezed through the tarp as pine boughs were whipped about by the wind and rain. The view past my feet was of the large evergreen trunk holding up that end of the tarp, the Appalachian Trail cutting perpendicular behind it, and pine needles blanketing the forest floor to the edge of denser and darker forest which my vision could not penetrate. That's where I imagined a bear would come from.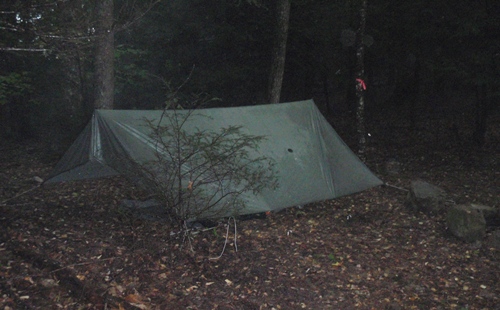 I didn't venture out into the rain to hang my food bag. I skipped supper so that I wouldn't create any cooking odors. My fingers smelled like a Snicker Bar and I had one more in the pack. I know for a fact that bears enjoy a good Snicker Bar. On the bright side, I was dry and comfy camped out over soft pine needles. I ate the other Snicker Bar and fell asleep. During the night, I dreamed a bear stuck his nose under the tarp and inhaled deeply at my ribs. I felt his hot breath moving up my body. My arms and legs felt paralyzed. Then I woke up. It rained most of the night and grew cold. I was eager for sunrise.
Continue Reading...