Appalachian Trail Journal Day 14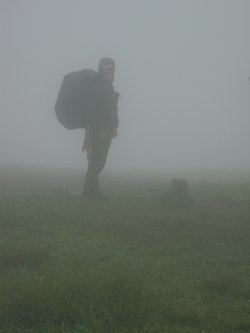 Bald Mountain Shelter to Hogback Ridge Shelter
10.1 miles
It rained all day, so I had to go slow due to the slippery mud. This is not hiking- it's slogging. The first mile of the day was uphill to Big Bald. When I got to the top, I saw the silhouette of a lone backpacker standing in the midst of dense fog. She turned towards me, so I asked her to turn back to the side and hold still while I took her picture. She took one of me also. You never know where you might find a Kodak moment and a kindred spirit. I wish you many sunny days, Kendra from Nashville!
The rest of the day was downhill to Hogback Ridge Shelter. My damp clothing was a poor defense against the cold air that arrived at the shelter with me early evening. After hiking several hundred yards down the blue-blaze trail for water, the first order of business back at the shelter was to change into my burgundy long johns and forest green fleece top. I wore my beige hiking shorts and hazel green t-shirt over the long johns. My wardrobe fit in well with the fashion savvy crew occupying the shelter this evening.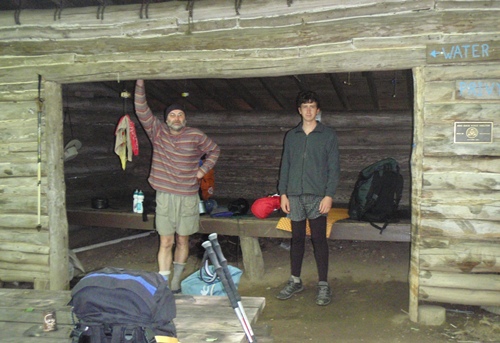 Randy, from Kentucky, wearing a horizontal striped fleece Henley and beige shorts, prepared himself a tasty looking dinner consisting of a box of Annie's Cheesy Shells, salmon, and corn. Randy mentioned he once added a Snicker Bar to macaroni and cheese and it was pretty good. I can't remember what Skylar from Indiana ate, but he cut a dashing figure in black and grey checkered boxer shorts over black long johns, a charcoal grey, full-zip fleece top, and matching camp shoes in two-tone grey. For dinner, I prepared Lasagna with a side of Ratatouille, and Grahma Nanna Nilla Pudding for dessert. Randy and Skylar rolled cigarettes after dinner. Kick 'in back in style, man.
After dark, half a dozen wet and muddy hikers arrived, filling the shelter to capacity. I was the sardine against the wall. I like sleeping next to the wall even though mice use the ledges between logs as transportation corridors during the night. I inserted my ear plugs and pulled my buff over my ears to muffle the scurrying sounds of mice and the loud snoring of one of the guests. This particular guest forewarned us about his snoring and we all agreed it might serve as a bear deterrent. I slept on my stomach using my arm for a pillow and pulled my sleeping bag over my head. Occasionally, I would stick my nose out for air and switch arms when my fingers went numb from the weight of my head.
Continue Reading...