Appalachian Trail Journal Day 16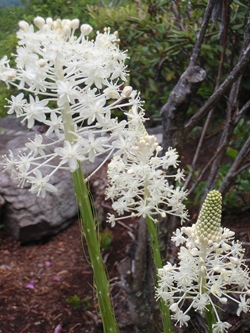 Flint Mountain Shelter to Hemlock Hollow Hostel
16 miles
With nobody to talk to, I was on my way early after a pot of Oatmeal with Fruit and Chocolate. The sky was grey, a compromise between sunshine and rain, with neither prevailing. I gained 1200 feet of elevation over the first four miles to the top of Big Butt. A coyote trotted across the trail ahead of me.
From the top of Big Butt, the trail went mostly downhill to Jerry Cabin Shelter. I refilled my water bottles, but decided not to stay for lunch since there were a lot of flies buzzing around the shelter. I had snacks in my pockets to hold me over.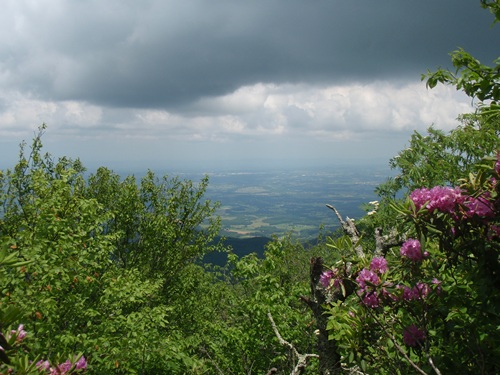 After three miles, the trail went up to an exposed ridge where Rhododendron bloomed in fuchsia pink and Mountain Laurel bloomed white. Every nook and cranny between the large rocks bloomed and buzzed with life. I saw a plant I had never seen before with sparkler-like white flowers tapering to a cone tip at the end of a hairy green stalk.
I saw unusual beetles making whoopee on beds of flowers, the flowers themselves ripe with pollen. Beyond the ridge, mountains rose up as far as you could see on both sides. I lingered in awe of the beauty, but eventually picked my way over the rocks and back down under the tree-line.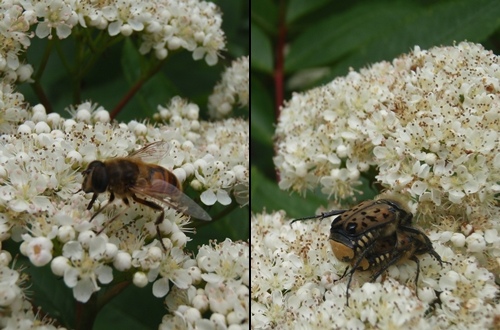 I entered a shadowy tunnel of Rhododendron with beams of sunlight breaking through. The space twinkled with little white moths fluttering everywhere. They reminded me of angels from heaven as their wings caught the light. Perhaps this was heaven. It would do for me.
A short distance later I took a blue blaze trail out to Blackstack Cliffs where I removed my pack and laid myself out on a flat rock jutting out of the cliffs. Here I am God. Come and get me. And God said, "I already have you." O.K., God didn't actually speak to me. I'm no Moses. I just got the message.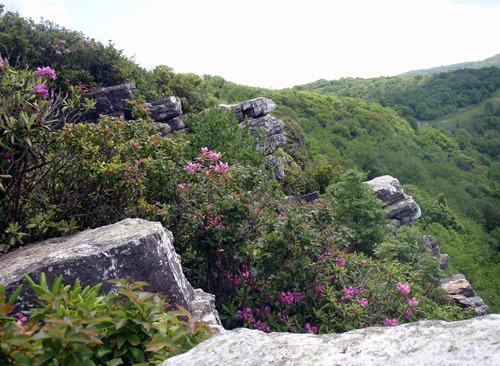 I reached Little Laurel Shelter late in the afternoon. The gnats had been waiting for me. They drew blood from my arm before I could pull an insect repellent wipe from my pack. I grabbed a few more snacks out of my food bag and got the hell out of there. Lunch postponed again!
The four mile walk from Little Laurel Shelter to Hemlock Hollow Hostel was all downhill or level, and the trail was smooth and dry. You know what that means… time for spontaneous singing! I sang in Spanish and Italian, although I do not know either language. I call it singing in tongues. I rolled my Rs and ended most lines with the letter O. I sounded like a cross between a mariachi singer and an opera singer.
I was sung out by the time I reached the hostel around suppertime. After a shower and laundry, I cooked a delicious meal of Mexican Beef and Rice with extra corn. For dessert- Pineapple Upside Down Cake! The bunkhouse was spacious with a big table and kitchenette. The porch overlooked a creek. Tonight I had it all to myself.
Continue Reading...