Appalachian Trail Journal Day 18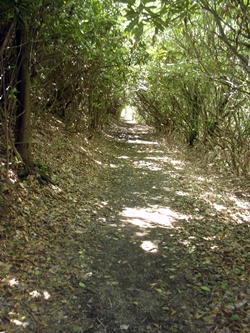 Duckett House, Hot Spings, NC to Walnut Mountain Shelter
13.1 miles
Somebody shoot that rooster! He apparently doesn't know that he is supposed to refrain from cock-a-doodle-doing until sunrise. I walked into town for breakfast at the Smokey Mountain Diner and then over to the library to send e-mails. Since I wasn't going to make it all the way back to Georgia, I had to try and find a friend who could fetch me eleven days from now at the Nantahala Outdoor Center in Wesser, NC. I stopped to pick-up a backcountry camping permit for Smoky Mountain National Park at the Hot Springs ranger station, but the ranger station was closed. That put me in a bad mood because it meant I would have to walk three miles out of my way to get a permit when I got to Davenport Gap.
Today was mostly up, up, and up. At least the trail was dry and firm. It leveled off for a while, but didn't quite make it up to the ridge top for a view. I rounded a bend late afternoon and was greeted by a pleasant breeze, so I plopped down next to the trail for a lunch break. I didn't feel like pulling out my pot and stove, so I ate Vegetarian Ramen Noodles without cooking. Crunchy Ramen Noodles are pretty tasty. I also ate a side of Ratatouille and peach cobbler without rehydrating or cooking. On the way to Walnut Mountain Shelter there were signs posted about a bear that had been aggressively stealing food, so I thought it best to refrain from cooking and creating food odors.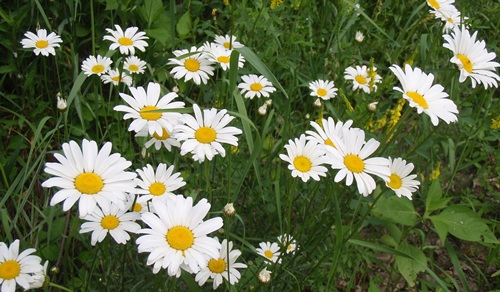 At Garenflo Gap, someone had left a large Rubbermaid container filled with water bottles and plastic bags containing snack foods. I assumed that someone had attempted to resupply a group. They had secured the lid with a bungee cord. A bungee cord probably looks like the handle of a picnic basket to a bear. Needless to say, the area was littered with empty bottles, bags, and wrappers. A few hundred yards down the trail, I saw a pile of bear scat in the middle of the trail with a Snicker Bar wrapper in it.
It was almost dark when I arrived at Walnut Mountain Shelter. The last mile was a grueling ascent and I was tired after hiking thirteen miles on a hot, humid day. I shared the shelter with Mike and Dave, a couple of nice section hikers from Michigan and Florida. They were already cooking, so I abandoned my plan not to cook. Good thing my dinner only required a cup and a half of water because there was no water at this shelter. After Hawaiian Shrimp and Rice with a side of broccoli, I hung my food bag from the bear cables and called it a night. I slept well despite the mice scampering everywhere during the night.
Continue Reading...