Appalachian Trail Journal Day 19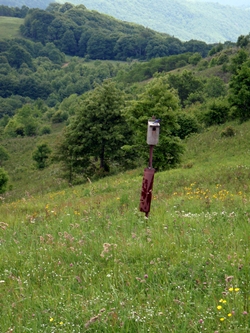 Walnut Mountain Shelter to Groundhog Creek Shelter
13.1 miles
After Granola Cereal with strawberries and milk, I headed out for the anticipated views up on Max Patch. The hiking was moderate and the temperature and humidity rose steadily during the morning with overcast skies. I stopped at Roaring Fork Shelter to air out my feet and make a pot of Bean Bark Stew, and reached the summit of Max Patch Bald a couple hours after lunch.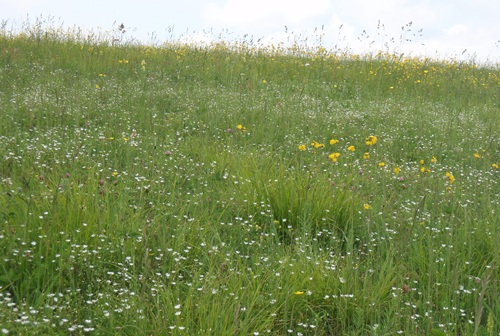 The bald was filled with tiny white and yellow flowers, and grain heads on grasses swayed in the breeze. The Appalachian Mountains extended as far as I could see in every direction. I unbuttoned my shirt and laid flat on my back listening to bees go by while the breeze dried the sweat off my chest. I could have drifted into a nap, but I heard thunder in the distance and dark clouds were rolling in. Time to move on!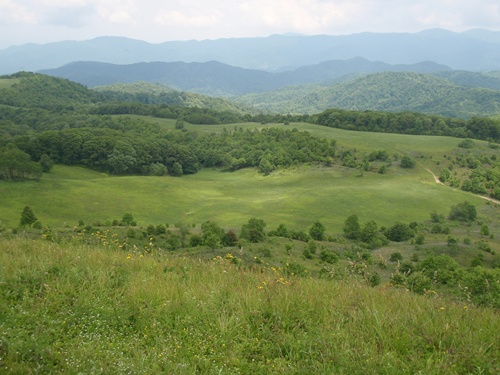 A couple hours later, a nasty cloud pummeled me with rain. I quickly threw on my pack cover/rain jacket, but the rain ran down my legs and socks, totally soaking the insides of my boots. Note to self- look into gaiters for next hike. Wherever the trail went up, a raging creek came down. As if that wasn't enough, lightening crackled, flashed, and boomed directly overhead. After two hours of slogging thus, I finally turned off on the short side trail to Groundhog Creek Shelter. With only a few more paces to the shelter, I slipped on a muddy slope and came down on my left butt cheek and leg. Fortunately, I missed the protruding rocks and roots, so the only consequence was more mud on my leg and shorts. I was not exactly clean to begin with.
The shelter was full with six men, but three of them left shortly so there was room for me. The rain stopped for a few hours, so I cooked Tuna Fish Casserole with a side of peas and apple pie for dessert before changing into dry sleeping clothes. I shared the shelter with Don, Rick, and Eric from south Florida, who seemed like brothers, but were actually related by marriage. We discussed, among other things, Cuban cuisine. Everybody except me smoked a big stogy after supper. Don offered me ear plugs in advance of his snoring, but I already had some. Sure enough, Don snored and the rain poured all night long.
Continue Reading...