Appalachian Trail Journal Day 21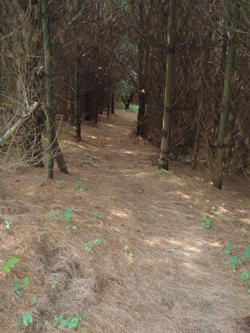 Standing Bear Hostel to Tri-Corner Knob Shelter
15.6 miles
Standing Bear Hostel has a well-stocked pantry, so I purchased and cooked three eggs for breakfast. My boots were dry thanks to the electric boot dryers available at the hostel. Curtis, the owner, gave me a lift to the ranger station to pick-up a Smoky Mountains camping permit and then to the trail. As I walked into the forest, I realized I had left my hiking poles back at the hostel. Luckily, I caught him before he pulled away and we went all the way back for them.
The hiking was uphill most of the day, but the ascent was gradual and not too difficult. The early part of the day was foggy, so any potential views were cloaked in a misty abyss. The sun broke through here and there later in the afternoon. Although the long views were shrouded, the day offered many beautiful through-views where I went through tunnels of rhododendron and dense pine trees. Ferns, leafy green plants, delicate grasses, and carpets of moss grew along the trail's edges. Rays of sunlight occasionally filtered through the dense canopy. A deer walked down the trail towards me and merely stepped a few feet off the trail and went around me.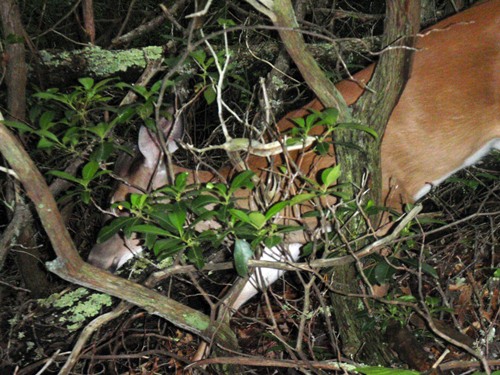 I stopped at Cosby Knob Shelter for a late hot lunch of Spanish Rice with Beef. I still had another eight miles to go and it would be dark by the time I reached Tri-Corner Knob Shelter, so I figured this might be my last cooked meal of the day. There were reports of a problem bear hanging around Tri-Corner Knob Shelter, so I didn't want to create any cooking odors when I got there. A ranger had slept at the shelter two nights ago and shot the bear with a bean bag gun. I'm not sure what a bean bag gun is, but hopefully it causes enough discomfort to discourage the bear from coming back without harming him.
As it turned out, eight thru-hikers were already at the shelter when I arrived just before dark and everybody had their stoves fired up. I joined in with a pot of Pasta Marinara with Beef, side of Ratatouille, and Grahma Nanna Nilla Pudding for dessert. Three of the thru-hikers were recent college grads from New Jersey. I wished I had the free time to do the whole trail like them. There was no sign of the bear this evening. I had to sleep with all my dry clothes on due to the cold air that rolled in with the mist.
Continue Reading...