Appalachian Trail Journal Day 22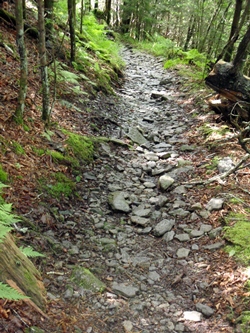 Tri-Corner Knob Shelter to Icewater Spring Shelter
12.6 miles
Over the course of the day, the trail gained and lost 500' of elevation every couple of miles, but ended up at roughly the same 5800' where I began. I stopped for lunch on a rocky outcrop at Bradley's View with a couple of volunteer trail maintainers, James and Tom, from the Smoky Mountains Hiking Club. They were clearing dead Spruce trees that had fallen across the trail. The Spruce Firs in the Smoky Mountains have been decimated by an invasive aphid called the Balsam Woolly Adelgid. This is a different species of aphid from the Hemlock Woolly Adelgid, which is killing our Eastern and Carolina Hemlock trees.
Since we were both low on water, Tom took me down an overgrown trail to a piped spring past False Gap Shelter which was abandoned in 1965. Only the rock walls remained. The large plastic pipe at the spring showed obvious signs of bear teeth. Apparently, bears like to chew on plastic pipes.
I perched on a rock with a view at Charles Bunion, a high-elevation rocky ridge, before hiking the last mile to Icewater Spring Shelter. There were five people at the shelter. Everybody besides me was dining on Mountain House or Backpackers Pantry freeze-dried meals. I cooked Cheddar Herb Chicken with Pineapple Upside Down Cake for dessert.
A young man didn't finish his meal and asked his father what he should do with it. The father told him to scrape it into the privy, so I interjected myself and let them know that was a bad idea. Food = Bears, even in the privy. A short while after everybody got their food bags hung from the bear cables, a bear came and swiped at the cables trying to shake loose a bag. We went out and shouted at the bear and he walked away in no particular hurry.
The father-son team got a nice fire going in the fireplace of the shelter and I positioned my damp socks nearby. More hikers arrived later, filling the shelter to near capacity. I occupied my usual spot against the wall. A mouse nibbled on my thumb during the night. After several weeks of sharing shelters with mice, this concerned me little. He didn't break the skin, so no harm done.
Continue Reading...