Appalachian Trail Journal Day 23
Icewater Spring Shelter to Double Spring Gap Shelter
13.8 miles
After Green Grits & Ham for breakfast, I filled my water bottles at the piped spring. Somebody had washed the oatmeal out of their pot. No wonder the bear likes this shelter so much. The first three miles to Newfound Gap were mostly downhill followed by a long ascent to Clingmans Dome. It was a shock to the system to be amongst all the cars, motorcycles, and tourists at both view stops after being in the woods for so long.
Shortly after ducking back into the woods past Newfound Gap, I met Brian Davidson, a Ph D student from the University of Maryland. He was studying an isolated population of Black-capped Chickadees in the Smoky Mountains. He stretched a mist net across an open spot along the trail with an Eastern Screech Owl (stuffed) perched at the bottom. A CD player played pre-recorded distress calls of chickadees. If any were in the area, they would try to chase the owl away and fly into the net. If he caught one, he would put a band on its leg and take a DNA sample before releasing it. While we were talking, he caught a Dark-eyed Junco in the net. I found it interesting that the Junco responded to the distress calls of chickadees.
It was overcast when I arrived at Clingmans Dome, so I didn't walk up the circular concrete viewing tower. On a clear day, I'm sure it provides a spectacular view at 6643' in the sky. As backpackers are fond of saying, it was all downhill from there, although the last three miles to Double Spring Gap were strewn with rocks.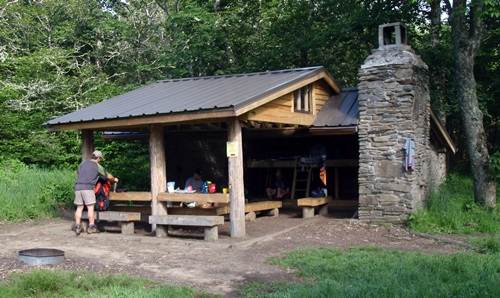 I shared the shelter with Jamie and Chipper, a couple of nice guys from Nashville who were at the shelter with me the night before. For supper, I enjoyed Kick in' Veggie Mac & Cheese, a side of asparagus, and apple pie for dessert. The shelter sits right on the Appalachian Trail with a small field in front of it. Three deer grazed with little concern about us. I saw a couple of bears during the day near Newfound Gap, but none tonight. During the night, chipmunks jumped down onto the roof of the shelter and ran across, over and over.
Continue Reading...