Appalachian Trail Journal Day 24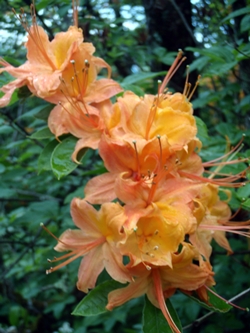 Double Spring Gap Shelter to Spence Field Shelter
13.5 miles
I awoke to sunny blue skies. The deer had returned to graze our little field. Chipper gave me some dried blueberries which I added to my oatmeal with peanuts and chocolate. The first seven miles of the day were a walk in the park with lots of level hiking over firm trail and gentle ups and downs. I stopped for lunch at Derrick Knob Shelter and fixed Vegetarian Corn Bark Stew with milk and cookies for dessert.
Several steep ascents followed the lunch break to Thunderhead Peak and Rockytop. I was rewarded with spectacular views of the mountains in every direction. In the near view, blooming Rhododendron and Flame Azaleas surrounded large rocks, and delicate grasses somehow thrived in the sandy soil.
I sat there for quite some time marveling at the beauty. My pace slowed today, not because of the terrain, but because I was becoming conscious of the fact that my time in the woods would be coming to an end in a few days. I wished I could stay out a little longer.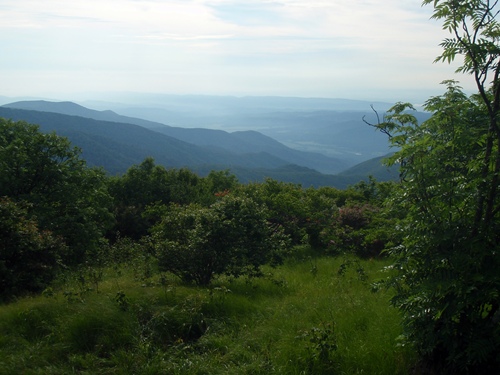 I travelled through mostly hardwood forest today with lots of Ash trees. All along the trail you could see where hogs had been rooting around. The hogs are non-native and cause problems by competing for the same food with native species such as turkeys, and they also destroy sensitive vegetation. I heard about a ranger who was out on a recent night hunting hogs with his son.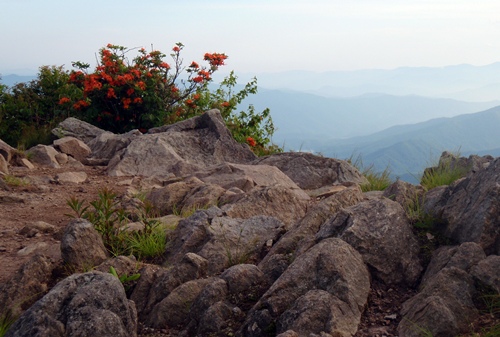 I tried very hard to take a picture of a Pea Hen that crossed my path but she outmaneuvered me. I think she had chicks nearby and was trying to lead me away from them. Just before Spence Field Shelter, I walked by expansive patches of wild blueberries and blackberries. The bears will be happy when the berries ripen. The trees near the shelter were short and widely spaced over waves of fine green grasses.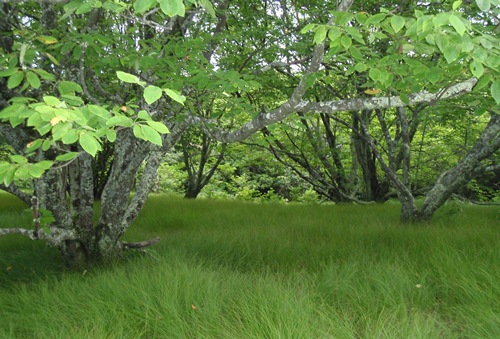 I arrived at the shelter with just enough time to chef up a pot of Beef Stroganoff, but postponed Trail Angel Cake until tomorrow. The shelter was close to full house and one of the guests came back from the spring saying there was a bear hanging around. I needed water, so I asked a few hikers to walk down to the spring with me. I thought I might get a photo-op with the zoom. The bear was still there, but he walked a little ways into the woods when we yelled at him. Later, I was told that bears may respond to a flashing camera by approaching rather than running away. They have learned that some humans throw food at them in order to get a picture. I also heard stories about bears trying to catch the rocks that people were throwing at them, thinking it might be food.
Continue Reading...