Appalachian Trail Journal Day 26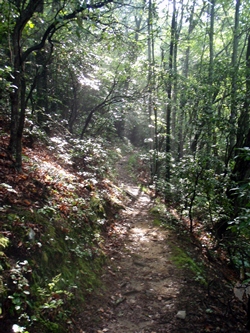 Fontana Dam to Cable Gap Shelter
6.6 miles
Jeff gave me a bar of soap, so I returned to the bathhouse for another round of wash and dry. For breakfast, I cooked Mountain House Freeze-dried Eggs with Ham and Peppers that Jamie from Nashville had given me a few days ago. It was pretty good, but would have been really good wrapped in a tortilla with cheese.
I walked on the Appalachian Trail to the Fontana Dam Reception Center and called for a shuttle into Fontana Village which is a nice little vacation spot with cabins and campsites.
The laundry is right next door to an ice cream shop, general store, and post office. I sat there in my bathing trunks and rain jacket while everything else was in the washer. Once the laundry was done, I walked up to the lodge and a nice fellow who worked there set up a computer for me so I could check and send e-mail. Then I headed back to the ice cream shop for a double-scoop waffle cone, charged my camera battery, and purchased snacks and a few ounces of denatured alcohol.
I had a mail drop waiting at the post office with six days rations, but I sent it home unopened since I would only be hiking two more days and had enough food on hand. It was late afternoon when the return shuttle dropped me off at the trail.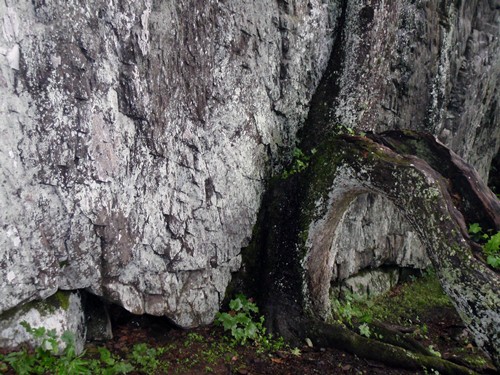 I arrived at Cable Gap Shelter around suppertime. Jerry and Sara from Blairsville, Georgia were tenting just outside the shelter with their Black Lab. Sara cooked up a pot of noodles and vegetables in a cheese sauce that looked really good. I made Shrimp & Grits with Banana Nut Bread Pudding for dessert.
Hanging the food bag was a challenge this evening because there were no easy branches to aim for. Jerry showed me a method of wrapping cord around your hand in a figure eight pattern that keeps the cord from getting tangled. I got the bag hung and made a run for the shelter just as a storm rolled in. I wrote in my journal with my headlamp on, but had to turn it off because moths and giant mosquitoes engulfed my face.
The storm intensified for several hours and I had to move my sleeping pad closer to the back of the shelter because rain was blowing in the open front. Tree trunks looked like they were moving because of the strobe effect of the flashing lightning- like somebody was turning the lights on and off really fast. The shelter was made of substantial logs, but it shook with every lightening blast. Somehow, during all of this, I fell asleep and slept soundly.
Continue Reading...