Appalachian Trail Journal Day 27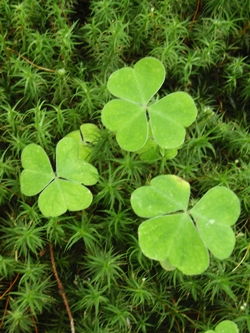 Cable Gap Shelter to Locust Cove Gap
11.6 miles
The skies cleared and it looked like the sun might prevail. After Couscous with Beef & Tomatoes for breakfast, I caught up with and passed Jerry and Sara. Out in front, I became the trail clearer. Spiders had been up early spinning and stretching new ridge lines across the trail. Fallen branches littered the trail from the storm.
After relatively easy hiking, I stopped at Brown Fork Gap Shelter for a hot lunch- Chili Mac with a side of broccoli and a Snicker Bar for dessert.
I considered staying when I heard thunder in the distance, but the shelter was dingy and people were piling in, so I left for Locust Cove Gap, another five miles away.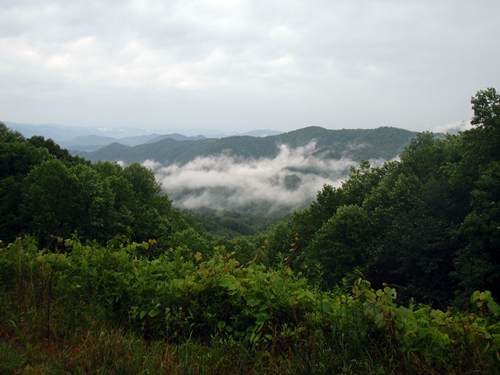 Shortly after leaving the shelter, the skies grew dark and the wind picked up. I wondered if I had made a bad decision to leave the shelter. Torrential rain poured down and lightning blasted and crackled all over the mountain. I felt dangerously exposed sloshing through puddles with my two metal hiking poles, even more so when I passed a tree that had just had a long strip of its trunk blasted away. There was no place to hide, so I pressed on. The pounding lasted two hours and then the rain miraculously shut off. I crossed Rte 143 and had a nice view of clouds forming in the valley from vapor rising after the storm.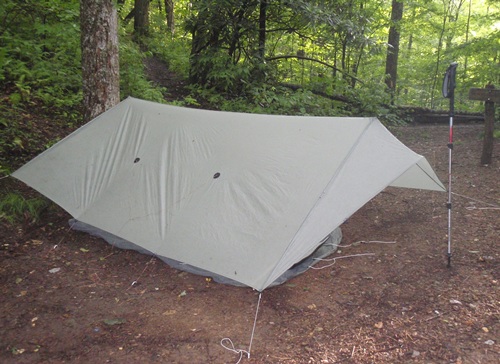 I strung my tarp a few feet off the trail at Locust Grove Gap, tying one end of the ridge line to a tree and the other end to a hiking pole. Once the corner guys were readjusted and staked out, my shelter was taut and dry for the night. I threw a line over a tree limb so I could quickly secure my food bag after supper. I thought about skipping supper so as not to attract bears with cooking odors, but hey, I'm Chef Glenn, and this would be my last supper on the trail. I cooked Ratatouille with rice on the alcohol stove and warmed a side of broccoli, onions, and black-eyed peas on the candle stove.
Continue Reading...