Appalachian Trail Journal Day 4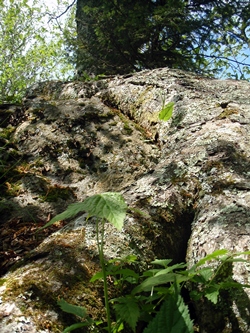 Laurel Fork Shelter to Moreland Gap Shelter
8 miles
I woke up with the birds as usual, but took my sweet time getting on with the day. The rain had quit and vapor rose from the ground and trees. After Oatmeal with Fruit and Chocolate, I thanked Max for his protection and headed south towards Bob People's Kincora Hiking Hostel. My original itinerary called for 17 miles today, but with the stop at Kincora, I knew I wouldn't hike that far. Perhaps Chef Glenn might not click off those 17-mile days that looked so doable on my computer screen at home. My body and wet clothing stank, so there was no way I could pass up the hot shower and washer/dryer that waited for me a mere two miles down trail.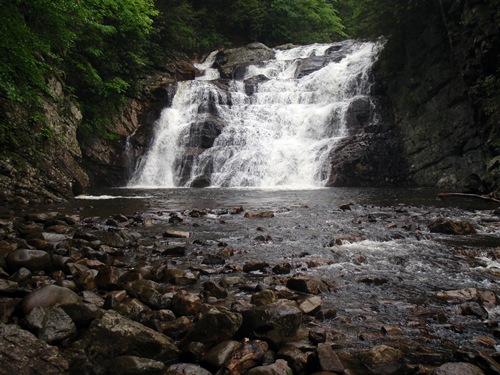 After a visit to Laurel Creek Falls, I landed at Kincora Hiking Hostel in light rain. Several young thru-hikers were hanging out around the table on the front porch. A few had been there for about a week with a girl who was trying to get over the flu. As you pass through the reception porch you face a wall of doors, each holding out great promise for me- bathroom, shower, laundry! I borrowed shorts and a t-shirt from the hiker box, tossed my laundry into the machine, and hit the shower. Once happily scrubbed and combed, I cooked Red Beans and Rice for lunch followed by Trail Angel Cake with Chocolate Sauce from the night before. I didn't get to meet proprietor Bob Peoples, who is considered a saint by Appalachian Trail enthusiasts, because he had left for Spain the day before. When it looked like the sun might prevail, I got back on the trail towards Moreland Gap Shelter.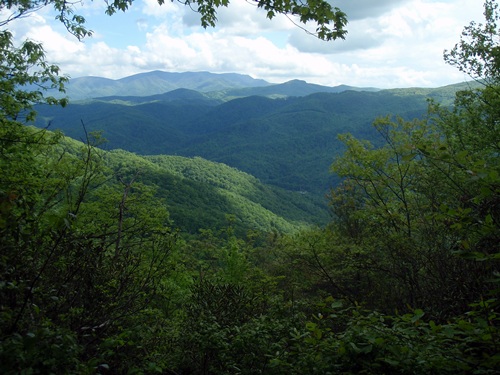 I arrived at Moreland Gap Shelter early evening slightly bent over. When I took my pack off, I felt the first spasm of pain radiating from my lower back and right hip. I grimaced with any bend or twist to the right. I had only packed eight Motrin in my first-aid kit thinking I wanted to be in touch with my body. That was one of those delusions I would regret for the next few days as I was forced to ration my Motrin supply. Despite the pain, I set up my tarp for the first time since there was an open area to the side of the shelter with a couple of convenient trees for hitching a ridgeline.
Some nice folks populated the shelter area tonight and we all cooked together. One young thru-hiker with the unfortunate trail name, Shitty Pot, cooked two batches of Spaghetti and Grits. He seemed pretty happy with that concoction. I made Lasagna with a side of Ratatouille and Peach Cobbler for dessert. Another thru-hiker, who just stopped for dinner, was familiar with BackpackingChef.com and thanked me for the recipes.
After supper, New Knees and Siva cheered me on as I attempted to hang my food bag. Out in the woods, watching someone tie a line to a little sack with a rock in it and throw it over a branch, multiple times, serves as good entertainment. When I finally got the line over a limb and tied a clove hitch around a small twig per the PCT method, the bag dropped to face level-- easy pickings for a hungry bear. So, the entertainment continued, only this time I aimed for a higher branch and succeeded shortly before sundown.
I had pitched my tarp into the wind, but when I went to bed the wind had shifted and cold air blew through the open ends. This was the first cold night of the trip, so I slept in my long johns, fleece jacket, and wool cap. The fleece jacket usually serves as my pillow wrapped around my pack cover/rain jacket. The poncho was wet, so I used my arm for a pillow instead which made it hard to sleep on my sides since I couldn't support my head in that position. The ground sloped a little to the left causing me to slide off my sleeping pad throughout the night. But hey, that Lasagna sure hit the spot.
Continue Reading...