Appalachian Trail Journal Day 5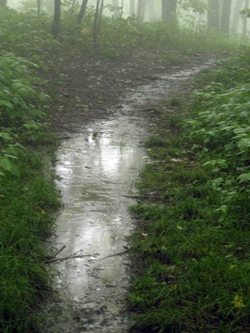 Moreland Gap Shelter to Mountaineer Shelter
9.5 miles
After Pizza Grits Supreme and 800mg of Motrin, I struck out for Mountaineer Shelter. It rained all morning and with every step jolts of pain fired off between my lower back and hip. I cursed the trail and God for this sadistic treatment. A group of young northbound hikers passed by at three times my speed. One girl asked how I was doing and I said, "Tired." I thought about that and decided it wasn't good to pass off my negative energy to others, so from then on I tried to say something positive when anybody passed. I now understood why so many people quit-- pain and rain.
The trail was mush all day. I call it liquid loom. You slip and slide on the hills and when you get to level spots, the black muck tries to suck you down by the boot. At first you walk around the stuff, but over the course of a long hike you just plod right through it. Why waste those extra steps? My hiking poles kept me on my feet and off my butt. I was grateful that although slippery, most of the hiking today was level with modest ups and downs. A deer and fawn crossed the trail ahead leaving their hoof prints in the mud with mine. Due to the unfavorable conditions for stopping, I skipped lunch and snacked on trail mix and Sweet Potato Bark instead.
I hobbled into Mountaineer Shelter late afternoon. Mountaineer is clean and new with three sleeping levels. Only one northbound hiker occupied it with me tonight. After a bucket bath, I cooked up a pot of Mexican Beef and Rice with Apple Pie for dessert. A full belly revives Chef Glenn's spirits almost as much as sunshine and waterfalls. As I lay in my sleeping bag, I prayed for the pain to go away, expecting a favorable response by morning. I'm officially one full day behind my original itinerary -- a written plan not fit for toilet paper. I'll stretch out my food supply tomorrow and eat unused snacks, sides, and a lunch. I still have another full day's rations in a vacuum sealed bag and that should get me to Greasy Creek Friendly Hostel where I have a mail drop waiting. I have to hump it over Hump Mountain before I get there. God give me strength.
Continue Reading...