Appalachian Trail Journal Day 6
Mountaineer Shelter to Mountain Harbour Hostel
8.7 miles
I managed a Motrin assisted, decent night's rest with the usual rotisserating. (New word- to rotate continuously in one's sleep like a pig on a spit, perhaps dreaming of barbeque, often tangled in sleeping bag) I tried sleeping on my back with my clothes bag under my knees to take pressure off the back, but for some reason I have trouble sleeping on my back. My back feels a little better this morning... dull rather than sharp pain. I ate Sweet Potato Bark and mixed nuts for breakfast. Looks like sunshine to the east. Oh happy day!
I walked towards the rising sun through a field where the path narrowed and grass grew as high as my nose. The grass imparted its dew to my legs and clothing, but it refreshed me and that glorious sunshine would dry me out again. To my left and a ways down, the Elk River flowed out of the mountains, smoothing stubborn rocks in its current. I followed the short side trail to Jones Falls. It's hard to resist the pour of a waterfall. God Himself flows through these mountain creeks. I refilled my bottles and drank for thirst and inspiration.
After leaving the falls, I had second thoughts about if I was heading in the right direction. My first instinct was go left for south. A while down the trail I came to a log bridge over a stream that looked awfully familiar. Of course, I had a map all along, so I pulled up to a stump and ascertained that I was indeed heading in the right direction. Just to make sure, I asked the next hiker coming my way where he was heading. I didn't let on that I had any doubt about which way I was heading.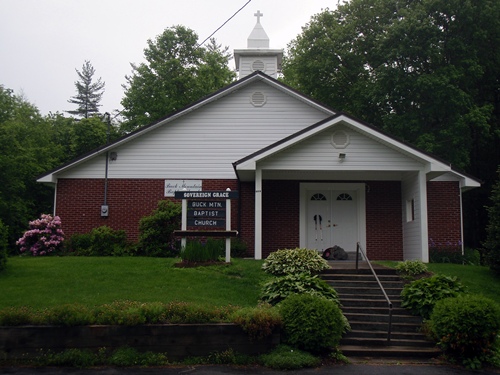 A new sensation, numbness and tingling in my right thigh, convinced me to take the last two Motrin. Dark charcoal clouds bullied away the white clouds. I stopped at Buck Mountain Baptist Church for water from the spigot and sat down under the front awning to ask God about this new inflammation in my thigh. I figured it was a good place to check-in. No answer, as far as I can tell, except for rain which kept me there napping on the concrete pad in front of the white doors.
Locals drove by and turned their necks back to the road after glancing my way. I was probably not the first hiker to be seen sprawled out at the Buck Mountain pearly gates. The rain stopped and the sun parted the clouds, so with steam rising from the blacktop in front of the little brick church, I crossed over and back into the woods.
After a short walk, I entered a field bedazzled with swaying blackberry shoots covered in white flowers. In front of me, beyond the festive near view of the field, a spectacular wide view of the mountains rising to billowing clouds caused me to pause in the presence of the Almighty once again. The sun bore down on me as I sat in the wet grass and moisture steamed up around me. Although spellbinding and safe when viewed from a distance, I feared one of those mountains towering before me, the really big one, was Hump. Hump waited for me with this sore back and hip. I'm debating with myself, God, any Holy Ghost who will listen, whether to lay-up for a day.
The trail carried me to the crossing at Hwy 19 between Roan Mountain, Tennessee and Elk Park, North Carolina with ominous clouds following close behind and more ahead. Hmmm… more pain and rain, or duck into the Mountain Harbour Hostel three tenths of a mile down the road? I waited up at the house on the wide wraparound porch furnished with rocking chairs, porch swing, and hammock for Mary or Terry to get home. The note on the door said that would be soon. Terry pulled up in his truck shortly and I walked gingerly down to the converted loft over the horse barn for a much needed shower.
Thus sanitized and safe for someone to lay hands on me, Terry dropped me off at the Highland Chiropractic Clinic. Dr. Roger Heschong nudged a couple of lower vertebrae back into alignment. While I waited for Terry to come back and fetch me, the receptionist offered me a cheeseburger. I said no at first thinking she meant to go out and get me one, but then I asked, "You mean you have a cheeseburger right here, right now?" And she did. So, I got an adjustment AND a cheeseburger. Trail magic! Dr. Roger gave me his cell phone number and said to call him in the morning if I was still in pain.
Terry took me to a pharmacy and I bought some Icy-Hot Pain Relief Cream and a bottle of Ibuprofen. From there it was off to the King of the Road Steakhouse for a 12 oz. T-bone, baked potato, salad, apple pie, and two glasses of sweet tea. I dined with Barbara and Vicki from Florida who were also staying at the hostel. Barbara thru-hiked the Appalachian Trail in 2004. Back at the hostel, we played backpacking stove show and tell before retiring for the night. We each cook with a different type of homemade alcohol stove.
Continue Reading...