Appalachian Trail Journal Day 8
Mountain Harbour Hostel to Overmountain Shelter
8.7 miles
I woke up before dawn and smeared more Icy-Hot on my back, hip, and thigh. After a twenty minute self-massage, I applied another ice pack, got sleepy, and fell into a dream. I dreamed I was in a dingy, buffet-style restaurant filled with hikers. I walked over to a table where some girls were seated and sat down next to one of them with my bowl of pizza. I introduced myself as Chef Glenn and the girl next to me looked at me like I was a celebrity and asked, "You're Chef Glenn from BackpackingChef.com?" I nodded and she pulled me across her lap and started massaging my back. With my nose facing the vinyl bench seat and my shirt pulled up around my shoulders, she spit into her hand and rubbed it into my back. Then I woke up, perhaps in the nick of time.
Fog blanketed Mountain Harbour early, but soon after bellying up to the house for another of Mary's breakfasts, blue skies prevailed. The pain still dogged me, but I couldn't stand the thought of sitting out another day. I said my good-byes, walked up the highway, and ducked back into the woods. A cool breeze escorted me uphill under shady trees towards Hump Mountain.
A paradigm shift occurred today. I decided, or maybe it was decided for me, to walk slowly. At my new pace, I inhaled the mountain air inquisitively through my nostrils, rather than huffing and puffing it through my mouth. I took my time observing plants individually and as tapestry. I sensed the full potential of the present moment and how the past and future were all wrapped up in it.
I saw not just a tree standing there, but also the acorn, sprout, and sapling from whence it came and the upper branches reaching ever higher. I stood with the tree for a while, imagining its fire-colored leaves of fall and its clattering branches glistening with ice in winter. How many creatures have known this old sentry standing resolutely by the trail, rubbed their antlers against it, ate its acorns, and scurried up and down its trunk, whistled and hooted from its branches?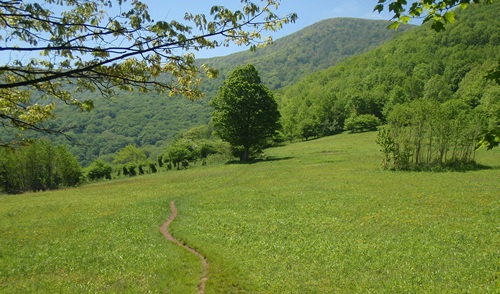 Trees gave way to grass as I reached the bald top of Hump Mountain. I sat down and removed my boots and socks so my toes could join the tall grass swaying back and forth. A little too windy for cooking, I ate a tortilla filled with cheese, and a side of trail mix for lunch. Beyond the bald, mountains rose and fell in every direction to eternity, layered one behind the other in varying shades of green in the foreground to hazy blues in the distance. Voluminous clouds cast rolling shadows as they drifted across the crisp blue sky. I laid back with eyes closed and felt the sun's warmth on my eyelids. The buzzing of flies over a cow paddy and bees at purple-flowered clover were the only sounds interrupting an otherwise hushed and sacred moment. Two vultures circled overhead hoping I might expire.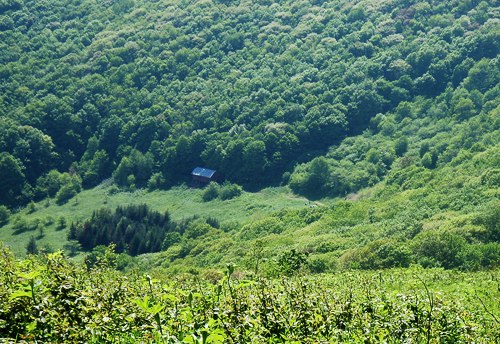 After Hump came Little Hump, a slightly shorter version of big Hump. With the Humps behind me, I arrived at Overmountain Shelter, aka The Red Barn, early evening. It looked like a boy scout convention had converged on the place, but most were tenting in the ample open field before the shelter while others nestled in amongst a grove of spruce trees.
The loft was expansive and dark, and wind blew in through the large opening at one end and through spaces between the boards. I cooked Cheddar Herb Chicken with a side of beets, and milk and cookies for dessert. I hit the sack early. During the night, I woke up and put on my fleece jacket because it got cold, and while I was at it I put in ear plugs to muffle the loud snoring coming from the far corner of the loft.
A big storm rolled in before dawn adding dampness to the wind whistling into the loft. I would be glad when this night was over, but it sure had been a glorious day.
Continue Reading...