Appalachian Trail Journal Day 9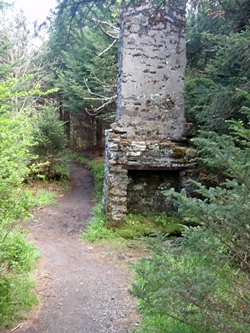 Overmountian Shelter to Greasy Creek Friendly Hostel - Food Drop
14.8 miles
I boiled Ramen Noodles for breakfast that I had picked-up at the last hostel and saved my sweet potato bark, nuts, and raisins for later in the day. I wouldn't want to live on Ramen Noodles, as many thru-hikers do, but every now and then they hit the spot. The rain let up early morning and I set off for Greasy Creek Friendly Hostel.
The trail ascended up and over Roan Mountain and challenged my feet every step of the way with rocks, roots, mud, and water. Sometimes the eroding forces of hiking boots and flowing water cut a narrow trench which was difficult to walk in and easy to slip into if you tried to skirt its edges. Although the trail demanded my attention most of the day, the views looking up at and then down from Roan Mountain were breathtaking. I stopped at Roan High Knob Shelter, the highest shelter on the Appalachian Trail at 6285', for a hot lunch of Corn Bark Stew with Ham.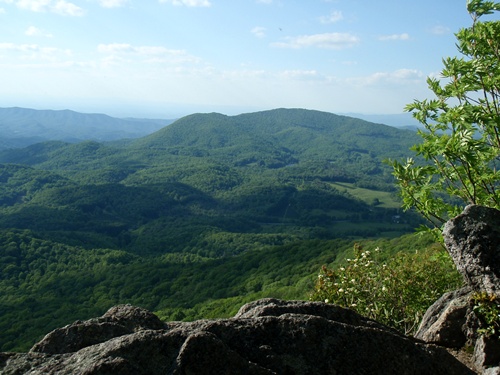 Lunch energized me for the eight mile descent over more rocks and roots to Greasy Creek Friendly. I broke into spontaneous yodeling when a level and smooth stretch opened up. I didn't see the three hikers coming up the trail until they were pretty close. They moved off the trail and let me pass like I might be dangerous. The trail on the south side of Roan Mountain passed through groves of Spruce trees. It smelled like Christmas.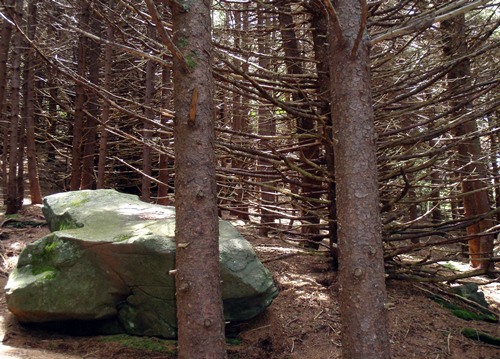 I arrived at Greasy Creek Friendly Hostel at dusk. CeeCee makes you wash your hands as soon as you enter the house and whenever you want to sit down at the table. This comes as a surprise when you've accepted dirt and stink as part of your everyday condition. But, I was more than happy to re-civilize myself while in CeeCee's care. The gravity feed shower delivered little more than a trickle, but it was hot, and CeeCee assured me I could stay in there as long as I wanted.
After my shower, CeeCee washed my clothes with a little extra vinegar to get the stink out. I was getting some mothering, and I needed it. Even though it was nearly bedtime, CeeCee fixed me a mixed-greens salad with feta cheese and a cheeseburger. I opted for the private room in the house rather than the bunkhouse, and slept soundly on the soft mattress.
Continue Reading...