Appalachian Trail Journal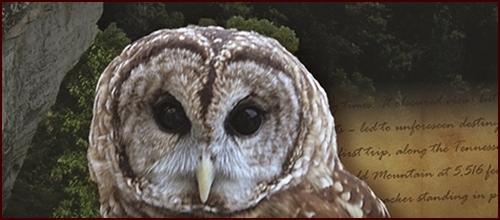 | | |
| --- | --- |
| | Continue reading the first eight days' from Chapter One of Chef Glenn's Appalachian Trail Journal, 1001 Miles on the Appalachian Trail, below. |
MAY 23—JUNE 19, 2009
Low Gap, TN, to Nantahala Outdoor Center, Wesser, NC, 315 miles, Southbound
My status at the start: Fifty years old. Single nine years. Two daughters in college. Employed in sales. Avid weekend hiker. Hungry for a big adventure.

    Months before leaving, I asked my friend, Jimmy, how his freeze-dried meal tasted. He said, "Not bad for backpacking food." Not bad. If we were eating freeze-dried food on the space station, not bad might be good, but we were sitting around a campfire listening to owls hoot. I ate homemade chili that night. Like an astronaut, all I had to do was rehydrate it with hot water. After supper, I made pumpkin pie.

    Days on the Appalachian Trail should end—and begin—with a delicious, healthy meal, not a pot of not bad. To that end, I spent many evenings, after work, mastering the art of drying food. Some people learned karate; I dried food. Drying hard-boiled eggs, maple syrup, and peanut butter didn't work out. I dried a fish from my pond. He didn't see that coming. Mostly, I dried food from the store that didn't need catching: meat, vegetables, beans, fruit, potatoes, pasta, and rice. Mixing a little of this and that, I worked out the proportion of peas to potatoes for cottage pie. The menu expanded to thirty entrees. My favorite was unstuffed peppers—ground beef and peppers with rice in tomato sauce—because it reminded me of my mother's recipe, which my sisters and I always loved with a slice of rye bread and butter.

    During the month before leaving, I dried ninety meals and vacuum sealed them into daily rations. I mailed five boxes ahead—four to hostels and one to a post office. Eight days' worth of food went into my backpack with the gear: pot, stove, fuel, tarp, sleeping bag, sleeping pad, water filter, water bottles, clothing, first aid, toothbrush, toilet paper, etc.

    Fully loaded with gear, food, and water, the pack weighed thirty-five pounds—the average weight of a four-year-old riding piggyback. If all went according to plan, I would carry it 383 miles, from Northern Tennessee, through North Carolina, and back to my home state of Georgia, in one month.

    Five days into it, my plan was in jeopardy.
MAY 23
Low Gap, TN, to Double Springs Shelter, 3.5 miles
I drove a U-Haul truck three hundred miles from Georgia to the trail in Northern Tennessee. A friend, who was moving from Georgia to Vermont, let me drive one of his two trucks. His wife took over driving my truck when they let me out at Low Gap.

    Fifty yards into the hike, gnats circled my head. One flew into my mouth, another into my eye. The others fell away at the crest of the hill when I picked up the pace. It was late afternoon, hot and humid—the kind of day where you have to make your own breeze. I tied a bandana across my forehead when sweat ran down and burned my eyes.

    I talked with a tall, lean college student. He was thru-hiking from Georgia to Maine. Strider said he tried to eat five thousand calories per day. One of his favorite meals was a box of macaroni and cheese combined with a package of instant mashed potatoes—cooked together in the same pot. When I was in college, I ate a lot of macaroni and cheese to stretch the twenty bucks my father sent me weekly. Considering its ease of preparation and cheese-sauciness, I planned to eat it four times this trip—combined with different meats and vegetables.

    My shirt was damp, but still smelled like clean laundry when I arrived at Double Springs Shelter—a brown cinder block shed with a tin roof that had been dented by fallen tree limbs. Eddie from Easton was there cooking chicken-flavored ramen noodles. I cooked beef stroganoff with a side of peas, plus vanilla pudding with graham crackers and warm bananas for dessert.

    It wasn't possible to hang my food bag after supper from any trees near the shelter using the Pacific Crest Trail (PCT) method. None of the trees had a sturdy horizontal limb at the ideal height of twenty feet above ground. With the PCT method, the food bag hangs several feet below a tree limb and high above the ground, so a bear can't reach it. I hung it from a shorter limb instead and tied off the cord to another tree. Eddie hung his food bag inside the shelter.

    Eddie drove a limousine in Easton, PA. My sister lived there, so we had something to talk about. I had driven a Cadillac as a summer job during my college years, taking a man in and out of New York City from New Jersey. Eddie said to stop at Bob People's Kincora Hiking Hostel, thirty-two miles to the south. I could take a shower and wash clothes there. While we got comfortable in our sleeping bags, a mouse ran along a joist under the roof. Eddie's food bag hung from a string that was threaded through a tuna-fish can, which thwarts mice from climbing down to the food. It worked.

MAY 24
Double Springs Shelter to Vandeventer Shelter,
14.4 miles
My food survived the night. I cooked apple-cinnamon oatmeal topped with granola. Eddie ate two teaspoons of instant coffee—straight up, no water. I said, "Isn't that a little bitter?" He said he didn't mind because it really got him going. Eddie shouldered his pack and zipped off to the north. I headed south in light rain. The temperature was cool. Birds were singing. Flame azaleas bloomed along the trail. Raindrops dripped from the orange flowers and glistened when the sun came out. As I passed through a pasture, the sun bore down from its eleven o'clock tilt. Steam rose from the grass. Back in the woods, I filtered water from a stream and splashed the coolness on my face.

    The first half of the day, I walked two miles downhill, two miles level, and three miles gradually uphill to Iron Mountain Shelter, where I ate lunch with two thru-hikers, a young man and woman named Eats-A-Lot and SNP. I cooked Spanish rice with ground beef and tomatoes and spooned it over slices of cheddar cheese in a tortilla. SNP sat at the table with me and scanned her guidebook for an all-you-can-eat restaurant in Damascus. Eats-A-Lot reclined in the shelter behind me and farted, grandiosely. I said he should change his name to Farts-A-Lot. He talked about forming a utopian village when he finished his hike, presumably a place where people ate a lot of beans.

    The next seven miles to Vandeventer Shelter were no harder than the first seven, but as the day grew long, my legs grew tired. In the weeks leading up to the trip, sitting comfortably with my itinerary on the computer screen, I planned daily-mileage goals without consulting the two workhorses under the desk. Seventy percent of the days called for pulling fourteen to nineteen miles. Did I overestimate my horsepower? The last mile of trail leading to the shelter was through rhododendron and flame azaleas in full bloom, which helped me forget I was tired.

    Vandeventer Shelter bustled with boy scouts early evening. They were boiling water for freeze-dried meals, so I joined them and cooked macaroni and cheese with ham and mixed vegetables with pineapple upside-down cake for dessert. After supper, a boy sat with me on a boulder behind the shelter to watch the sun go down over Watauga Lake, way down in the gulf of the mountains. He said he wished his father could see this, but his father had stayed home. The boy said he was probably watching television. It was getting dark, so he went back to his friends who were settling into tents. One adult leader shared the shelter with me. When the boys quieted down, the faint sound of fishing boat motors rose from the lake. I thought about my father and both grandpas who had taken me fishing. For a moment, I was back in the boat with them.

MAY 25
Vandeventer Shelter to Laurel Fork Shelter,
15.6 miles
The boys were boiling water early for instant oatmeal and hot chocolate. I cooked cheddar cheese grits with ham and peas. After breakfast, I filtered water from the spring, which was down a steep path from the shelter. A few minutes after leaving the shelter, two small bears ran across the trail in front of me. Would the mother bear emerge next to protect them? There was no sign of her. She had probably crossed the trail in front of the cubs before I got there. Vandeventer Shelter, with its view of Watauga Lake, draws lots of campers. Bears were known to scrounge littered food here and climb trees at night to steal poorly hung food bags.

    There was one water source over the first six miles, and I missed it. My water bottles were empty when I got to Watauga Lake. The trail came out on a paved road, which led to a boat-launch area. I stood a foot into the lake on a rock and filtered water six inches below the surface and six inches above the lake bottom—to avoid drawing in pollen or oil residue from the surface or sediment from the bottom. When I was done, a man who had been fishing from shore gave me two ice-cold bottles of water from his cooler, which I drank on the spot. The fish weren't biting, so he offered me a ride back to the trail. He said the town of Butler, which had been inundated when the Tennessee Valley Authority (TVA) dammed the Watauga and Elk Rivers after World War II, reappeared in the winter of 1983, when the lake was drawn down to make dam repairs. The trail went across the dam—deep water on one side, a dry gorge of rocks on the other.

    I cooked bean-bark stew and wrapped it in a tortilla with slices of cheddar cheese for lunch at Watauga Lake Shelter, a long mile from the dam. After lunch, I filled a bucket with water from a rhododendron-lined stream and took a sponge bath behind the shelter. Bringing the bucket—a one-gallon ice-cream container—had been a last-minute decision. I carried it upside down in my backpack and slid it over the items at the top, so it didn't take up much space.

    It started raining just as I was ready to leave. A long-distance hiker named Seeker arrived. We talked for an hour in the shelter until the rain stopped. She said she was seeking—hence the name—a spiritual connection with nature. What was I seeking? I thought of it more as finding, a two-way proposition: I find something; something finds me. The mystery of what would come around the bend—that intersection, that serendipitous moment—excited me and kept me walking. Of course, serendipity can be one-sided. Just ask the mouse who meets the owl for the first and last time.

    I leaned heavily on my hiking poles for five miles, ascending to the flat top of Pond Mountain. When the trail leveled at the top, I sang an old song: "I like to singa, about the moona, and the Juna, and the springa, I like to singa, about the sky so blue, and a tea for two…" I quit singing and put on my poncho when it started raining. The next three miles dropped steeply to Laurel Fork Creek over rocky terrain. The trail leveled once creek side but tested me again for the last half-mile climb, over slick rocks and mud, with darkness closing in, to Laurel Fork Shelter.

    A young man named Lone Wolf and a huge Rottweiler named Max occupied Laurel Fork Shelter. Max's loud bark stopped me in my tracks until Lone Wolf calmed him down so I could approach the shelter. I changed out of damp clothes into long johns and a fleece jacket before cooking supper with my headlamp on—ramen noodles with ground turkey and sauerkraut. My food bag was safe in the shelter—no bears would come around with Max standing guard.

    Lone Wolf had been living in the woods, fishing Laurel Creek for trout. He was escaping—at least temporarily—the life that had been fixed for him back on the family farm. The vibe I felt in the shelter was that I had entered his lair: he, the dicey host, and I, the wary guest. After supper, I rolled out my sleeping bag on the opposite side of the shelter from Lone Wolf. I clicked off my headlamp and laid it by my side along with my pocketknife and hiking poles.

MAY 26
Laurel Fork Shelter to Moreland Gap Shelter,
8 miles
Vapor rose from the forest floor in the morning following the rainy night. Max was half asleep on the ground below the feet of Lone Wolf, with one eye on my oatmeal. Lone Wolf was asleep in his bag. I walked away quietly after breakfast and headed toward Kincora Hiking Hostel, two miles away. On the way, I came to Laurel Creek Falls, which poured over wide rock steps into a deep, shaded gorge surrounded by rhododendron and eastern hemlock trees. This was the end of the line for trout heading upstream. I walked into the creek across slick stones to filter water. The creek flowed fast, so I put a rock on the intake tube of my water filter to keep the prefilter at the end from washing to the surface in the current.

    Five young thru-hikers sat around the table on the front porch of Kincora Hiking Hostel. They had been there several days looking after a woman in their group who was ill. Kincora was a log cabin. It had a lounge with a sofa, chairs, a wood-burning stove, and a shelf full of books. Bunk beds were in a backroom. I borrowed shorts and a shirt from the hiker box, tossed my laundry into the machine, and took a luxurious shower. While my clothes dried, I used the kitchen stove and utensils to cook red beans and rice and trail angel cake with chocolate sauce for dessert. The kitchen wall was covered with Katahdin summit photos that thru-hikers had sent to Bob Peoples, the proprietor. Bob, revered in Appalachian Trail circles, leads trail maintenance projects for thru-hikers to participate in when they arrive at the annual Trail Days Festival in Damascus, Virginia. Bob was in Spain during my visit, but the hostel stayed open with five-dollar suggested donations, which I gladly contributed. When it stopped raining, I set out for Moreland Gap Shelter—six miles away and mostly uphill.

    The strenuous climb wore me out. When I took off my pack, a sharp pain radiated between my lower back and right hip. I tied my tarp between two trees beside the shelter and walked gingerly over to some nice folks at the picnic table. One young thru-hiker, with the unfortunate trail name Shitty Pot, cooked two batches of spaghetti and grits. He seemed pretty happy with that concoction. I made lasagna with a side of ratatouille and peach pie for dessert. A friendly couple, New Knees and Siva, cheered as I attempted to hang my food bag in front of the shelter. Throwing the rock sack toward the branch, I felt like a pitcher on the mound—missing the strike zone, foul balls, etc. When I finally got the line over the branch and the bag hung, it hung too low—easy pickings for a bear. So, I aimed higher and succeeded shortly before sundown.

    During the night, cold wind blew through the open ends of the tarp. On a warm night, the airflow would have been welcome. I slept in my long johns, fleece jacket, and wool cap. The ground sloped to the left, causing me to slide off my sleeping pad throughout the night. I tried sleeping on my back with my knees up to alleviate the back pain, but that wasn't my normal sleeping position. I spent most of the night on my stomach, switching arms under my head every so often when they fell asleep. It was a long night.

MAY 27
Moreland Gap Shelter to Mountaineer Shelter,
9.5 miles
In the morning, I cooked grits with ham and tomatoes topped with pizza-flavored cheddar cheese goldfish crackers. My lower back had stiffened overnight. Attempting to stretch, I could not bend or twist to the right without inflicting a jolt of pain. I took two pain-relief pills and soldiered on toward Mountaineer Shelter. It rained all morning—as if my gloomy mood required it. A group of northbound hikers passed by at three times my speed. One of the young women asked how I was doing, and I said, "Tired." I felt bad for passing off negative energy, so later, when others asked how I was doing, I stood up straight and said, "Great," before resuming my laggardly pace when they were out of sight.

    The trail was mush all day—liquid loom. The footing was slippery on hills, and when the trail leveled, my boots sunk into the black muck with a sucking sound. I skirted the puddles at first, but before long, I plodded right through them. Why waste extra steps? A deer with her fawn crossed the trail ahead of me and left hoofprints in the mud. Due to the rain, I snacked on trail mix and sweet potato bark instead of cooking a hot lunch.

    Mountaineer Shelter was a welcome sight when I arrived late afternoon. Compared to the small cinder block or rock shelters I had slept in so far, Mountaineer was a villa. It had wood siding with three sleeping levels. The top loft overhung the front area of the shelter, providing space underneath to move around and stay dry. When the rain stopped, I fetched a bucket of water from the spring below the shelter and stepped into the woods for a sponge bath. Back at the shelter, I cooked Mexican beef and rice with apple pie for dessert. One hiker had claimed the top loft of the shelter before I arrived, so we spent the evening in our separate worlds.

    I looked over my itinerary under the light of my headlamp: one full day behind schedule, thirty-two miles to go to my first mail drop. I had one full day's rations in a vacuum-sealed bag, plus extra snacks and one lunch. That would hold me to my mail drop at Greasy Creek Friendly hostel. If the back pain slowed me down even more, I could hitch into town at Highway 19 and buy food. When I clicked off my headlamp, the darkness was profound—I could not see my hand in front of my face.

MAY 28
Mountaineer Shelter to Mountain Harbour Hostel,
8.7 miles
My back felt better in the morning after a good night's rest. I took breakfast to go—sweet potato bark and mixed nuts. The sun was rising and shining to the east. I lingered at several stream crossings, sticking my hand into the current and peering into pools for signs of critters. I walked through a field where the path narrowed and grass grew above my waist. My legs and shorts got wet brushing against the dewy grass, but it refreshed me, and that glorious sunshine would dry me out again. Down an embankment, the Elk River sparkled as it rippled over smooth stones. I followed a side trail through rhododendron and moss to Jones Falls. The water sprayed over a ledge set back in the woods, pooled midway down, then flowed like a lacy veil over tilted slabs of rocks.

    The white clouds of the serene morning turned dark by the time I came to the road crossing at Buck Mountain Baptist Church. I got water from the spigot and sat down under the awning at the church's front door. The back pain returned and advanced down my right thigh with a tingling sensation. I sent up a prayer for relief. No answer, as far as I could tell, except for a heavy downpour of rain, which kept me there, sprawled out for a nap at the Buck Mountain pearly gates. An hour later, the rain stopped and the clouds parted, so with steam rising from the blacktop in front of the little brick church, I crossed over and back into the woods.

    Later, I walked into a field filled with blackberry shoots covered in white flowers. From the field, a spectacular view opened up of mountains rising to billowing clouds. Although spellbinding from a distance, one of those mountains, the big one, was Hump. Hump Mountain was waiting for me.

    Ominous clouds closed in behind and ahead of me as I reached the crossing at Highway 19 between Roan Mountain, Tennessee, and Elk Park, North Carolina. Mountain Harbour Hostel was just three tenths of a mile to the right, so I went there seeking refuge. I sat in a rocking chair on the wide wraparound porch up at the house and waited for the proprietors, Mary and Terry, to get home. The note on the door said they would be home soon. Terry pulled up in his truck just as I was considering a move to the hammock. He escorted me down to the horse barn, which had a loft for hikers.

    I took a shower, and then Terry dropped me off at the Highland Chiropractic Clinic in town. Dr. Roger Heschong adjusted the alignment of my spinal cord and massaged my lower back and hips. He gave me his cell phone number and said to call him in the morning if I was still in pain. While I waited for Terry to come back and fetch me, the receptionist offered me a cheeseburger. I said no at first, thinking she meant to go out and get me one, but then I asked, "You mean you have a cheeseburger, right here, right now?" And she did. So, I got an adjustment and a cheeseburger. Trail magic!

    Terry took me to a pharmacy where I bought Icy Hot pain-relieving cream and a bottle of pain-relief pills. From there, it was off to the King of the Road Steakhouse for a twelve-ounce T-bone, baked potato, salad, apple pie, and two glasses of sweet tea. I dined with Barbara and Vicki from Florida, who were also staying at the hostel. Barbara had thru-hiked the Appalachian Trail in 2004. Back at the hostel, we took a look at each other's homemade alcohol stoves. We each had a different type, but mine was the simplest, being just an empty aluminum tea-light-candle cup. They retired to the bunk area, accessed by a ladder, and I slept in the private room on the main level.

MAY 29
Mountain Harbour Hostel, 0 miles
Mary cooked a fantastic breakfast up at the house—eggs, bacon, potatoes, pancakes with strawberries and whipped cream, assorted fruits, cinnamon rolls, juice, and coffee. Walking back to the barn, I reluctantly accepted that my back was too sore to go up Hump Mountain. Would I go home after hiking only six days? Dr. Roger picked me up and took me back to his clinic for another session. It was his day off, and he didn't even charge me for the second adjustment. Trail angel!

    I had the hostel to myself most of the day. The walls and ceiling were lined with cedar, which covered any trace of the three horses underneath. The loft was cozy with carpeting, a couch, chairs, and a table. I took another hot shower, massaged my back and hip with Icy Hot, and made good use of the ice packs from the freezer throughout the day. During a nap, I dreamed that I was in a wrestling match. It was a dream that had recurred many times over the years. The opponent is a real person—the kid who beat me in the regional tournament my senior year of high school, dashing my expectation of competing in the state-championship tournament. The dream always ends the same—I try desperately to score a takedown to catch up, the buzzer blasts, the referee holds up the other kid's arm, and I go to the locker room and cry.

    Wrestling is a grueling sport. You practice hard and push yourself past tired. On the mat, it's just you and the other guy. The fans in the bleachers can see if you are slacking, so you don't. As the season progresses, you build strength, endurance, and mental toughness. Thirty-three seasons had passed since the wrestling days. I was out of shape, about to be sent to the locker room. I thought of my wrestling coach, Mr. Forte—a tough, serious, good man—and what he had written in my yearbook at the end of that year: "Glenn, I only wish that I could have given you that little extra you would have needed to get over the hump."

    It was time to fulfill that wish.

MAY 30
Mountain Harbour Hostel to Overmountain Shelter,
8.7 miles
I bellied up to the house in the morning for another one of Mary's breakfasts. Mel, a section hiker from New Jersey who had spent the night, helped me adjust my backpack. It had been riding a little low. Fog blanketed Mountain Harbour early, but blue skies and a cool breeze prevailed when I walked up the highway and back into the woods toward Hump Mountain. The day of rest and meditation improved my prospects, as did the kindness of the people who helped me when I was down in this small Appalachian town.

    The trail up Hump Mountain gained five hundred feet in elevation every mile for five miles. I walked slowly, inhaling the mountain air inquisitively through my nostrils rather than huffing and puffing through my mouth. My focus shifted away from myself, back to splendid nature. I held pine needles under my nose, looked closely into the cups of yellow flowers, and paused at a towering oak. How many creatures had rubbed their antlers against it, ate its acorns, scurried up and down its trunk, whistled and hooted from its branches?

    Trees gave way to grass on the bald top of Hump Mountain. I sat down and removed my boots and socks so my toes could sway in the breeze with the tall grass. Beyond the bald, mountains rose to eternity, layered one behind the other, in varying shades of green in the foreground to hazy blues in the distance. Voluminous clouds cast rolling shadows as they drifted across the blue sky. I lay back and closed my eyes, feeling the sun's warmth on my eyelids. A bee sampled purple-flowered clover next to me. His buzzing was the only sound holding me to earth. Bluets graced the bald. Each flower had a yellow center outlined in white with yellow rays extending toward the blue petals—looking like little suns.

    After Hump, I hiked a mile down to Bradley Gap and then a mile up to Little Hump Mountain, which was almost as high as Hump. Between the two balds, the trail passed through a section of small beech trees. Wavy green grass covered the ground underneath the trees. The scene would have been as inviting in winter as beech trees hang on to their dead, quivering leaves until spring. I lay down again on Little Hump Mountain. Two vultures circled overhead, hoping I might expire. But I was very much alive—and well.

    From there it was a mile and a half down to Overmountain Shelter, aka The Red Barn. Boy Scouts had converged on the place, but most were tenting in the open field on the approach to the shelter. Others hung hammocks among a grove of spruce trees. The barn's loft was expansive and dark. Wind blew in through a large opening at one end and through spaces between the boards. I cooked cheddar-herb chicken and a side of beets for supper with milk and cookies for dessert.

    It was cold, so I wore my fleece jacket in my sleeping bag. A man in the corner snored so loudly that my eardrums vibrated as much as his nose. He went silent occasionally, but that was followed by awful gasps, like a man saved from drowning. Then the nasal roaring resumed with a vengeance. It thundered outside the barn as well—a storm rolled in, adding dampness to the whistling wind. The night was long and loud, but it sure had been a glorious day.

---
To continue reading Chef Glenn's Appalachian Trail Journal, please buy the book. Thank you!
---