Backpacking Cookware
My backpacking cookware consists of a pot with a fry pan lid. I cook with the pot and fry pan at the same time over an alcohol stove and candle stove. The candle stove heats sides of vegetables in the fry pan lid while the main meal cooks in the pot. Although the lid is called a "fry pan," I don't fry the food with oil – I simply rehydrate with water and heat over three tea light candles. Cooking with two pots allows me to add more fruits and vegetables to my trail meals.


Prior to purchasing the pot with fry pan lid, I cooked my main meals in an Open Country™ 3-cup hard anodized aluminum pot and cooked extra vegetables in a tuna fish can. I stopped using tuna fish cans as pots because of concern about BPA, a chemical suspected of being hazardous to health, leaching into my food. Almost all cans have a plastic epoxy lining which contains BPA. At first I didn't worry about the BPA because I was only heating with three tea light candles, but then I learned that the temperature of a single candle flame is more than 1700 degrees.
My old backpacking cookware set-up: Tuna can pot on left and Open Country™ 3-cup pot on right.
The Open Country™ 3-cup (700 ml volume) hard anodized aluminum pot, with the addition of the tuna fish can pot, served my solo backpacking cookware needs for hundreds of meals at the very affordable price of $16.00. The pot has no handles, so I purchased a separate aluminum pot gripper for $2.50. The pot gripper does not fit inside the pot, so I packed mine on top of the pot and secured it with rubber bands. Counting the pot gripper and aluminum lid, the weight of this backpacking cookware set-up was five ounces. The tuna can pot weighed 1.6 ounces for a total weight of 6.6 ounces.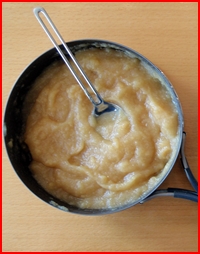 The only reason I switched from the low-cost, light-weight Open Country™ 3-cup pot to a titanium pot with fry pan lid was because I wanted a second pan to cook my extra fruits and vegetables in safely.
Photo at left shows hot apple sauce warmed in an Evernew™ fry pan lid over candles.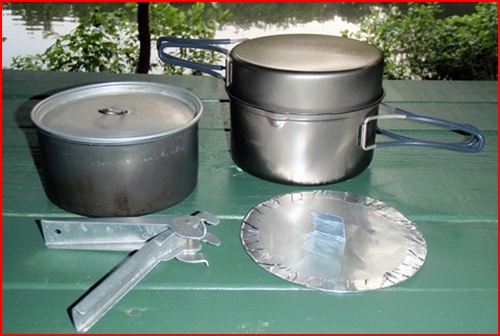 Open Country™ hard anodized aluminum 3-cup pot on left (approximately 700 ml) and the slightly larger Evernew™ 900 ml non-stick titanium pot with fry pan lid on right. Model # ECA417.
Now I cook with an Evernew™ 900 ml titanium non-stick pot with fry pan lid, model #ECA417 for solo backpacking. The fry pan lid provides an additional 500 ml of cooking volume for a total of 1400 ml. The pot and fry pan lid have insulated wire handles that fold back in opposite directions against the outside of the pot when packed. Titanium is strong and light-weight. This backpacking cookware set-up, including two homemade lids, weighs only 6.7 ounces, so I got more capacity for the same weight when I traded up. Titanium pots are more expensive than aluminum pots. Expect to pay $55.
When Dominique came into my life and I needed backpacking cookware for two, I purchased an Evernew™ 1.3 liter titanium non-stick pot with fry pan lid, model #ECA418. The 1.3 liter pot is the next size up in the Evernew™ collection, but otherwise is exactly the same design. If you backpack with a partner but sometimes alone, the 1.3 liter pot is a good choice if you only want to buy one pot since it weighs only one ounce more than the 900 ml pot and costs only a few dollars more.
If you cook for three adults or two adults and a couple of children, you could use both pots. Children will enjoy cooking the vegetables and desserts in the fry pan lid over candles with your supervision. The 900 ml pot nests inside the 1.3 liter pot saving space in your pack.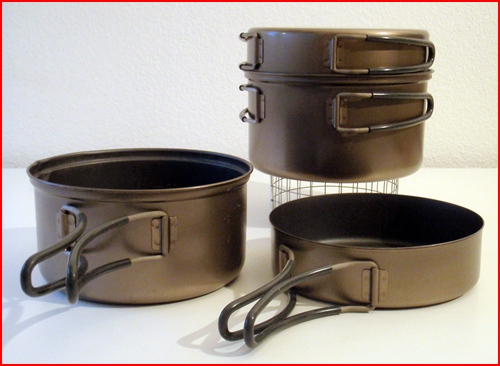 Evernew™ 900 ml pot in front and 1.3 liter pot behind.
Other features I like about the Evernew™ ECA417 & ECA418 Backpacking Cookware:
The pots are wider than they are tall. A wide pot keeps more of the dehydrated food in contact with water through the whole heating and rehydration process so water gets absorbed evenly by the food without excess water left in the bottom of the pot.
Stirring is easier with a short wide pot.
The fry pan lids create extra space above the pots when packed which allows me to pack a wider windscreen inside the pots.
The silicon-ceramic, non-stick coating is a good alternative to a Teflon® coating since it is not made with PFOA (Perfluorooctanoic Acid), a chemical suspected of being hazardous to health.
Backpacking Cookware Specifications
| Evernew™ | ECA 417 | ECA 418 |
| --- | --- | --- |
| Pot Volume | 900 ml | 1300 ml |
| Pan Volume | 500 ml | 650 ml |
| Pot Size | 5.4 x 2.5 inches | 6 x 3 inches |
| Pan Size | 5.4 x 1.5 inches | 6 x 1.6 inches |
| Weight | 6.2 oz | 7.2 oz |
| Price | $55 | $61 |

How to Make Ultra-light Pot Lids & Heat Shields
I made two lids since I cook in the pot and pan at the same time and want to keep them both covered while cooking. I also cut out two heat shields from pie pans to place under the stoves.
Evernew™ pots flair out at the top which forms an internal ledge to support a homemade lid. To make your own light-weight pot lid, simply trace the outline of the top of the pot with a Sharpie on an aluminum pie pan or roasting pan and then cut it out just inside the line. Cut away small pieces of the pie pan as you go along. Go around a few times with your scissors, checking each time until you get a good fit. For the larger pot lid, I folded a one-inch wide strip of foil tape around the edge to make a better seal. I made the lid for the fry pan slightly smaller so the lid would slide down over the food to trap more heat. I didn't bother with foil tape around the edge of the fry pan lid.
I attached a one-inch by four-inch strip of aluminum tape folded against itself in the middle to form the handle. To make this easier, fold the 1 X 4 foil tape in half, foil side out with the backing still attached, and press on the fold. Next, fold the two sides up so that they line up with the first fold and press on the folds. Your foil tape will form the letter M. Remove the tape backing three-quarters of the way and stick the two middle parts of the M to each other. Stick the exposed tape from one end to the lid and then peel and stick the other end.
Tip: Don't use any non-food grade aluminum or tin such as roof flashing to make your lids since it would probably be galvanized. You don't want acid rain in your chili!
Keep it Simple
I eat directly out of the pot and fry pan lid. The photos of plated meals on the website are for show and to put one of Grandpa's old aluminum plates to good use. He had a large backpacking cookware set and our boat rode low in the water when we hauled all that gear across the lake to the loggers' cabin in Quebec.
The only backpacking utensil I use is a short stainless steel spoon from the kitchen drawer. Plastic spoons break easily and aluminum or titanium spoons tend to be made in shapes that feel awkward in my mouth. I scratch up the non-stick coatings of my pots a bit with my spoon, but the pots still work fine.
For measuring water, I carry one or two 20-ounce beverage bottles as part of my hydration system. I draw lines on the bottles with a Sharpie at different levels to mark ¼ cup, ½ cup, 1 cup, etc. so that it is easy to add the right amount of water to a meal. If you carry a coffee mug, you could use that for measuring instead.
Continue Reading…
Backpacking Stoves – How to make Chef Glenn's simple alcohol stove and candle stove.
Pot Cozy – Holds heat in the pot after you take it off the stove.
View backpacking cookware at EvernewAmerica.com.