Bald Mountain Appalachian Trail

Introduction Part II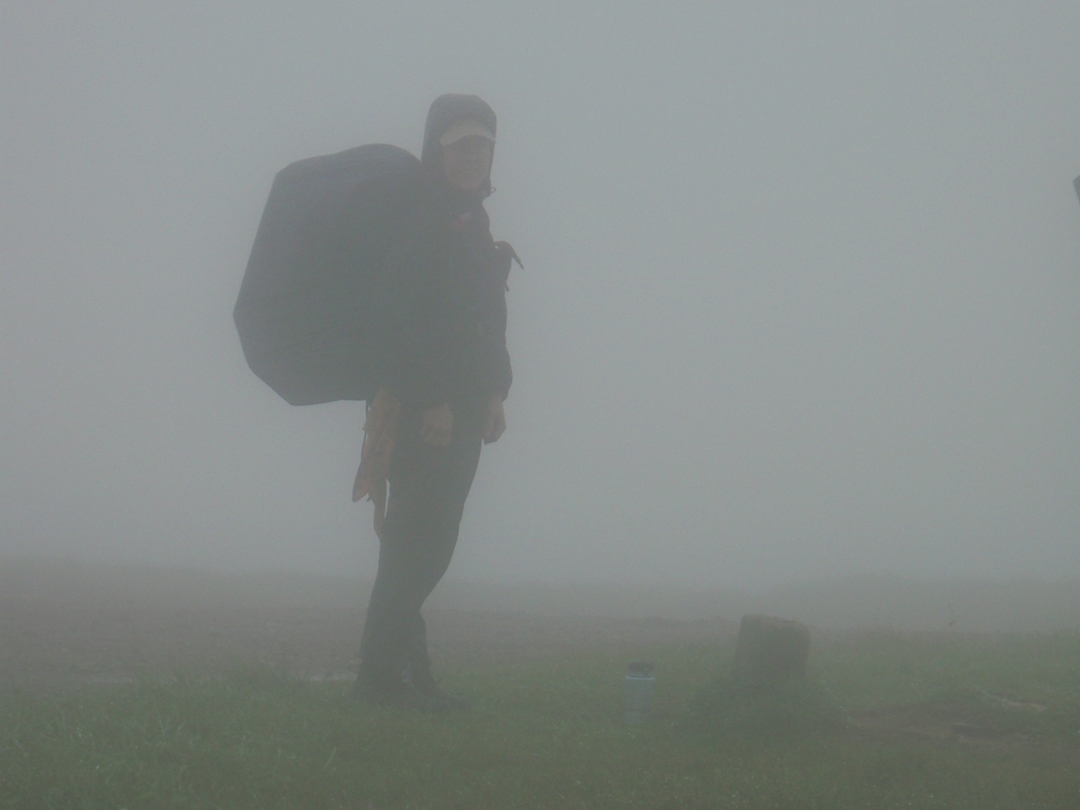 On the fourteenth day of the first trip, along the Tennessee—North Carolina line, fog socked in Bald Mountain at 5,516 feet. At the summit, I saw the humpback shape of a backpacker standing in profile against the solid-gray background. Her name was Kendra, from Nashville. The contrast was so interesting that we took photos of each other. Kendra said she would send me an email when she finished her hike so we could exchange photos. Two weeks later, the email came.

She said she posted my photo on Facebook. I had no interest in social media, but, curious to see the photo, I signed up. Within days, I reconnected with all my friends from high school. Meanwhile, a Facebook user in Switzerland was looking for possible relatives in the United States who had the same last name as hers. She found some: a family of kids from my high school, distant relatives of hers, whom I had reconnected with after thirty-five years. Nine months after meeting Kendra in the fog, I received a message through Facebook that said, "Hello. Your activities sound great. I live in the middle of the nature far away in Switzerland. Have a nice day. Dominique." I married Dominique two years later and moved to Switzerland. Looking up at Matterhorn or down from Säntis, I was mesmerized by the snowy mountains. But it was the woman who moved me.

The first two hikes of the journal occurred before marriage. I started with a twenty-eight-day hike through Tennessee and North Carolina, over Hump and Little Hump Mountains, and through the Great Smoky Mountains National Park. The next hike was twenty-nine days through Southern Virginia, over the ridgetops of Tinker Cliffs, Angels Rest, McAfee Knob, and Dragon's Tooth.

After marriage, I hiked alone the first trip back, through my home state of Georgia. Dominique hiked with me the next trip in Shenandoah National Park. She loved the fog—"perfect weather for thinking." Next came the Nantahala Forest in North Carolina and then the other half of Shenandoah National Park with Dominique. The last hike took me from Shenandoah to Harpers Ferry, West Virginia, the "psychological halfway point" of the Appalachian Trail.

I didn't see all the scenery between Georgia and West Virginia. The forest stood unobserved for miles when I turned inward. I thought about family. Was I a good father? A good son? A good husband? I thought about work and money, even though I tried not to. I thought about God and soul. Bodily cues occupied me for miles: Am I tired, hungry, thirsty? What's that pain in my knee? Is that a blister forming on my heel? Thoughts persisted about those nuisances—time and distance: Will I reach the shelter before dark? How far to the next water source? Am I hiking too slowly? Will I hike seventeen miles today? What day is today? Then a deer would bolt, or a bird would whistle—and jolt me back to nature.

Deer didn't always run away, especially in the national parks. I was as happy to chat with them as with people, and their twitching ears almost suggested that they understood me. Bears didn't always run away either, but none ran toward me. I saw only a few but often sensed their presence, like a musky odor lingering on a sunny slope or the irrefutable evidence—a pile of scat in the middle of the trail. Bears occasionally visited me in dreams when I slept alone under a tarp, and they occupied my thoughts when I hiked in the dark.

As for the other critters, read on. They are waiting on the Appalachian Trail.
---
---