Recipes for Adventure
I am often asked if I have a book available for sale. Soon the answer will be YES!
I'm working hard on a new e-book called Recipes for Adventure that will make it easy to view and print all the recipes from the website. I have finished over 100 pages already.
The e-book will be optimized for viewing on your computer with color photos on the left-hand pages and the corresponding recipes and instructions in black and white on the right hand pages.
Print the recipes you want in black and white by selecting the even numbered pages – one at a time or the text of the whole book. No need to drain your printer of all its expensive color ink.

Recipes for Adventure will include all of my recipes and dehydrating techniques from the website plus some new recipes. The recipes will also include instructions for two serving sizes, regular and large, so you can choose the meal size that best fits your appetite.
Click the links below to view a few sample pages.
Tips for Viewing:
I designed Recipes for Adventure for you to view two pages side by side. Initially, you will see one page when you open the file. In Adobe Reader, to switch to Two Page View, on the tool bar at the top simply click View, then Page Display, then Two Page View. You can also adjust the display size with the + and – buttons. If the documents open in another viewer, you can look for a similar path to switch to Two Page View.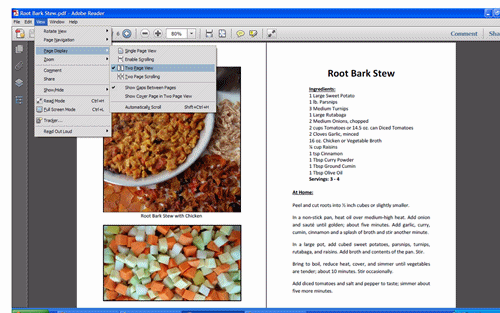 Sample Pages: (page numbers, footers, etc. will be added later)
If you would like me to send you an email as soon as Recipes for Adventure is ready, please fill in the form below. I will use your email address only once to notify you.