Cheddar Broccoli Tart
Submitted by Shelley Lauzon of Cornwall, ON Canada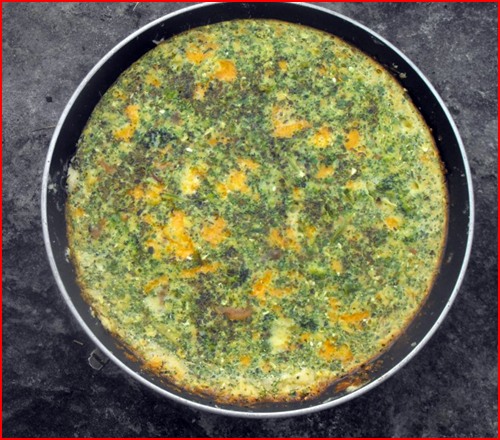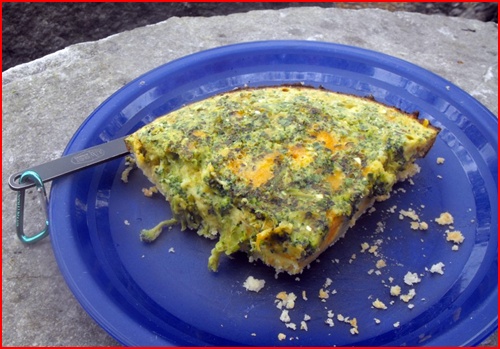 Serves 4-6
Ingredients:
Package of just add water pie crust
2/3 Cup Powdered Milk
8 Tbsp Powdered Egg Mixture (The kind for eating, not the whole-egg mixture for baking)
½ tsp Dried Basil
1 pkg Frozen Broccoli, dehydrated
1 pkg Knorr Cream of Leek Soup
Block of Cheddar Cheese (1 ½ cups grated)
At Home:
Pack filling ingredients in a ziplock bag: Powdered Milk, Powdered Eggs, Dried Basil.
Pack separately Dehydrated Broccoli, Cream of Leek Soup mix, Package of Pie Crust Mix, block of cheddar cheese (1 ½ cups grated).
On the Trail:
Make pie crust and press into 10" frypan.
Add water to broccoli to rehydrate. (1:1 ratio)
Combine filling ingredients along with leek soup mix with 2 cups of water and whisk well with fork. Add rehydrated broccoli and grated cheese. Mix well and pour into pie shell.
Bake using outback oven or use a reflector oven. Bake 30 to 35 minutes or until a knife inserted in the center comes out clean. Let stand for 10 minutes before serving. Baking times may differ.
Additional Comments or Suggestions:
Cream of Broccoli Soup can be substituted for Cream of Leek Soup. Add dried chives and bacon bits for extra flavor.
View Shelley's Clam Chowder Recipe
View Shelley's Flat Bread Recipe