Salmon Scramble
Submitted by Heather Kelly Fort Collins, Colorado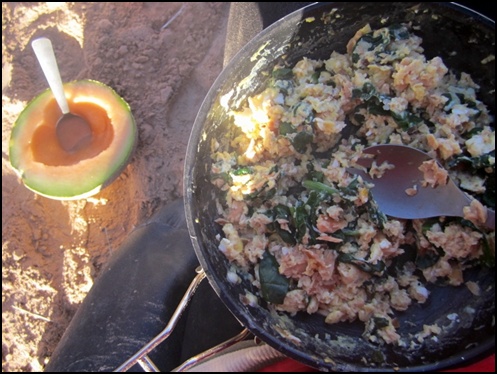 Serves 1
Ingredients:
Chicken of the Sea 3-ounce pouch of Smoked Salmon
¼ cup powdered eggs
Dried Dill to taste
1 - 2 Tbsp Coconut Oil
Salt and Pepper
At Home:
Pack a ziploc of powdered eggs, pouches of salmon, a tub of coconut oil and spices to make LOTS of tasty breakfasts.
On the Trail:
Mix ¼ cup powdered eggs with ½ cup of water.
Heat 1-2 Tbsp coconut oil in fry pan, add egg mixture.
Once the eggs begin to scramble, add in smoked salmon.
Top with dried dill, Real Salt, black pepper and serve with fruit and black coffee!
Additional Comments or Suggestions:
If you have any fresh veggies like spinach, red onion, garlic or tomato, throw those in the mix!
View Heather's Warm Applesauce Recipe