Hello,



This month's Trail Bytes cover features Crew 363 from Gretna, Nebraska at the summit of Half Dome in Yosemite National Park. These young people plan and execute a challenging trip every year. Last year they climbed Mt. Elbert in Colorado, the highest peak in the Rocky Mountains at 14,400 feet.

Mankind takes a "giant leap" when young people work together, accomplish goals and grow as individuals. "One small step" leads to another, and so it was for Sally Ride, the first American woman to orbit the earth, and Neil Armstrong, the first man to walk on the moon. Well done, trail blazers.

From the Mailbag:

Joyce L: Is there anything you can put on bananas to make them dehydrate better?

Chef Glenn: Folks have written to me who had a problem with bananas sticking to their dehydrator trays. Excalibur Dehydrator trays utilize flexible mesh sheets, so it's easy to pop off the bananas. With trays made of rigid plastic, it may be hard to un-stick the bananas.

The solution: purchase flexible mesh sheets from a craft store and cut them to fit inside your trays. You may have made your mother a nice tissue box cover or picture frame with plastic mesh and yarn. You can also buy mesh sheets specifically made for drying food from the Excalibur Dehydrator website, but you will pay a good bit more.
Reduce stickiness by dehydrating bananas that are firm and have skins with a few brown spots, but not too many. As bananas get browner, the sugar content goes up, the bananas get soft, and you end up with banana under your fingernails trying to peel them off. If you dehydrate bananas that are still a little green, they won't turn out as sweet, so wait a day or two until they have a few brown spots.

Although I haven't tried it, lightly spraying hard plastic trays with vegetable oil might help, but the oil taste would transfer to the bananas. Dusting the trays with powdered sugar might help. If anyone has tried either of these ideas, let me know how it worked out.

Drying bananas with a home dehydrator produces a bendable, chewy finished product which is not the same as the crunchy bananas you get in most trail mixes. Those bananas get their crunch and golden color because they are fried in oil first. On the other hand, commercially freeze-dried bananas are crunchy and pale colored. I prefer the chewy texture and tan-brown color of home dehydrated bananas.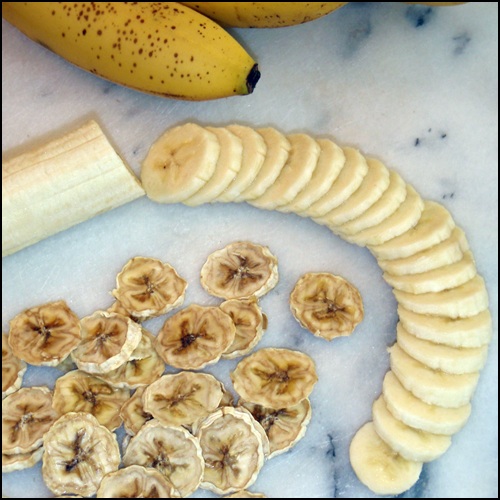 Visit the Dehydrating Fruit page to learn more about dehydrating bananas.

Home dried bananas dissolve in hot water, so they are ideal for making sweet and natural puddings such as my Banana Nut Bread Pudding. Recently, I made Fruit Root Pudding with Fruit Root Bark that combined bananas and sweet potatoes. I made a tasty Apple Fruit Root Pudding, too. I've included the recipes in the enhanced PDF version of the Sweet Potato Bark page.

On a roll with the blender, I also combined carrots with sweet potatoes to make Double A Root Bark which mashes nicely as a side dish or combines well with chicken and tomatoes for an entrée.

Dehydrating Tomatoes

I often dehydrate canned diced tomatoes when fresh tomatoes are not in season. I like the kind with added chili peppers. The contents of the can are often juicy, even saucy sometimes, so I have always drained off the juice in a colander before spreading the diced tomatoes on trays covered with non-stick sheets.

What about that bounty of homegrown tomatoes from your garden? Fresh tomatoes let go of a lot of juice when you dice them, so is it best to drain off the juice or include it? I'm not gardening at the moment, so I loaded up my Excalibur with some handsome red tomatoes from the store to see what happens when you dehydrate tomatoes with the juice.

Although some sources recommend blanching tomatoes to remove the skins and then deseeding before drying, I see no reason to turn down God's gift of nutrition. The gel-like substance around the seeds is said to be healthy for your heart. So, all I cut out was the small spot where the tomato was attached to the plant. I sliced the tomatoes four times across and then cut the slices into dices, spread on the covered trays with all the juice, and blessed with a few shakes of salt.
I could have fit more diced tomatoes on the trays but I wanted you to see the juice.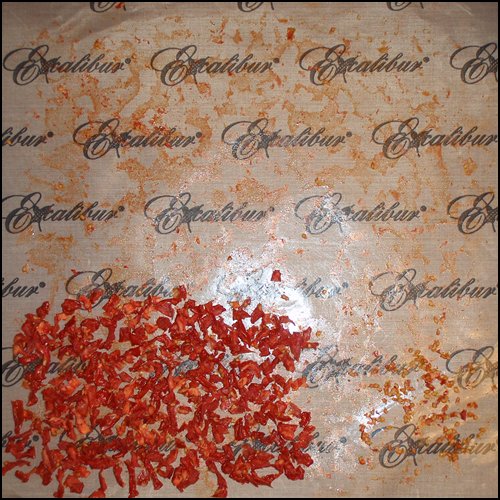 2 Cups of wet diced tomatoes (4 medium tomatoes) dried to slightly less than 1/2 cup. Note the dried juice and liberated seeds on the tray.


Conclusion:
Dehydrating tomatoes with all the juices did not appreciably increase the drying time. Mine dried in nine hours at 135 degrees. The dried tomatoes were not at all sticky, so I was pleased with the finished product. Most of the juice dried to or got reabsorbed by the tomatoes. Some juice dried to the non-stick sheets where I could not remove it by any gentle means, so it did not go into the final product. It washed off easily with water. The drying process liberated some of the seeds.
New Recipes Shared:
Laurie's Sweet Potato-Cranberry Fruit Leather
Jim Hewitt's Breakfast Burritos. Jim says this meal is heavy in the backpack, but so hearty and tasty that it is worth the weight.
Visit Your Best Backpacking Recipes to see these recipes or to share one of your own.
Enhanced PDF Update:
All of the supper, breakfast, and dessert recipes are now available in PDF format for enhanced viewing and easy printing with the password. The recipes include regular and large serving sizes with calories calculated.
I am working on PDFs for the dehydrating technique pages now and have finished a few. It takes time because I improve the pages as I go along.
Special Offer Extended:
Purchase the password by September 30, 2012, and receive my e-book, Recipes for Adventure, at no additional charge when ready. The e-book will compile all the PDFs into one file with bonus material. The password is good for unlimited use and the price is $4.95.
I created a private webpage for you to view some sample PDFs without the password. These include two supper recipes, two breakfast recipes, a dessert recipe, and a dehydrating technique page.
Go have a look at these Free PDF Recipe Previews.
Update from Switzerland:
Dominique and I took a train ride to picturesque Lucerne, the city whose covered bridge over the lake gets more camera love than the Golden Gate Bridge. The following weekend we drove through Schwarzwald - Germany's Black Forest. We're looking forward to exploring it again as hikers, not tourists. We celebrate our first wedding anniversary this weekend; grateful for every day that we walk together on this trail we call life.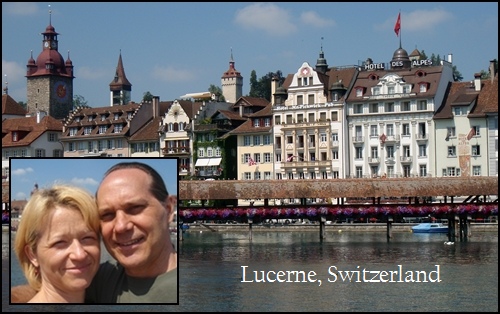 Freundliche Grüsse,




Chef Glenn & Dominique

PS If you have comments or questions about this issue of Trail Bytes, please write to me on my contact page.