Hello,



This month's issue of Trail Bytes finds us at both ends of the Appalachian Trail. On Saturday, my hiking club volunteered with many others to pull weeds and spread mulch at Amicalola Falls State Park in Georgia. Earlier this month, one of our flock finished his section hike of the trail.

Here's what Don Norton, aka "Chicken Feathers," had to say about his hike from Georgia to Maine:

It took me three years to complete the Appalachian Trail. The first year I came down with Rocky Mountain spotted fever, Lyme disease, and Ehrlichia all at one time. Damn ticks! Last year I contracted MRSA, a disease that can be life threatening, but lucky for me I was close to medical help. I thought I would never make it to Katahdin, but I decided to give it another try this year. I was still worried that something might go wrong again. After I was on the summit for a while I thought that this experience almost did not happen for me. It was an emotional moment and one of the happiest days of my life. So now I would say never give up on your dream!

We're proud of you Don!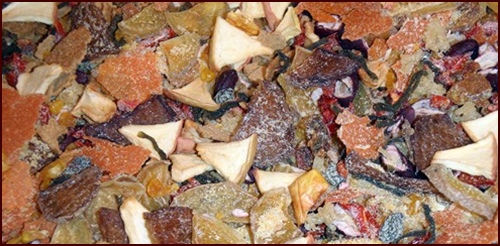 Dried Food Soup Recipes
Looking for a way to use up your leftover dried foods at the end of the backpacking season? Try making soup. See how I made Swiss Mountain Man Soup and Georgia Good 'Ole Boy Soup. I've included a form for you to share a dried food soup recipe of your own.
Share your soup recipe by December 31, 2012 and I will send you a free copy of my e-book, Recipes for Adventure, as soon as it is published.
View the new soup recipes and share one of your own.
From the Mail Bag:
Heather: I recently purchased Bagette craft bags for packing backpacking meals and I noticed there is a warning that says, "Known to the State of California to cause cancer or reproductive toxicity." I don't feel comfortable putting food in them for long term storage. Do you have any replacement suggestions?
Chef Glenn: Thanks for this information. I packed food in Bagette craft bags for two month-long hikes, but now I don't recommend them. You can use Ziploc sandwich size bags for meals and Glad snack size bags for sides and snacks. You can also cut down Glad snack size bags into two 2 x 3 inch bags for packing cheese and milk powders.
Heather: I found a website, www.clearbags.com that sells plastic bags that are FDA approved for food storage.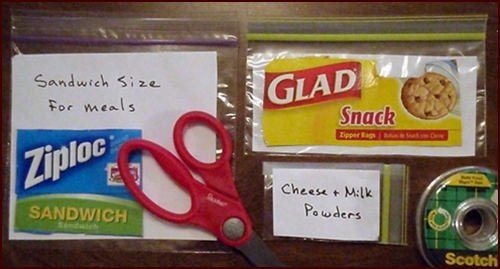 Visit the revised packing and storage page for the new recommendations.

I have been enjoying the beautiful weather in Georgia and I'm looking forward to the changing fall colors. Dominique and Cedric will join me in America for a few weeks and then we head back to Switzerland for the winter.

I'm still working on the e-book. September 30th was the deadline to order the PDF Access password for $4.95 and receive the e-book at no additional charge. I'll extend the deadline to Wednesday, October 3rd if you forgot to take advantage of the special offer. Click here to order.

Happy Hiking,





Chef Glenn & Dominique

PS If you have questions about this issue of Trail Bytes or would like to add comments or suggestions, please write to me on my contact page.