Hello,



This month's edition of Trail Bytes features Appalachian Trail thru-hikers past and present. The wise old owl on the left is Gene Espy, the third person to complete a thru-hike of the Appalachian Trail. Gene finished his thru-hike at Mount Katahdin, Maine on September 30, 1951. I chatted with Gene and snapped his photo on September 14th at a ceremony designating Ellijay/Gilmer County, Georgia as an Appalachian Trail Community – a designation bestowed by the Appalachian Trail Conservancy. According to Gene, "Whenever I came to a blue-blazed trail leading to a waterfall or scenic overlook, I took it. I was out to see as many beautiful things as possible, not just to hike end to end."

Gene started hiking north from Mount Oglethorpe, Georgia, the original southern terminus, on the last day of May, 1951. The friend who set out with him went home the second day, so Gene hiked the rest of the way alone. The trail was poorly maintained following years of neglect during World War II. Much of the trail, suspiciously referred to by locals in those days as, "The Government Trail," was routed through private property. With few shelters constructed in the South, Gene often slept in haylofts, but was occasionally invited inside by the farmer to enjoy dinner and breakfast with the family – and sometimes a soft bed.

At Smith Gap Shelter in Pennsylvania, Gene met a southbound hiker named Chester Dziengielewski. They exchanged stories about what lay ahead for each of them, Gene suggesting that Chester invest in some long trousers to combat the briars in Virginia. Chester became the first person to thru-hike the trail southbound from Maine to Georgia and the third person to thru-hike the entire trail overall, finishing at Mount Oglethorpe on October 10, 1951. The first person to thru-hike the Appalachian Trail was Earl Shaffer in 1948.

Gene writes about his adventures in his book, The Trail of My Life: The Gene Espy Story, available at www.geneespyhiker.com

On October 27, I hiked with some friends on the Appalachian Trail in Georgia, taking in the last of the fall colors. About six miles in from Woody Gap, we crossed paths with three young bearded men from Tennessee and North Carolina. The beards always give away the male thru-hikers… and that look of contentment acquired after months of living in wilderness away from life's worries. I caught their broad smiles in the photo, but not their names. We did not want to detain them long for they only had twenty more miles to go to complete their thru-hike from Katahdin to Springer Mountain. My friend asked them what they planned to do when they got off the trail. "Sleep" said one. The other two, "Eat."

Dehydrating Carrots

I accidentally bought an extra bag of carrots this week, so I decided to do an experiment to compare dehydrating cooked carrots versus raw carrots. I usually steam vegetables like carrots, corn, and green beans for ten minutes before I dehydrate them so they will rehydrate better when I cook them over candles on the trail.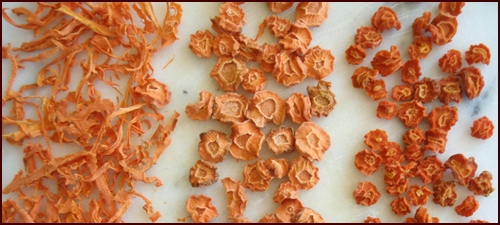 Carrots shrink quite a bit when you dry them. One thing I discovered is that steamed carrots (shown on the right in the photo) shrink more than raw carrots. Steamed carrots also turn darker which is consistent with what happens when you steam other vegetables like green beans and broccoli.

Peeled dry carrots give a nice mouth-feel in a recipe. I slice the wider top half of the carrot like a banana and peel the narrower half. I powdered some of the dried peeled carrots in a coffee grinder, but can't think of any good use for carrot powder in a backpacking recipe. Carrot powder doesn't dissolve in water like Tang. It looks more like stirred up pond sediment of the Georgia red clay variety.

If you cook your meals by adding hot water to the food in a freezer bag, your carrots will turn out more tender if you steam them before drying. If bringing carrots to a boil in a pot for a minute or two, you could go with drying the carrots raw. If heating over candles for ten to fifteen minutes it's a toss-up. For snacking on dried carrots without rehydrating, I'd go with raw versus steamed. Either way, they are pretty chewy.

Another way to dry carrots is to steam them until soft and blend together with cooked sweet potatoes. Spread thinly and dry into bark.



Taking a Bath on the Trail

I vacuum seal my daily rations. The other day I tested how well a reused vacuum seal bag would double as a camping water bag. At Dominique's urging, I had been thinking of purchasing a Sea to Summit Kitchen Sink to use for sponge baths. Yes, my stinky bachelor days are behind me. I'm even shaving on a regular basis now. The vacuum seal bags work great, so now I don't have to carry an extra piece of gear or spend any money.

Visit the new page: How to Make a Camping Water Bag.

That's it for October. On Saturday I swap mountains again, leaving the Appalachians behind and settling back into my Swiss village for a view of the snow covered Alps. We had four inches of snow in our village this week and temperatures below freezing. I'll be wearing my insulated winter pants again soon.

Warmest regards,





Chef Glenn & Dominique

PS If you have questions about this issue of Trail Bytes or would like to add comments or suggestions, simply reply to this email or write to me on my contact page.