Aloha,



I met a lot of Appalachian Trail thru-hikers when I hiked through Southern Virginia a few years back. I keep in touch with several of them as they continue their adventurous ways. This month's Trail Bytes features Colleen McCullagh and Derek Ohlgren.

I asked Colleen to tell her bear story. I camped a few miles north of her in Symms Gap Meadow that night. The photo shows my peaceful view at sundown around the same time she was serenading the bear.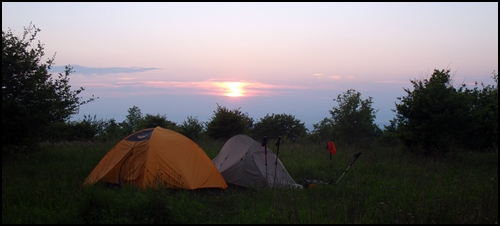 Colleen: After a few weeks on the Appalachian Trail, I was feeling adventurous and decided to camp by myself. Far from any shelters and a few miles past a tent and hammock setup, I hiked into the evening. I chose to settle in near a cluster of trees, a nice cozy spot. My dinner must have smelled incredible, because just as the sky went from purple to black, I noticed a pair of eyes getting closer.

I threw rocks, waved my trekking poles and yelled, just like all those safety videos tell you to. He backed away like a good safety video bear. But what they don't show in those clips is what to do when he keeps coming back and getting closer… and doesn't think your trekking poles are all that threatening anymore.

They also don't show the petrified hiker dumping delicious-smelling broccoli cheddar soup all over herself and her tent. It was at this point I did the most rational thing I could think of. Call my mother, of course! Thank goodness for good reception in Virginia. While my mother sang aloud with me to keep the bear at bay, I threw my belongings haphazardly into my pack, picked up my still set up tent, and started walking backwards… for three miles. I must have looked a little strange carrying a freestanding tent and singing Muppets songs in harmony with my mother on the other end of the line.

I found the tent and hammock I had passed earlier. Luckily for them, I had lost reception and was hiking quietly, no more singing. Exhausted, I dropped my pack and set up where it lay… directly underneath the hammock. The next morning I was too embarrassed to get up and explain why I was set up so close, so I waited for the other hikers to pack up and move on.

That was the last time I went out of my way to camp alone. I can say now that this was a relatively small, curious black bear. But at the time, he was the biggest and most vicious looking bear I had ever seen.

When I started hiking the Appalachian Trail in 2010, I had only just heard of it two weeks prior. I was between jobs and looking for something to do. Why not hike? Never mind that I had only camped out a handful of times and was painfully new to the backpacking world. I ate a can of Dinty Moore Beef Stew my first night, because it seemed like the kind of thing you would eat in the woods. I progressed to eating fresh-picked wild onions with my meals and five months later I was standing on top of Mt. Katahdin.

The Appalachian Trail is the gift that keeps on giving. I am reminded of the journey when I wake up every morning next to the best trail souvenir ever. Thanks for the boyfriend, AT! The experience continues to inspire me to challenge myself. If I was able to overcome the rocks that make up the State of Pennsylvania, and the hunger pangs of the 100 Mile Wilderness, I am fully capable of moving to Hawaii and living on the beach while I find work. And, I am 100% capable of doing whatever work I find.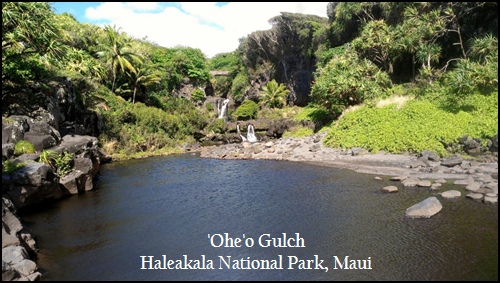 Derek and I have been living on Maui, working our way across the island on organic farms. We've even hiked to the top of 10,000 foot Haleakala Volcano! We are getting in as much of the tropics as we can now, because come April 25th, we're headed to the desert. Pacific Crest Trail 2013, here we come! How about some prickly pear cactus recipes, Chef Glenn?

-Colleen McCullagh (VA-ME 2010, GA-VA 2011)

Follow the adventures of Colleen and Derek on their blog at Adventures in the Giant Dumpster

Chef Glenn: Thanks for the inspiration Colleen! I wonder what kind of sleep your mother got that night when you lost cell service with the bear following you.

Speaking of Hawaii, dehydrated pineapple makes a nice addition to the backpacking menu. In addition to snacking on dried pineapple by itself or in a trail mix, you can make fruit cocktail with it, slip it into meals, or make a delicious dessert.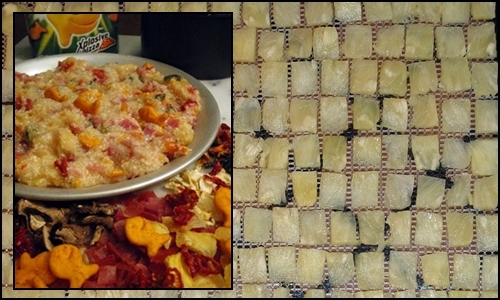 Dehydrating Pineapple
Remove the fibrous skin. If you have a coring tool, you can remove the core before cutting. Otherwise remove the core as you slice the pineapple. Cut the pineapple crosswise into ¾ inch thick rings first and then slice the rings crosswise into thinner ⅛ inch thick pieces. Smaller pieces dry faster than larger chunks or rings and are the perfect size to use in recipes and trail mixes.
Dehydrate at 135° until pliable (12 – 18 hours). If drying canned pineapple, it will take up to twice as long because of the pineapple being saturated with extra juices. Shorten the time by running the dehydrator at 145° for the first two hours.
Yield: 4 pounds of pineapple (1 medium to large pineapple before trimming) yields approximately 3 cups dry.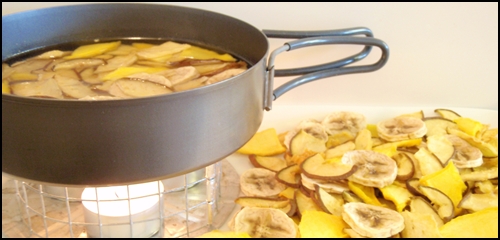 Fruit Cocktail for the Trail
Combine one cup of any assortment of dried fruit with one cup water. Soak for ten minutes and then heat slowly for ten more minutes. Try ½ cup pears, ¼ cup bananas, ⅛ cup pineapple, and ⅛ cup mango or peaches. You will have plenty of sweet juices to enjoy with the fruit without needing any sugar or corn syrup. I heat mine up in a fry pan lid over three tea light candles.
You can enjoy fruit cocktail cold if you have a container with a lid. Soak overnight. If you include a little extra water, say 1½ cups of water with 1 cup of dried fruits, you'll have a little shot of fruit juice to enjoy in the morning. Eat reconstituted fruit cocktail "as is" or serve with cereal and milk.
Here are some other recipes with dried pineapple:
Baked Bean Bark Stew. The recipe doesn't call for pineapple, but go ahead and add ⅛ cup of pineapple.
Hawaiian Shrimp & Rice. Pineapple also goes well with ham and rice. I like to include peppers with the meals since they pair well with the pineapple.
Pineapple Upside Down Cake. This is one of my favorite trail desserts.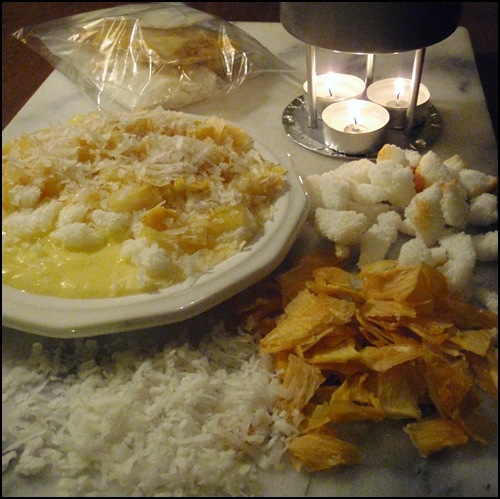 That's it for this edition of Trail Bytes. I'm flying back to the United States on Monday for two months. Dominique will join me in a few weeks. While we are in the states I will show Dominique around my boyhood hometown in New Jersey and we will take an urban hike of New York City. We hope to work in an Appalachian Trail hike around Delaware Water Gap.

Good luck to the Appalachian Trail thru-hiking Class of 2013. As of Wednesday, 683 hikers had signed the register at Amicalola Fall State Park in Georgia with the intention of going all the way to Maine. More than double that number are expected to set off in April.

Warmest regards,





Chef Glenn & Dominique