Hello,



Turkeys should steer clear of Randy King's hunting grounds. One false step and it's cutlets for dinner. But, connoisseurs of wild game might want to tag along with Randy and see some spectacular Idaho scenery along the way.

Says Randy about this month's cover: "The picture was taken near Riggins, Idaho, a small fishing and whitewater rafting town in the Salmon River Canyon. I was turkey hunting in the spring of 2011 with my son and father. I did not harvest a turkey that year…I was trying to take one with my traditional archery equipment, i.e. a longbow with wood arrows. I put a great stalk on a gobbler and fluffed his beard with my arrow. It was one of the best "skunked" hunts of my life."

I spoke with Randy recently when he interviewed me for an article he wrote for Boise Weekly entitled, "Backcountry Cuisine." Read it here.

In addition to hunting and writing, Randy is a certified executive chef with a specialty in cooking wild game. He has an excellent website with recipes. See "Chef in the Wild" at www.ChefRandyKing.com.

Chef Randy gathers and cooks wild edible plants to serve with his game. "Spring time is morel mushroom time in Idaho. We scavenge burns and keep our eyes to the ground in promising areas. Morels are a wonderful treat for a backpacker. Finding a few pounds of them on the trail makes the hike all the more enjoyable. A quick sauté with a little butter, salt and pepper makes these easy-to-identify mushrooms an entry-level forager's delight."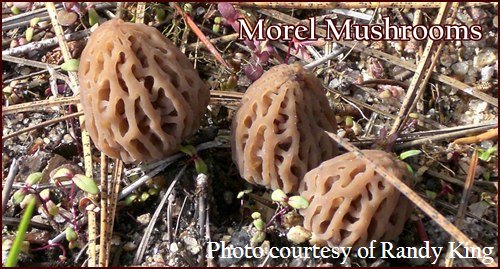 The next photo comes from Cheryl Frankenfield, one of the Appalachian Trail thru-hikers I met on the trail in Virginia in 2010. Fiddleheads are a type of fern that grows in the Northeastern United States but can also be found along rivers and moist forest areas in Washington and Oregon. The ends of the stalks are curled like the end of a fiddle. Cheryl and Chef Joe Petsche picked these fiddleheads in Olympic National Park in Washington on the trail to The Brothers Mountains.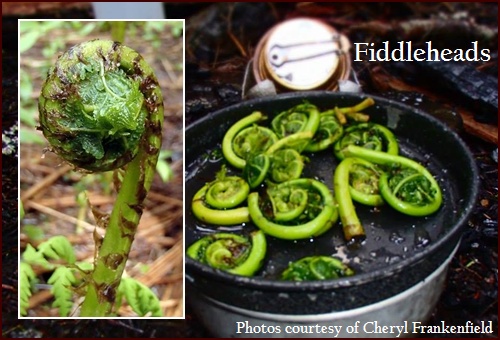 Clean off the brown fuzzy husk part and boil or steam fiddleheads before eating. After boiling, they can be sautéed in olive oil with salt and pepper or added to a meal. The texture and flavor is somewhat like asparagus.

If you are new to harvesting wild edible plants, take time to learn about plant identification and proper cooking techniques. Many wild plants are toxic and look similar to edible plants. For example, Morel Mushrooms are hollow on the inside, but the False Morel Mushroom is meaty on the inside. It's not difficult to tell them apart once you know what you are looking for, but the latter will make you mighty sick. Consider going with someone who has experience harvesting wild edible plants when starting out. Be careful not to damage surrounding plants when you harvest and leave more than you take.

My apologies: I missed sending out a newsletter in April. We were in the United States travelling a bit and working on some home improvement projects in Georgia. As for hiking, we walked New York City from one end to the other, if you count that as hiking, and we spent a lovely day hiking at Bushkill Falls in the Poconos of Pennsylvania. Before I left Georgia, I spent a glorious day on the Appalachian Trail.

To make up for it, I'll make this newsletter a little longer than usual.

From the Mail Bag:

Ming: Have you ever dehydrated baked banana bread or carrot cake into crunchy thin slices?

Chef Glenn: For long backpacking trips lasting several weeks where I don't want to risk having food spoil or the taste go off from fat oxidation, I dry angel food cake because it doesn't contain any fat in the form of egg yolks, butter or oil. Banana bread and carrot cake contain these fats, so they could spoil after a few weeks. They are fine to dehydrate for shorter trips of a week to ten days.

As I am a blessed man, Dominique baked a carrot cake which was waiting for me when I returned to Switzerland on Monday. Carrot cake and banana bread are denser than angel food cake, so they dry best in thin slices as Ming suggests. My darling's carrot cake was in a loaf shape. I cut off a piece about two inches thick and then sliced that piece into several thin slices about ⅜ inches thick each. As a control, I also dried a piece that was about ¾ inches thick. The thinner slices were crunchy like cookies after four hours in the Excalibur Dehydrator at 125°. The thicker slice was dry on the outside but still moist on the inside.

Ideas to enjoy dried carrot cake and banana bread on the trail:
Munch them just like crunchy cookies.
Break them into crumbs for use in trail mixes. Try mixing dried banana bread crumbs with dried bananas and pineapple, chocolate pieces and nuts. Dried carrot cake crumbs would be good with chocolate pieces, dried cranberries and nuts.
Reconstitute fruit leather with warm water to make a fruit spread to top or dip your banana bread cookies in for breakfast.
In the photo above, I heated and reconstituted ¾ cup dried fruit with ½ cup of water in my fry pan lid over three tea light candles for ten minutes. Then I stirred in the carrot cake cookie crumbs. Very tasty!

Back to turkeys…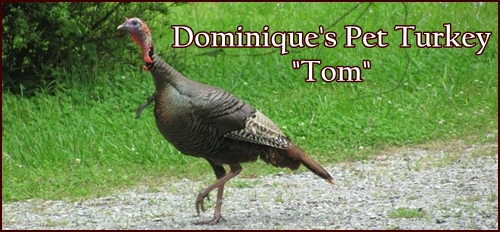 We have so many turkeys in our yard in Georgia that they could be called a herd. We really enjoy watching them feed and engage in their mating behaviors in the spring. The males strut their stuff with their chests all puffed up and tail feathers fanned out. Around the time I left to go back to Switzerland, several hens had a parade of feisty chicks following them. A couple weeks ago, I heard loud banging coming from the basement. I went out on the back deck and looked down at the glass door to the basement and there was ole Tom, having a fight with himself.

Have a great summer of hiking and may your soul be nourished with the beauty of nature.

Warmest regards,




Chef Glenn & Dominique
P.S. If you have any questions or comments about this issue of Trail Bytes, you may simply reply to this email or use the contact form at BackpackingChef.com.