Hello,



In January I announced that I had reached a Katahdin moment with the completion of my e-book, Recipes for Adventure. The response to the e-book has been wonderful.

Some folks prefer turning the pages of a printed book, so I went to work a few months later to produce the book in print.

I didn't announce it in advance because I wasn't sure if I could pull it off. I tried formatting it myself, since BackpackingChef.com is all about doing things yourself, but had to turn it over to professionals after banging my head against the computer screen for several weeks.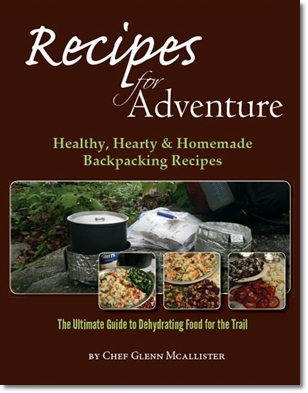 They did a nice job. The print edition has all the instructions and photos as the e-book with larger pages and colorful design elements defining the different sections of the book.
The Bark Section has lots of tasty recipes using potato, sweet potato, corn, bean, pumpkin and world peas bark.

The Breakfast Section includes my method for dehydrating scrambled eggs.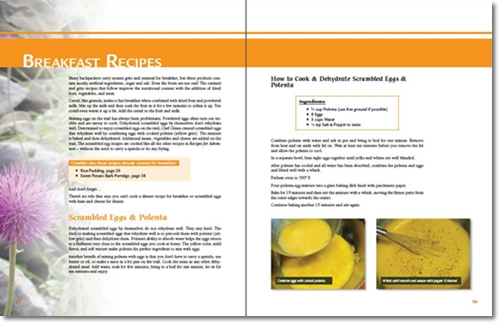 Order processing and shipping are handled efficiently by Amazon.com.

I would be honored if you purchase the book!

Click to view sample pages and read customer reviews.



---
New Recipes Shared:
Shelley Lauzon, from Ontario, Canada, bakes pizza, bread, quiche, tarts, cobbler, cake and muffins in her Outback Oven. Although the set-up is a little heavy for backpacking, Shelley and her husband Claude carry their gear by canoe.
See Shelley's recipes for Pumpkin Muffins, Berry Good Chocolate Cake, Apple Cobbler and Cheddar Broccoli Tarts.

Although she recommends practicing with store-bought mixes until you get the hang of it, I like that she came up with her own homemade recipes that don't contain the partially hydrogenated oils found in most mixes.



---
Coming Next Month:
In next month's newsletter I'll show how I plan a backpacking menu and dehydrate meals for a ten day trip. Our daughter Válerie and her boyfriend asked me to prepare meals for their camping trip to Norway in July. Restaurants are VERY expensive in Norway, so they will save a lot of money feasting on Chef Glenn's cuisine.
Speaking of dehydrators…
Excalibur is offering a 15% discount through July 4th.
The offer includes free shipping and a free 10-year warranty.
Click the Excalibur link below my signature to visit Excalibur Dehydrator.
Enter the code redwhiteblue at check-out to receive the discount.
Warmest regards,




Chef Glenn & Dominique P.S. If you have any questions or comments about this issue of Trail Bytes, you may simply reply to this email or use the contact form at BackpackingChef.com.