Hello,



This month's cover of Trail Bytes reminded me of the book, "Oh, the Places You'll Go!" by Dr. Seuss. It starts out, "Congratulations! Today is your day. You're off to Great Places! You're off and away!"

It ends, "KID, YOU'LL MOVE MOUNTAINS! Your mountain is waiting. So...get on your way!"

No doubt Sirko and Yvonne, my friends from Germany who I met on the Appalachian Trail in Virginia in 2010 heard the call of Katahdin. After finishing their thru-hike, they returned to Germany to start a new adventure… raising little Anna Liese who graces our cover.
My tarp set-up, Sirko & Yvonne cooking dinner at the shelter.

Homemade Dog Treats
With the reports about lethal dog treats in the news lately, I thought I'd try making some homemade dog treats. I call it "Dog Bark." I tested it on my neighbor's dog, Billy Bob, and my daughter's boyfriend's dogs, Thelma & Dahlila. You can tell by the names these are southern dogs. The names of the dogs living in my flat in Switzerland are Pedro and Cee Cee.
The dogs loved the Dog Bark Treat. Billy Bob even got a second helping when I made a batch of Dog Bark Soup. We split two cups. I enjoyed mine with a shake of salt and pepper.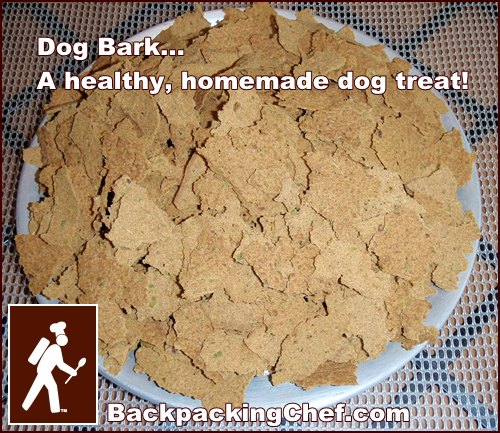 I made the dog bark with a pound of ground beef, one large sweet potato and a handful of green beans. When making homemade dog treats, keep in mind that onions and garlic are toxic for dogs.

Visit the new page, Homemade Dog Treats, for photos and the complete recipes.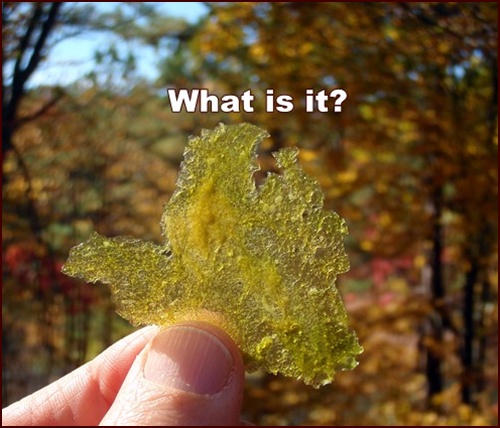 Join us over at my new Facebook page for menu ideas and contests. Jody and Minda won free copies of my "Menu Planning & Food Drying Workbook" by guessing that I was holding dehydrated honeydew melon.

Here's an easy way to dehydrate honeydew melon or cantaloupe:
Cut melon in half and remove seeds.
Scrape out flesh with a soup-size spoon and spread on dehydrator trays covered with non-stick sheet. It will be a slushy consistency, just a bit chunkier than if you ran it through a blender, but no need to dirty the blender.
Dry at 135° for approximately nine hours. After about six hours, you should be able to peel it off the non-stick sheets to flip it over and dry without the non-stick sheets.
One large honeydew melon took up two Excalibur trays and yielded 1½ cups weighing three ounces.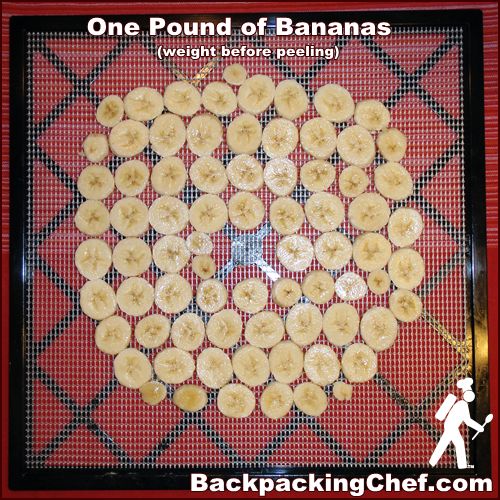 Contest:
How much do 30,000 pounds of bananas (weight before peeling) weigh when dried?
Visit my facebook page on Friday to take a guess. The person who guesses the correct answer first or is the closest by 3 PM EST will win a copy of Recipes for Adventure and the Backpacking Chef Menu Planning & Food Drying Workbook. Please "like" the page to continue receiving the posts and "share" to spread the word.
If you are not on Facebook, then simply reply to this newsletter on Friday with your guess.
A few rules: Wait until after 7:00 AM EST Friday morning to make your guess to the nearest pound. One guess per person. Chef Glenn determines the correct answer. If winner lives outside the United States, they will receive the e-book edition. Good luck!
Visit Backpacking Chef on Facebook.
I'm sorry I didn't send a newsletter out in October. I was enjoying the fall weather in Georgia and spent less time in front of the computer. We're back in Switzerland now. Winter is in the air, maybe snow tomorrow.
Dominique and I wish you a Happy Thanksgiving. I will be cooking a chicken. Ovens are smaller here and you can't find a turkey anywhere.
Warmest regards,




Chef Glenn & Dominique

P.S. If you have any questions or comments about this issue of Trail Bytes, please reply to this email or use the contact form at BackpackingChef.com.