Hello,



Dominique and I are heading out next week to Virginia for a six day backpacking trip on the Appalachian Trail in Shenandoah National Park. I'm almost done cooking and drying the food for the trip.

I cooked and dried some complete meals including Chili, Ratatouille, Root Bark Stew and Risotto. The other meals will be assembled from the individual foods that I have dehydrated.

I precooked the rice and potato bark in the usual way; using chicken or beef broth depending on what meat I pair it with.

As for vegetables, I tried a new cooking method and broiled the yellow squash, onions and sweet peppers for ten minutes before drying. That seems to have lent a nice roasted flavor to them.

Pots: I will cook the main meals in a 1300 ml Evernew pot and we will use the fry pan lid as a plate for Dominique's portion. I will also carry my 900 ml Evernew pot which we will use for coffee and desserts. It only weighs a few ounces and nests inside the larger pot. Dominique agreed that we could drink from the same pot of coffee rather than carry two cups.

Stoves: My tea light alcohol stove is not sufficient to cook a double meal, so I will cook the main meal with an Optimus Crux Stove using canister fuel. I will still pack a small amount of alcohol fuel to preheat the water during the soak phase and also to heat water for coffee. I'll round out the fuel supply with three tea light candles to warm fruit and chocolate sauce for desserts.

All of the recipes used for this trip are in my book, Recipes for Adventure.

I doubled the large portions.

Here's the menu:
6-Day Backpacking Menu
Day 1
Lunch: Tuna Mac & Cheese
Dinner: Chili
Dessert: Rice Pudding
Day 2
Breakfast: Oatmeal with Apples & Cinnamon
Lunch: Mashed Potatoes with Beef & Mixed Vegetables
Dinner: Ratatouille
Dessert: Trail Angel Cake (Strawberry Chocolate)
Day 3
Breakfast: Scrambled Eggs/Polenta with Beef & Tomato
Lunch: World Peas Bark Stew with Chicken
Dinner: Root Bark Stew
Dessert: Fruit Cocktail
Day 4
Breakfast: Oatmeal with Bananas & Nuts
Lunch: Spinach & Bean Raminara
Dinner: Curry Chicken & Rice
Dessert: Peach Cobbler
Day 5
Breakfast: Yellow Grits with Squash & Tomato
Lunch: Risotto
Dinner: Mashed Potatoes with Chicken & Mixed Vegetables
Dessert: Trail Angel Cake (Mango & Banana)
Day 6
Breakfast: Sweet Potato Bark Porridge
Lunch: Unstuffed Peppers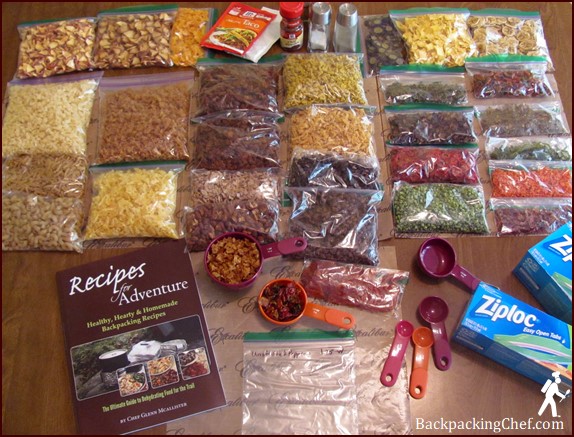 The photo above shows the food I have dried for the trip so far. The fruit will be used for snacks and desserts. I still have to dry a batch of scrambled eggs & polenta, some world peas bark, cake and bread for desserts. I'm going to precook and dry the pasta for one meal so that it cooks easier on the trail considering the large portion for two people.

Next month I'll have a full report about how the trip went.

Happy Trails,



Chef Glenn & Dominique

P.S. If you have any questions or comments about this issue of Trail Bytes, please reply to this email or use the contact form at BackpackingChef.com.