Hello,



We're still waiting for snow in Pfäffikon, perhaps we'll see some Friday. The cover shot is from last winter of the little church next to Jücker's Farm where we often stop for an espresso on our walks around the Lake of Pfäffikon.

The view of the lake and snow-covered mountains from Jücker's favorable location above a sloped vineyard makes conversation optional, an eyeful is as good as an earful.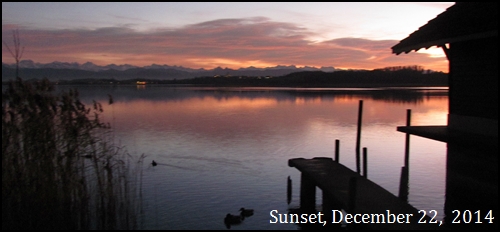 We never tire of looking at the mountains and the reflections on the lake. Every time we walk by the lake, a new scene captivates us.
Potato Leek Soup
During the winter I make soup at least once a week. In this month's newsletter, I feature Potato Leek Soup. I made a large potful last night so I could serve three for dinner, have one serving left over for Dominique's lunch, and dehydrate 2 – 3 servings.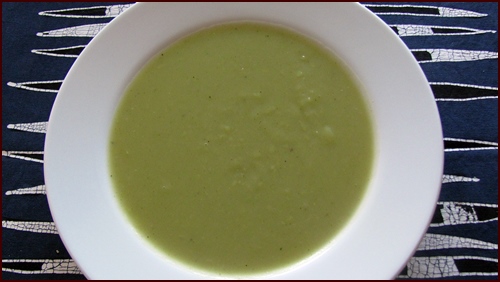 Reconstituted Potato Leek Soup
Servings: 6 - 7
Ingredients:
3¾ lbs. Potatoes, peeled and chunked
½ lb. Leeks (approx. six layers of a leek, cut into small pieces)
11 cups Chicken or Vegetable Broth or Water with Bouillon
4 cloves Garlic, minced
1 tsp. Salt
¼ tsp. Ground Pepper
1 tsp. Thyme, fresh preferred
3 Bay Leaves
1 tsp. Olive Oil
½ cup Half & Half Cream (added for immediate serving, not dehydration)
Instructions:
Add peeled and chunked potatoes to a large soup pot with salt and pepper, bay leaves and thyme. Add enough chicken broth to cover potatoes by half an inch. Bring to a boil and then reduce heat to simmer. Retain the rest of the chicken broth.
Cut six to eight layers from a leek and wash thoroughly. Remove tips if dried out, but otherwise use both the dark green and lighter parts of the leek. Slice longwise into thinner strips and then across into small pieces.
Add leeks and minced garlic to a frying pan coated with olive oil and cook over medium heat. While the leeks are cooking, periodically add chicken broth to the pan ¼ cup at a time to keep the leeks from burning. I used this method (adding liquid) to reduce the amount of oil used to only one teaspoon.
When the leeks are soft after about ten minutes, add to the big soup pot with the potatoes and simmer for an additional ten minutes. Remove from heat and let it cool just a bit.
Remove bay leaves and run the soup through a blender until smooth. This will take 2 – 3 loads so having an extra pot will be helpful to hold the soup as it comes out of the blender.
You may now dehydrate whatever portion of the soup you want to preserve. This recipe yielded thirteen cups of soup and I dried five cups of it.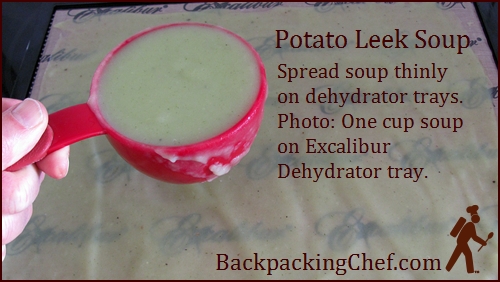 Dehydrating the Soup
Spread thinly on dehydrator trays covered with non-stick sheets or fruit-roll inserts. One cup of soup is a good amount to dry per tray if using an Excalibur Dehydrator.
Dehydrate at 135°F for six to eight hours. To speed up drying and to thoroughly dry the underside of the soup bark, peel and flip the bark over when it has dried enough that it peels off without sticking.
Break into smaller pieces when bark is dry.
The five cups of soup that I dried yielded three cups of soup bark. Each cup weighed 2 ounces (56 grams).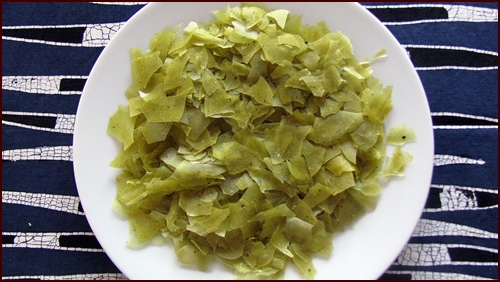 Reconstituting the Soup Bark
For one large serving, combine one cup soup bark with two cups boiling water. Stir until smooth. If using a thermos, add the bark and boiled water to the thermos and shake lightly and then again right before you eat it.
I experimented with reconstituting the soup in a Glad Brand LockWare™ container. When I gave it a light shake, the lip popped off. I was hopeful that this container when combined with a homemade cozy would be a lightweight method to reconstitute and carry soup on the trail, but the container only has one thread to hold the lid on and it often does not screw on properly. You could still manage to reconstitute soup in this container if you stirred and didn't shake, but keep in mind that the container leaks even when the lid is on. It is, of course, difficult to hold the container and put the lid on with hot liquid in it, so a cozy would be important. I think I'll stick with a thermos even though it's heavier.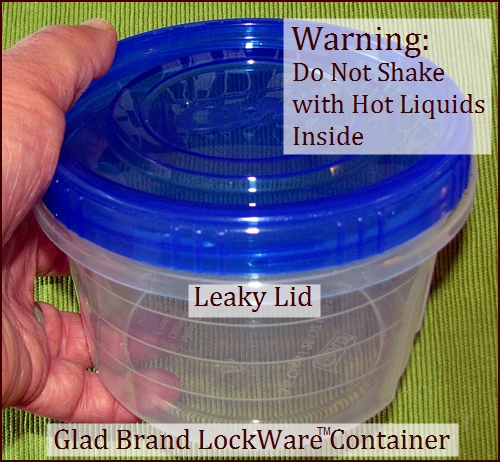 To Serve Soup at Home without Dehydrating
Thin remaining soup that you don't dry to your preference with remaining chicken broth and a little half and half cream to make it extra creamy. I added ½ cup half and half cream plus one cup of chicken broth and a little water to the remaining eight cups of soup and simmered for a few minutes. That gave us three large servings for dinner last night and a full thermos for Dominique's lunch today.
Next month I'll feature a similarly constructed Potato Broccoli Soup and maybe take a stab at dehydrating rösti, a traditional potato dish served in Switzerland.
Thanks for reading along… this is the 40th issue of Trail Bytes I've sent out with over 6000 folks receiving it now.
We wish you a Merry Swissmas and a New Year full of exciting adventures!
Warmest regards,



Chef Glenn & Dominique

P.S. If you have any questions or comments about this issue of Trail Bytes, please reply to this email or use the contact form at BackpackingChef.com.

Visit my Facebook page for regular postings about our favorite topic: dehydrating food and making your own tasty backpacking meals.