Chicken with Caramelized Onions & Tomatoes over Rice
Shared by Granuaile, Marietta, Georgia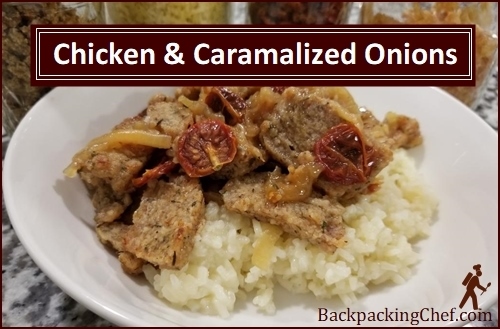 Servings: 1

Ingredients:

½ cup Dehydrated Rice, precooked in chicken bouillon, or Instant Rice
¼ cup Dehydrated Cherry Tomatoes, halves dried to the point they have a slightly scorched flavor Read more.

⅓ cup Dehydrated Caramelized Onions
6 oz Raw Ground Chicken Breast
¼ cup Breadcrumbs
2 tsp Thyme
Salt & Pepper to taste
At Home:  

Dehydrate jasmine rice by pre-cooking and drying it using chicken broth. Read more.

Mix the chicken, breadcrumbs, thyme, salt and pepper. Form into two small cubes, between 1" and 2" on each side. In a skillet, cook the cubes on all sides, until mostly cooked. Remove from heat and thinly slice with a sharp knife. Return the slices to the pan and cook until lightly browned on both sides.

Dehydrate as you would regular ground chicken. Read more.

How to Caramelize Onions
Caramelize onion slices in a skillet of water until the water in the pan is syrupy. Start with 1½ sweet onions, thinly sliced. Placed them in a pan and add enough water to cover the bottom of the pan with about a cm of water, approx. ½ cup water. Cover and let simmer for 30-50 minutes, stirring a couple of times. If the pan goes dry, add more water. Once the onions are VERY soft and see through, stop adding water and uncover. Stir until the remaining water thickens into a fairly thick syrup and the onions are lightly brown.
Dehydration: Spread caramalized onion mixture on nonstick sheets as thin as possible. The result can be hard to break if it is too thick. After dehydration, the onions will be see through and look a lot like orange stained glass candy. Dehydrate @ 135° F (57° C).

Packing: Package the dried chicken "fillets", tomatoes, and onions in one bag; and the rice in another.

On the Trail:

Note: This assumes two pieces of cookware: a pot and pan/lid. You could combine all the ingredients and rehydrate in one pot, but it is much better with the onion/tomato mixture as a gravy on top of the rice.

In your pot, combine the rice and ¾ cup water. In the lid/pan, combine the chicken and vegetables with ¾ cup water. Let soak for 5 minutes. Bring the pan with the chicken and vegetables to a boil. Once boiling, put the rice pot on the flame, using the pan as a lid. Boil the rice for one minute. Insulate the rice pot. Return the chicken pan to direct flame. Boil and add water until the onions and tomatoes are fully rehydrated and soft. Add approx. ¼ cup of water and let sit, insulated or on top of the rice pot for five minutes. If the sauce is too watery, return to flame until a gravy forms. Fluff the rice and pour the chicken and onion gravy over the rice.

Variations:

Crumble the chicken instead of making patties/slices if you want a faster cook time.

Add caramelized fennel to the caramelized onions for added depth.
Replace thyme with rosemary or tarragon as your palette prefers.
Portion Note: This is a LOT of meat if you are small like me (5'3" and 90lb). My husband (6'3" and 210 lbs.) is happy with it but it was more than I can handle so adjust accordingly.

Cookware Note: I use the 4-piece Snow Peak cookset, though I only really use the two small ones. I use an Emberlit stove, so fuel is not really an issue for me. Sticks are everywhere and don't run out. I tend to add more water as needed over the open flame to get the rehydration I need.


Share Your Best Backpacking Recipe with Backpacking Chef Readers
Click here to share your best backpacking recipe.

Continue Reading...

Backpacking Recipes Shared by Readers
Backpacking Recipes by Chef Glenn
Subscribe to Chef Glenn's Free Newsletter