Container Cooking:
Cooking Outside the Pot
Q: Are your recipes adaptable to cooking in a freezer bag – using the pot only to boil water and adding it to the food in a quart-size freezer bag?

A: Yes, the recipes in Recipes for Adventure are easy to cook in freezer bags or any other container by adding boiled water and waiting 20 minutes.

This article shows how to cook Chef Glenn's recipes in freezer bags, rigid containers and Thermos®Food Jars with recommended adjustments.

Photos above and below: Mashed potatoes with beef and vegetables, aka, "Cottage Pie," cooked in freezer bag and shown on plate for display purposes.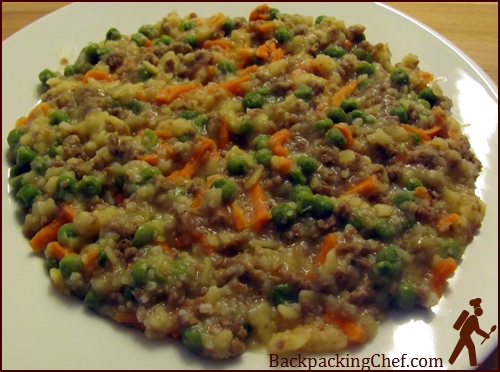 For best results, follow these techniques:

Vegetables

| | |
| --- | --- |
| | Steam corn, peas, carrots and green beans for six to eight minutes before dehydrating. They will rehydrate better in hot water than if you dried these vegetables raw. |
Another benefit of steaming before drying is that the vegetables will retain a darker color. Broccoli will hold a dark green color better if lightly steamed, so I steam mine before dehydrating.  "French-cut" green beans will rehydrate fine without precooking. Lima beans remain hard no matter what you do. I avoid those.
See Dehydrating Vegetables for more information.

Two More Vegetable Drying Tips:

Julienne cut carrots rehydrate well and rehydrate larger in your meal than diced or sliced carrots.
Poke a hole in each pea after steaming with a fork. Some of the peas may split open from the steaming, but some don't. It goes pretty fast… you can spear several at a time.

Meat
Photo at left: The breadcrumb method for dehydrating ground beef.

Add fine breadcrumbs or finely ground precooked and dried rice to ground beef to make it rehydrate MUCH better than ground beef dried by itself.


Dehydrated canned chicken rehydrates better than grilled, fried or baked chicken. Pressure cooked chicken is better, but still may be a little chewy. Canned chicken is fail proof.

Dehydrated deli ham will be chewy if rehydrated freezer bag style. Dried tuna rehydrates well.

See Dehydrating Meat for more information.

An alternative to using dried meat is to carry pouches of tuna, chicken or Spam type meats. Deduct water for rehydration from the recipe in the same amount as was called for the meat in the recipe. For example, if the recipe called for ¼ cup dried meat, reduce the water for rehydration by ¼ cup. Then just add as much of the pouched meat as you like.

Pasta
Since you will likely eat your freezer bag meal with a long spoon, small forms of macaroni – the kind that comes in macaroni and cheese products, will fit nicely on your spoon. With pot cooking, these types of macaroni do not need to be precooked and dried because you maintain a boil for two minutes followed by waiting ten minutes with the meal in an insulating cozy. With freezer bag and container cooking, it is best to precook macaroni before drying. It rehydrates well.

Cook macaroni in boiling water the usual way for about six minutes. Drain and dehydrate at 125° F. It should be dry in 2 – 3 hours. "Rotini" spiral-shaped macaroni is easy to dry and rehydrates well. Macaroni "shells" are more difficult to dry because they stick together like stacked hats when you try to spread them on the dehydrator trays.

Pre-cooked and dried pasta will be slightly larger than uncooked pasta. You can add an extra pinch of pasta to the recipes. When cooking large portions or when cooking for two, I have found it easier to precook and dry the macaroni even when I cook the meal in a pot.

Ramen noodles will cook fine in a container without precooking and drying. You can also substitute them for macaroni in a pinch.


Potato and Corn Bark
Potato and corn bark will rehydrate to a creamier texture when cooked in a pot, but will still rehydrate well with container cooking. Some of the bark will not break all the way down to a mashed potatoes creaminess, but will still be very soft and tasty.

| | |
| --- | --- |
| | You can process bark into bits with a food processor, but it really isn't necessary. It breaks down about the same during rehydration and the meals turn out fine. |
The photos at the top of the page show how potato bark turned into mashed potatoes without being processed into bits.
Two advantages of turning bark into bits unrelated to cooking is that it reduces the overall packed volume of the meals and also takes the sharp edges off the bark, which sometimes puncture vacuum sealed bags.
Recipe Conversions for Potato and Corn Bark to Bits:

Regular portions: If the recipe calls for ½ cup bark, use only ¼ cup bits.
Large portions: If the recipe calls for ¾ cup bark, use only ⅓ cup bits.

Bean and world peas bark are more crumbly than potato and corn bark, so there is no need to ever reduce them in a food processor.
See Potato Bark for more information.

Freezer Bag & Container Cooking Instructions:




Boil the amount of water for rehydration specified in the recipe.
Add boiled water to food in quart-size freezer bag or container. Stir it up quickly. Close container.
Insulate bag or container in a cozy and wait 20 minutes.

Adding boiled water to a bag and handling it can be tricky. To be safer, place the bag inside a rigid container such as a medium-size Glad Lockware™container first, then add the hot water. This keeps the bag upright while the meal rehydrates. Try to have the container in the place where it will sit and rehydrate when you add the hot water so you don't have to handle a hot container.
If you don't mind wiping the container clean, you can skip the bag altogether and just use the container.
Another trick, once you get proficient at pouring hot water into a bag, is to put the filled bag back into the pot.



Photo at left: Meal shown inside a pot cozy before water is added.

You can make a cozy using Reflectix™ material to fit any size container or a pouch style cozy to enclose a bag if you don't use a rigid container.


Container Cooking for Groups

Container cooking makes cooking for groups easier. Meals can be varied for each person. Each person would have their own dried meal in a container and the chef boils and pours water into the meals. Clean up is easy with group container cooking and fewer stoves and pots need to be carried.

Photo at left: Mashed potatoes with beef and vegetables cooked in a medium-size Glad Lockware™container.

Adult Supervision: Using rigid containers with an adult pouring the hot water is the safest approach with young campers. Make cozies for the containers to hold in the heat and to make the containers easier/safer to hold.


Thermos Cooking
Thermos Food Jar cooking is great for deferred eating… fix it now, eat it hours later.


Add 25% more boiled water than called for in the recipes when thermos cooking because the food will have more time to absorb water.
For best results, pre-heat the thermos with hot water before preparing the meal.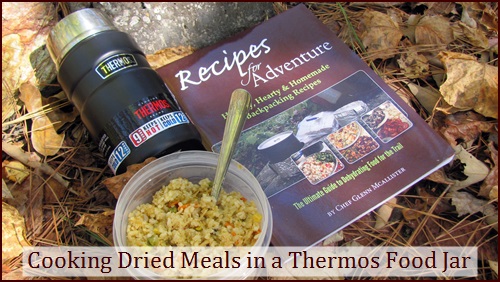 Deferred Eating: Prepare a hot backpacking or hiking lunch in the morning so you don't have to pull out your stove again. The meal will rehydrate and stay warm all day. Similarly, you can prepare your breakfast the night before while you are cooking dinner so you can get a fast start in the morning.

You may want to transfer the meal to another container to eat because the mouth of the container is not very wide. Go with the 24-ounce Thermos Food Jar. They make a 16-ounce size also, but that's a little small for most uses.

Off-Trail Use: For work lunches or meals on the road, add hot water to the dehydrated ingredients in a thermos food jar in the morning at home and enjoy a hot lunch later. Saves time and money.


Buy a Thermos Food Jar at Amazon

---
---
Pick a Topic to Explore

Share this page with friends on social media.