Best Energy Bar Recipes
Ready to get your groove on? The energy bar recipes on this page feature healthy ingredients that maximize caloric and nutritional density.

First, we'll cover the nutritional profile of Chef Glenn's best energy bar recipe, followed by five more homemade energy bar recipes shared by backpackers.
Ingredients for Homemade Energy Bars
Include healthy ingredients that taste good, and combine them for optimal caloric and nutritional density.
Dehydrated fruits provide calories for quick energy. Dried fruits also contribute fiber, vitamins, and minerals.
Nuts and seeds provide calories from fat—these are considered endurance calories to last you through the day. Nuts and seeds are also high in protein and fiber.
Rolled oats provide protein and complex carbohydrates. Oats are also high in soluble fiber.
It is sometimes said in backpacking circles, "A calorie is a calorie." Such reasoning elevates the status of a 200-calorie Pop Tart to that of a handful of dried figs, which also provide 200 calories. While both provide calories in the form of carbohydrates, Pop Tarts are full of high fructose corn syrup and sugar—and mostly void of nutrition.
Carbohydrates

Oats are high in complex carbohydrates, which take longer for your body to convert into energy—energy that will stick with you.
Dried fruits are high in carbohydrates in the form of natural sugars that provide quick energy. In addition to calories, dried fruits are full of vitamins, minerals, antioxidants, and fiber.
Valley Fig Growers state, "The fiber in figs is both soluble and insoluble, meaning the natural sugars in figs break down slowly over time. Fiber not only helps keep us full, but helps stabilize our blood sugar levels, while also helping maintain healthy bowel movements."
Fats
The only thing worse than a constipated backpacker is a tired backpacker. Slaying mountains day after day requires double or triple the calories we need compared to when we're sitting at our desks researching energy bar recipes. Since we don't want to flood our blood streams with high fructose corn syrup and sugar, a healthier way to boost calories in homemade energy bars is to include nuts and seeds, which contribute calories from fat.
USADA states, "Fat is a valuable metabolic fuel for muscles during endurance exercise and performs many important functions in the body, although it does not provide quick bursts of energy needed for speed."
According to Cleveland Clinic, "Fat has more than twice as many calories per gram as carbohydrates and proteins. A gram of fat has about 9 calories, while a gram of carbohydrate or protein has about 4 calories."
Proteins
The third source of calories for energy bar recipes is protein. Gram-for-gram, protein contains the same amount of calories as carbohydrate. Nuts and seeds are good sources of protein, but homemade energy bars need another ingredient to hold all the goodies together. Rolled oats are great at binding the fruity parts of energy bars with the nutty parts.
Rolled oats have 13.4 grams of protein per 100 grams. According to Healthline, "Oats are among the healthiest grains on earth. They're a gluten-free whole grain and a great source of important vitamins, minerals, fiber, and antioxidants."
Vitamins & Minerals
In addition to high caloric density and fiber, all of the energy bar ingredients mentioned—dried fruits, nuts and seeds, and oats—provide a healthy combination of vitamins and minerals to keep your bodily systems humming along.
Chef Glenn's Best Energy Bar Recipe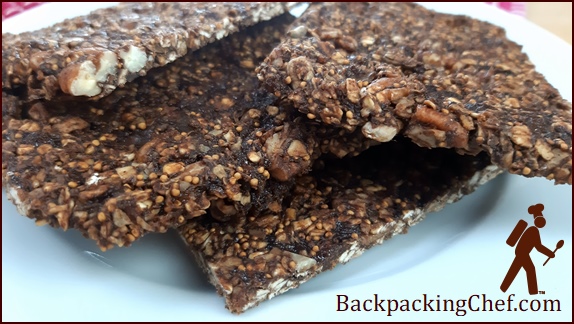 The figs and oats in this energy bar recipe are what bind all the healthy ingredients together. These dehydrated energy bars are chewy with a little crunch in them. They are slightly bendable, but stiff enough to spread peanut butter on top if you want to really go wild.
Servings: 6 energy bars
Ingredients:
7 dried figs (100 g) *
½ cup toasted rolled oats (50 g)
¼ cup pecans (25 g) **
⅛ cup toasted sunflower seeds (15g)
¼ cup grated dark chocolate (25 g)
¼ tsp. cinnamon
⅛ tsp. coarse sea salt
Optional: ¼ tsp. ground espresso
½ cup water (118 ml)

* Dried dates can be used in place of figs. They pair exceptionally well with peanuts.
** Any kind of nuts may be used: pecans, peanuts, walnuts, hazelnuts, almonds, etc. Reduce nuts to smaller pieces or the energy bars won't hold together as well.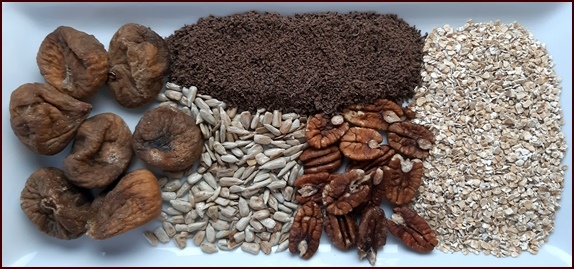 Homemade Energy Bar Ingredients: Figs, Pecans, Sunflower Seeds, Oats & Dark Chocolate.
Instructions:
Toast rolled oats in a pan by heating them over medium-high heat for just a few minutes, stirring continuously.
Toast sunflower seeds in the same way.
Break nuts into smaller pieces.
Grate dark chocolate, or use small pieces. It's going to melt either way.
Cut dried figs into small pieces.
Add fig pieces to a pot with ½-cup water. Bring to a boil and then turn off stove. Let figs sit for 10 minutes.
Reduce figs to a slurry with a potato masher.
Dump all the other ingredients into the pot and mix well. Let mixture sit for a few minutes to allow the oats to absorb moisture.
Dehydrating Energy Bars:
Spread mixture about ¼-inch thick on a nonstick sheet or parchment paper. Shape into a big square. Because the mixture is thick, it's easier to spread it around over a solid surface like a counter top before placing it on the dehydrator tray.
If using a round Nesco dehydrator, press mixture into fruit roll inserts. When the energy bars are firm, transfer them to the mesh (clean-a-screen) inserts to finish drying.
For Excalibur dehydrators, double the recipe to fill one tray.
Photo: Energy bar mixture spread ¼" thick on nonstick sheet.
Dehydrate at 145°F (63°C) for approximately 8 hours. After 3–4 hours, flip mixture over onto another tray to expose the other side. After 5–6 hours, slide mixture onto a cutting board and cut into 6 individual energy bars. Continue drying for another 2 hours directly on mesh sheets.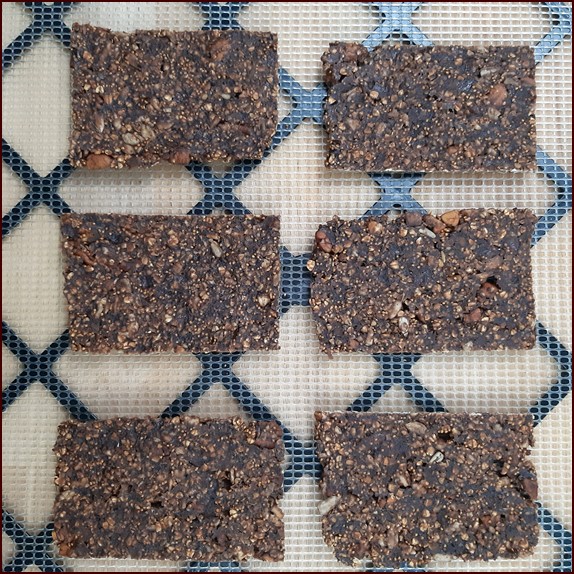 Photo: Energy bars drying on mesh sheets.
Dried Yield

Dried weight: 192 grams, or 32 grams per energy bar. Size approx. 4" x 2½" per bar.
Recommended servings: 2 bars per snack break for 278 calories.
Storage & Packing
Store homemade energy bars in an airtight container for longest shelf life. When you hit the trail, place a piece of parchment paper between each bar.
Energy Bar Nutrition Summary:
Total Calories
834 total calories for 6 bars, 139 calories per bar.
Caloric density is very good. Kcal/g score = 4.34
Dried Figs
100 grams provide 249 calories. (92% carbs, 3% fat, and 5% protein).
Plus: Fiber, Copper, Magnesium, Potassium, Riboflavin, Thiamine (B1), Vitamin B6, Vitamin K.
Pecans
25 grams provide 173 calories. (14% carbs, 71% fat, and 15% protein).
Plus: Fiber, Copper, Zinc, Magnesium, Phosphorus, Iron, Thiamine (B1).
Sunflower Seeds
15 grams provide 85 calories. (12% carbs, 73% fat, 15% protein).
Plus: Fiber, Vitamin E, Niacin, Vitamin B6, Folate, Pantothenic Acid, Iron, Magnesium, Zinc, Copper, Manganese, Selenium.
Rolled Oats
50 grams provide 191 calories. (62% carbs, 23% fat, and 15% protein).
Plus: Fiber, Thiamin (B1), Iron, Magnesium, Phosphorus, Zinc, Copper, Manganese, Selenium.
Dark Chocolate
25 grams provide 136 calories. (45% carbs, 51% fat, and 4% protein).
Plus: Fiber, Iron, Magnesium, Copper, Manganese, Potassium, Phosphorus, Zinc, Selenium, Antioxidants.
Homemade Energy Bar Recipes
The following energy bar recipes were shared by Backpacking Chef readers. If you would like to share your best energy bar recipe, fill in the form at the bottom of the page. Thank you!
---

Toasted Oat & Almond Energy Bar Recipe
Shared by Clarence Odbody
Servings: 15–20 energy bars.
Ingredients:
1 heaping cup packed dates (pitted)
¼ cup maple syrup, date molasses, or honey… something sticky sweet
¼ cup peanut butter or almond butter
1 cup roasted unsalted almonds, loosely chopped
1½ cups rolled oats (pro tip: toast the oats!)
Optional Additions: Dried fruit, nuts, banana chips, coconut, flax, chocolate chips, vanilla, etc.

Instructions:
Process dates in a food processor. It should form a "dough" like consistency. (Mine rolled into a ball.) If the dates are dryer, add a splash of warm water.

Optional: Toast your oats and almonds in a 350°F (176°C) oven for ~10 minutes or until slightly golden brown.

Meanwhile, warm honey and peanut butter in a small saucepan over low heat.

Place oats, almonds, dates and any additions in a large mixing bowl.

Pour the warmed peanut butter mixture over the oat mixture and then mix thoroughly.

Once mixed, transfer to an 8 x 8-inch baking dish or cookie sheet lined with parchment or plastic wrap so they lift out easily.

Press down firmly until uniformly flattened. Use something flat, like a wine bottle, to press down firmly and really pack the bars. This helps them hold together better. If you double the recipe, it just fits into a cookie sheet with edges beautifully!

Cover with parchment or plastic wrap, and let firm up in fridge or freezer for 15–20 minutes.

Remove bars from pan and chop into bars.

Store in an airtight container for up to a few days. I keep mine in the freezer to keep them extra-fresh and ready-to-grab for hikes, but it isn't necessary.
---

High-Carb Peanut Butter Energy Bar Recipe
Shared by Kyle Branin
Ingredients:
1 cup peanut butter
1 cup Karo syrup
1 cup sugar
6-8 cups breakfast cereal such as Cheerios, granola, or a protein cereal.
Instructions:
Mix first 3 ingredients over medium heat until sugar is dissolved. Pour over cereal and mix well, then press into a cake or sheet pan and let set. You want to use enough cereal that once cooler the bars will hold together and not be too sticky or soft. Cut into bars and pack in sandwich bags or plastic wrap.
Experiment with different nut butters, sugars, cereals, and syrups. Mix in all sorts of nuts, dried fruit; even protein powder. Delicious and customizable.
---

Low-Carb Nuts & Seeds Energy Bar Recipe
Shared by April Miller
I eat low-carb to control my blood sugar, so I make my own snack bars. It's the only way to control the ingredients. Flavoring is whatever I feel like at the time. Results are variable, some bars are more crumbly than others, but they taste just fine if I pour them out of the bag into my mouth.
Ingredients:
1¼ cup nuts and seeds (flax, pumpkin, sunflower, almond, hazelnut, walnuts, chia, sesame, etc.)
½ medium apple (fresh = softer bar, dehydrated = crispier bar)
Flavoring or extract of choice (apple, cherry, banana, hazelnut, almond, etc.)
Spices of choice (cinnamon, nutmeg, ginger, etc.)
Sweetener to taste
Enough egg white to bind it together
Add-ins as desired: chocolate chips are good with cherry flavoring, diced dehydrated fruit, dehydrated olives, rosemary, and parmesan cheese.
Instructions:
Mix in food processor, flatten on baking sheet with parchment paper, score bars, bake for 25-30 minutes at 320°F to 350°F (160°C to 175°C). Flip and bake longer as needed. Cool in oven to help with crispness.
---

Banana-Granola Energy Bars / Trail Cookies
Shared by Bill D.
These dehydrated trail cookies can also be shaped into energy bars.
Servings: 12
Ingredients:
2 cups Quaker Oats Simply Granola Cereal
2 large bananas
1 tsp. cinnamon
1 tsp. water
Instructions:
Using a food processor, grind the cereal coarsely to a crumb-like consistency. Pour into a mixing bowl and set aside.
Next, put the peeled bananas, cinnamon, and water into the food processor and blend into a slurry. Pour this mixture into the bowl with the cereal, and mix well using a spatula. The cereal soaks up moisture so add water as needed to keep the mixture moist and pliable.
Scoop out rounded portions of the mixture using a teaspoon, and evenly place them on a silicone sheet or pre-cut parchment paper for your dehydrator. Using the back of the spoon or the spatula, flatten out each portion into the shape of a cookie approximately ¼" thick.
You may have to dip your spoon or spatula into a cup of warm water to prevent the mixture from sticking while forming the cookies.
Dehydration:

Dehydrate the cookies at 135°F (57°C) for approximately 8-10 hours.
For chewier cookies, dry for less time. For crisper cookies, dry longer.
About halfway through the dehydrating process flip the cookies over and remove the silicone sheet or parchment paper. Continue to dehydrate on the mesh tray until done.
When finished, store the cookies in a zip lock bag in the freezer or the pantry. Each batch makes about a dozen cookies.
Variation: An alternate drying method is to take the entire mixture and spread it out on the sheet to the desired thickness. When finished cut it into bars using a pizza cutter.
---

Apple Jerky Energy Bar Recipe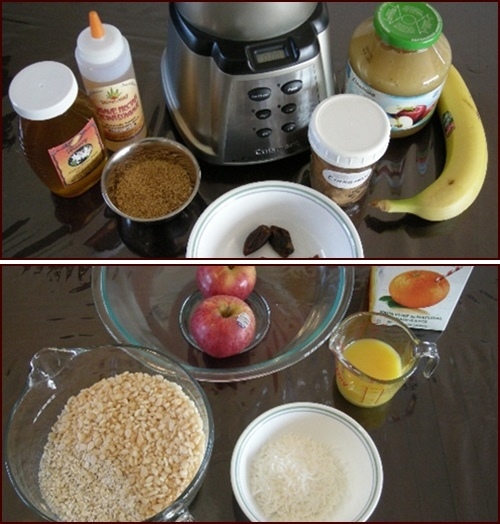 Shared by Al Rutherford
Ingredients:
1 jar apple sauce 28 oz. (796 ml)
1 banana
6 dates, chopped
⅓ cup flax seeds (79 ml)
2 Tbsp. honey (30 ml)
1 Tbsp. agave nectar (15 ml)
1 Tbsp. cinnamon (15 ml)
½ cup orange juice (118 ml)
2 apples, shredded
1 cup rolled oats, uncooked (236 ml)
½ cup shredded coconut (118 ml)
3 cups Rice Krispies cereal (708 ml)
Instructions:
Add apple sauce, chopped dates and bananas, flax seeds, honey, agave nectar, and cinnamon to blender. Let this sit to soften up the dates while you get the other things ready.
Peel, core and shred apples. Combine with orange juice in a large mixing bowl. Mix it around a bit to keep the apples from turning brown. Add oatmeal, coconut and Rice Krispies to the mixing bowl and stir.
Turn the blender on for about two minutes or until everything is well blended.
Dump blender contents into mixing bowl and mix well.
Pour mixture into a large bag or jerky gun. If using a bag, cut a ½ inch hole in one corner.
Top photo shows mixture being applied by squeezing it through a hole in the corner of a bag. Bottom photo shows mixture being applied with a jerky gun.
Dehydration:

Cover dehydrator trays with Excalibur Paraflexx sheets or parchment paper. Make lines of apple jerky on trays. Should make three trays if using an Excalibur Dehydrator.
Dry at 135°F (57°C) for about nine hours. At five hours, take off the paraflexx sheets and continue drying. Will dry similar to fruit leather.
Let cool and cut strips in two or three pieces.
Explore More Trail Snack Recipes
Save on Recipes for Adventure Books

Do you have an energy bar recipe to share? Use the form below to send it to Chef Glenn.
Share this page with friends on social media.