Outback Oven
This Outback Oven review and the recipes were shared by Shelley Lauzon of Ontario, Canada. She prepares delicious meals and baked goods on canoe camping trips with her husband Claude.

Thank you, Shelley, for sharing your review and recipes. –Chef Glenn
Shelley's Outback Oven Recipes on this page:
Irish Soda Bread, Pumpkin Muffins, Berry Good Chocolate Cake, Apple Cobbler and Cheddar Broccoli Tart.
Imagine baking a cake or pizza at your campsite after paddling through Barron Canyon inside Canada's Algonquin Provincial Park. Almost anything you can bake in your oven at home can be baked with an Outback Oven including sheppard's pie, quiche, brownies, cobbler, dinner rolls and muffins.

My advice is to practice with easy or boxed mixes and then work your way up to homemade recipes. If the recipe calls for eggs, use egg powder. If it calls for milk, use powdered milk. Add enough water to cover what the egg powder calls for and what you would need for the milk. Silicone muffin cups work well when baking muffins.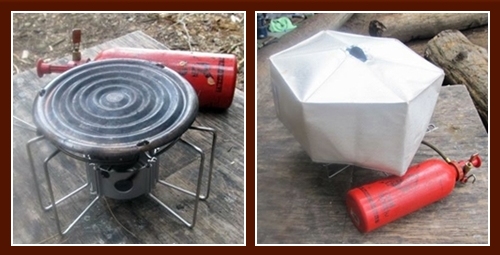 Above: Scorch Buster shown on left, Pot Parka shown on right.

A few things to keep in mind when using an Outback Oven...

Always use the riser and scorch buster or, as the name says, you will have a scorched dinner. A backpacking stove that can simmer works best so that you don't go into the burn setting on the thermometer. It takes a lot more fiddling to maintain the proper temperature if you use a stove that does not simmer.

The thermometer, which screws into the lid of the pan, has three settings – Warm-up, Bake and Burn. It takes 5-10 minutes to pass the warm-up setting and reach the optimal baking temperature setting around the "e" in Bake. If a recipe says bake for 20 minutes, start timing when the thermometer reaches Bake. If the thermometer reaches Burn, remove the parka to cool down the pan and then lower the heat. If meal is not complete, replace parka and continue to bake.

Pizza is ready to eat in 25-30 minutes.

I am a canoeist, so the size and 26-ounce weight of the Outback Oven is a non-issue. We take it along on all our camping trips because of the wide variety of delicious meals and sides we can prepare with it. The pan doubles as a frying pan and the parka can be put over pots to keep dinner warm, so it's a versatile piece of camp cooking gear.

The 10" Outback Oven is a good size for camping. It is also available in a smaller, lighter-weight size.
View Outback Oven reviews and pricing at Amazon.com
---
Shelley's Outback Oven Recipes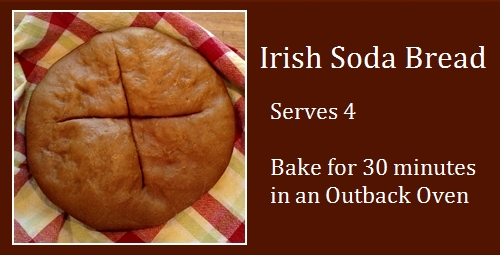 Irish Soda Bread

Servings: 4

Ingredients:

2 cups flour
1 tsp baking soda
½ tsp salt
2 ½ Tbsp buttermilk powder
1 cup warm water
Oil or butter to grease pan
Small amount of flour for surface to knead on

At Home:

Pack flour, baking soda, salt and buttermilk powder in a ziploc bag. Pack oil or butter for greasing pan in a leak proof container.  Pack a small amount of flour in another ziploc bag.

On the Trail:

Mix dry ingredients with warm water in a pot and beat together. Pour dough mixture onto a lightly floured surface (I use bottom of canoe) and knead for 10 to 12 minutes.  Place dough in greased pan (I used the lid to my 8 inch fry pan). Press down until resembles a large disk. Use a sharp knife and slit an X on top. Place lid on and bake for 30 minutes in outback oven following oven instructions. Serve with butter or jam.

---
Pumpkin Muffins

Serves: 2

Pumpkin muffins made with pumpkin leather

Ingredients:

¼ cup Pumpkin Leather, enough to reconstitute to 4 Tbsp
2 Tbsp Brown Sugar
6 Tbsp Flour
½ tsp Baking Powder
2 tsp Powdered Milk

At Home:

Pack all dry ingredients in ziplock and pumpkin leather in another bag.

On the Trail:

Add water to leather to reconstitute and add this to dry ingredients along with two tablespoons water. Pour into single serving silicone muffin cups and bake for approximately 15 minutes or until centers are done.

Suggestions:

Make the pumpkin leather on this site as it has the spices and maple syrup all ready in the leather.


Above: Pumpkin Muffins on left, Berry Good Chocolate Cake on right.

---
Berry Good Chocolate Cake

Serves: 4-6

A dark and rich chocolate cake that is easy to make in camp. Eat as is or top with favorite topping. In photo cake is topped with berry leather that was reconstituted. Instant pudding made with powered milk is another yummy choice.
 
Ingredients:

½ cup Flour
½ cup Sugar
¼ cup Cocoa
4 Tbsp Powdered Whole Egg (type for baking with)
2 Tbsp Powdered Milk
¼ cup Chocolate Chips
⅔ cup Water
⅓ cup Oil
1 tsp Vanilla Extract
¼ cup Berry Leather
At Home:

In baggie mix flour, sugar, cocoa, powdered egg, powdered milk and chocolate chips. Pack fruit leather in separate bag.

Pack oil and vanilla in leak-proof containers.
 
On the Trail:

Add oil, water and vanilla to dry mixture and mix well.

Pour into 8-inch baking pan (lid from pot set) or use pot if needed.

Bake in Outback Oven approximately 25 minutes or until center is done.

Suggestions:

I topped this with berry leather which is berries and sugar (to taste) cooked on the stove until pie filling consistency. It is then dried on dehydrator. Any favorite topping would work. It reconstitutes quickly with a few tablespoons of water on the trail.

---
Apple Cobbler

Serves: 4

Ingredients:

4 cups Apples
1 cup Self-Rising Flour
1 cup Sugar
1 Tbsp Whole Egg Powder (the kind for baking with only)
⅓ cup Oil
1 tsp Cinnamon

At Home:
Cut and slice apples and sprinkle with lemon juice so they don't turn brown. Dehydrate apples.

Make self rising flour by combining 1 cup of all purpose flour, ½ teaspoon salt and 1½ teaspoons baking powder.

Combine self rising flour, sugar and whole egg powder in a ziploc bag. Put cinnamon and dehydrated apples into separate ziplock bags. Pack oil in a leak proof container.

On the Trail:

Cover dried apples with water and rehydrate for about ten minutes

Spread apples on bottom of pan for Outback Oven.

Add 3 tablespoons of water to flour/sugar/egg mixture and then sprinkle over apples. Drizzle oil over top of mixture and sprinkle with cinnamon.

Bake in Outback Oven for approximately 30 minutes.
---
Cheddar Broccoli Tart
Serves: 4-6
Ingredients:
Package of just add water pie crust
2/3 Cup Powdered Milk
8 Tbsp Powdered Egg Mixture (The kind for eating, not the whole-egg mixture for baking)
½ tsp Dried Basil
1 pkg Frozen Broccoli, dehydrated
1 pkg Knorr Cream of Leek Soup
Block of Cheddar Cheese (1 ½ cups grated)
At Home:
Pack filling ingredients in a ziplock bag: Powdered Milk, Powdered Eggs, Dried Basil.
Pack separately Dehydrated Broccoli, Cream of Leek Soup mix, Package of Pie Crust Mix, block of cheddar cheese (1 ½ cups grated).
On the Trail:
Make pie crust and press into 10" frypan.
Add water to broccoli to rehydrate. (1:1 ratio)
Combine filling ingredients along with leek soup mix with 2 cups of water and whisk well with fork. Add rehydrated broccoli and grated cheese. Mix well and pour into pie shell.
Bake in Outback Oven 30 to 35 minutes or until a knife inserted in the center comes out clean. Let stand for 10 minutes before serving. Baking times may differ.
Additional Comments or Suggestions:
Cream of Broccoli Soup can be substituted for Cream of Leek Soup. Add dried chives and bacon bits for extra flavor.
---



Shelley Lauzon is an avid canoeist who has the good fortunate of living in Ontario, Canada with its many lakes and rivers.

She enjoys short and extended canoe trips with her husband Claude in Canada's many Provincial Parks and in the Adirondacks of New York State.

She takes full advantage of Canada's free Crown camping.


Continue Reading...
Chef Glenn's Backpacking Cookware or Backpacking Stoves.
View Outback Oven reviews and pricing at Amazon.com