Hello,



Last month I said I was going to carve a pumpkin into soup. Juckers Farmart, situated on the hill overlooking the Lake of Pfäffikon and a pleasant two-mile walk from our flat, had signs indicating which pumpkins were good for soup. The common Jack-O with the toothy grin, who lights your entry on Halloween night, is not meant for soup. He was bred for his tall fibrous walls and hollow belly. Toss him in the compost come November.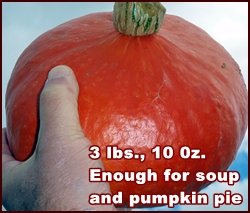 Eatin' pumpkins are squat and dense. They put up a fight, so use a stout knife with a blade that doesn't wobble. Cut off the top and bottom and scoop out the stringy mess and seeds. I cut the bottom off so the pumpkin would sit still while I reduced him to smaller chunks with the large knife. Remove the outer orange skin with a carrot peeler and finish cutting the pumpkin into cubes with a smaller serrated knife.
I made two pots of soup – one using Dominique's recipe with butter and cream and a batch without dairy that I dehydrated.
Pumpkin Soup Recipe for Home Use
Serves 3 – 4
Ingredients:
1 – 1¼ pounds cubed pumpkin
4 Tbsp butter
1 small to medium onion, finely chopped
2 cloves garlic, finely minced
½ bouillon cube
½ tsp salt
1 cup half and half cream
1½ cups water
Cooking Instructions:
In a large pan or pot, cook garlic and onions in butter at low to medium heat for a couple of minutes. You don't want to brown the butter.
Add the cubed pumpkin and stir to coat with the butter. Add about a third of the water and the bouillon and salt and stir until the bouillon dissolves.
Add the rest of the water, cover pot and turn up the heat until it reaches a boil for a couple of minutes.
Reduce heat to low and simmer for 30 – 40 minutes until pumpkin is soft and mashable.
Hand mash with a potato masher. Add cream and mash some more until smooth. Simmer on low a few more minutes and serve.
I served this for dinner with Dominique and Cedric and we all loved it.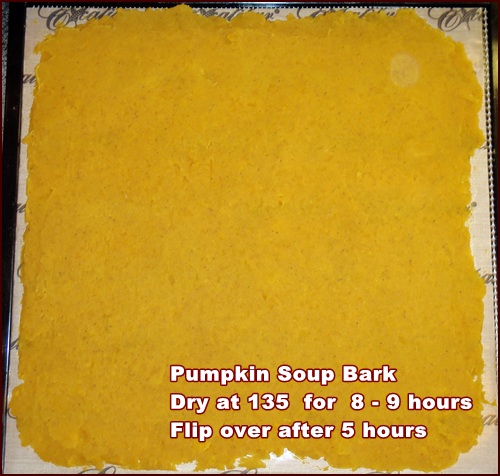 Pumpkin Soup Recipe for Dehydration
I don't include dairy in dehydrated foods because it reduces the shelf life and it could spoil, so I was curious how the pumpkin soup would taste when prepared without butter and cream.
I made it the same way, except I used one tablespoon of olive oil instead of butter. I could have gotten by with two teaspoons. Coconut oil would also be a good choice. I omitted the cream.
The potato masher produced a sufficiently creamy texture, so I did not have to dirty the blender.
I spread the mixture on two Excalibur Dehydrator trays and dried it for a little over eight hours at 135°. I flipped it over after five hours. The dried pumpkin soup bark yielded 2½ cups.

Rehydration
Combine one cup pumpkin soup bark with two cups water to make soup. Heat and stir until bark dissolves.
To make mashed pumpkin, combine one cup pumpkin soup bark with one cup boiling water. As with potato bark, you have to stir it vigorously and allow a few minutes for the bark to dissolve.
I served the soup and the mashed pumpkin to Dominique and Cedric the following day for lunch and they thought it was great. We didn't miss the cream at all. The mashed pumpkin tasted a little like squash casserole with a mashed potato texture. Sehr gut!
Pumpkin Pie Pudding for Dessert
I've always made pumpkin pie bark with canned pumpkin, but I discovered it's great with fresh pumpkin, too.
Ingredients:
1 pound cubed pumpkin
½ cup apple juice
½ cup water
¼ tsp salt
2 tsp pumpkin pie spice
¼ cup maple syrup
Boil pumpkin in apple juice and water with salt and spices until soft enough to mash. Stir in maple syrup and mash until smooth. Spread on dehydrator tray and dry at 135° for approximately eight hours.
Pumpkin pie bark tastes great dry as a chip or can be turned back into pumpkin pie pudding with an equal quantity of hot water. A single serving is ½ cup, but you can easily eat one cup if you're hungry.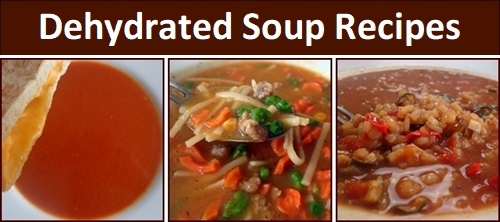 See the full collection: Dehydrated Soup Recipes

If you received this newsletter from a friend and would like to subscribe (it's free), subscribe here.

Visit my BackpackingChef Facebook page for the lastest posts. Be sure to "follow" the page to continue seeing posts.

If you have any questions or comments about this issue of Trail Bytes, please reply to this email or use the contact form at BackpackingChef.com.