Subscribe to
Trail Bytes
and Get a
Free 50-Page E-book!
Receive Home & Trail: An Introduction to Drying Food, with your subscription to Trail Bytes. The book has valuable tips about drying food, plus some of my favorite recipes for dehydrated meals, desserts and snacks.
Start drying your own food and meals today! Subscribe below. It's free.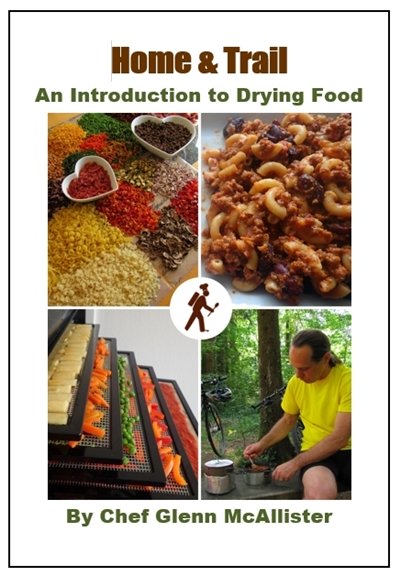 Yes, please send me
Home & Trail: An Introduction to Drying Food.
In addition to the free e-book, I will also receive Trail Bytes, Chef Glenn's monthly newsletter with exclusive backpacking recipes and dehydrating tips. Subscribe. It's free.

You will receive an e-mail asking you to confirm your subscription. After you confirm, you will receive a welcome message with a link to download the book.

---
Recent Issues of Trail Bytes





Cheesy Grits Tortilla Bowl

with Raspberry Roll-up.

Easy cook, easy clean.

"Thank you always Chef Glenn for your recipes! I think you are doing very well. Happy New Year." -Jeff





Dehydrating Butternut Squash

Dehydrating Food from A - Z

Merry Christmas!

"I so enjoy your monthly emails.  Best wishes for the holidays and the coming year." -Wendy







Dehydrating Sweet Potatoes

Sweet Potato & Carrot Soup

Sweet Potato Bark

Sweet Potato Pudding

"Just wanted to let you know I really like and appreciate all your recipes." -Milo





Dehydrating Bananas and Banana Fruit Leather

New Banana Pudding Recipes

"I can't wait to try the banana split pudding!" -Liz

| | |
| --- | --- |
| | Dehydrating Baked Pumpkin Spice Apples |
"Thank you for this! You have great ideas and recipes. I like to put lemon juice and spices in a big bowl and stir the raw apple slices around in that before dehydrating them until they are crisp enough to snap. Wonderful apple chips!" -Scott

| | |
| --- | --- |
| | Country-Style Grits & Sausage |
"Thanks so much for your wonderful website and books. I have been subscribing to your newsletter for years, and every month it is a joy to see what gems you are sharing with your followers! Gute Gesundheit to you and Dominique!" -Stella




Yellow Mung Dal Recipe

Dehydrating Peaches: Peach Granola Clusters, Hot Peach Crumble, Peach Perfect Trail Mix

Introduction to Drying Food Zoom Presentation

"Chef - thanks again for all your work and sharing information. I am continually amazed with what you develop. We recently had the Hawaiian Shrimp Rice and Pineapple meal from your book. Very pleased with the end product and really easy even just using a jet boil. Peaches and tomatoes are plentiful right now so thanks for covering those topics." -Ron




Dehydrating Tomatoes, How to Make Tomato Powder

Tuna Pasta San Marzano Recipe

"Hi Chef Glenn!  Thanks so much for your page. I ordered one of your books because I have been getting your newsletters for like five years!" -Lara

| | |
| --- | --- |
| | How to Dehydate Tofu |
"Dude!  Thank you SO MUCH for exploring tofu and telling us all how to do it.  I really appreciate it!" -Kirstin





How to Make Instant Mashed Potato Powder

Gluten-free Alternatives to using breadcrumbs to prep ground beef

"Thanks for another great newsletter. I have happily used your ground beef dehydrating tips for a few years now. And, my stash of dehydrated foods has been a nice back up plan in this pandemic period, if our food access becomes interrupted. I continue to be grateful for all that I have learned about dehydrating from you - for hiking and for global pandemics!" -Abra





3 Free Resources for Dehydrating Food

New Recipe: Cream of Cauliflower Soup

"This is the best email I've received in a long time regarding backpacking food ideas." -Marie
| | |
| --- | --- |
| | Barley Risotto with Peas & Mushrooms |
"Thank You! Another great newsletter from you." -Steinar




Celebrating our 100th Newsletter!

Beef & Barley Stew & Soup

"Your e-mails are a happy event in our in box.  I really appreciate all the work you put into them.  Happy Trails!" -Cathy
---
---