Subscribe to
Trail Bytes
and Get a
Free 50-Page E-book!
I'll send you my e-book, Home & Trail: An Introduction to Drying Food, with your subscription to Trail Bytes. The book has valuable tips about food dehydration, plus some of my favorite recipes for dehydrated meals, desserts and snacks.
Start drying your own food and meals today! Subscribe below. It's free.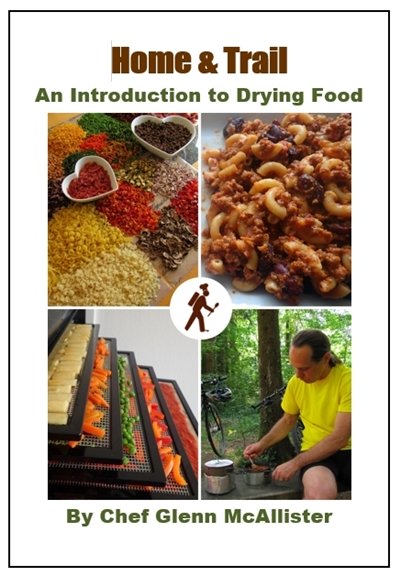 Yes, please send me
Home & Trail: An Introduction to Drying Food.
In addition to the free e-book, I will also send you Trail Bytes, my monthly newsletter with exclusive backpacking recipes and dehydrating tips. Subscribe. It's free.

You will receive an e-mail asking you to confirm your subscription. After you confirm, you will receive a welcome message with a link to download the book.

---
"This guide looks awesome, Glenn! Thanks so much. I regularly share your newsletters with my hiking friends who do not yet know about you, and I encourage them to get your books and newsletter." - Abra B.

---
Recent Issues of Trail Bytes

| | |
| --- | --- |
| | Barley Risotto with Peas & Mushrooms |

Celebrating our 100th Newsletter!

Beef & Barley Stew & Soup

| | |
| --- | --- |
| | How to Turn Dehydrated Meals into Soup. |
| | |
| --- | --- |
| | How to make and pack fruit leather... so it doesn't stick to itself. |
| | |
| --- | --- |
| | How to Make Cheese Sauce |
| | |
| --- | --- |
| | Shrimp Cocktail Tortillas |
| | |
| --- | --- |
| | Strawberry-Banana Shakes, Fruit Leathers and Powders |
| | |
| --- | --- |
| | Tips for Dehydrating Stew Meat |
| | |
| --- | --- |
| | How Long Will Dried Foods Last |
| | |
| --- | --- |
| | Bean Bark Stew |
---
---
Notes from Subscribers:

"Home and Trail is an excellent primer and serves as a wonderful summary to your other work. Thank you so much for sending it to us." -Barbara

"Thanks for the latest Trail Bytes. Always something new and worth trying." –Pops

"This sounds awesome Chef Glenn. Thank you so much for sharing. We love your recipes!" -Melanie

"Thank You! Another great newsletter from you." -Steinar
"This is the best email I've received in a long time regarding backpacking food ideas." -Marie

---