Hello,



We boarded the Cumberland Queen at the dock in St. Marys, Georgia for the 45-minute ferry to Cumberland Island via the tidal marshes of the St. Marys River and Intracoastal Waterway. Most of the passengers were going over for the day to see wild horses, armadillos and pileated woodpeckers who could be spotted by their gorgeous red heads.

The Cumberland Queen ferry docking at Sea Camp Ranger Station.
Some visitors would take the van tour up the sandy main road to the north end of the island to visit historic Plum Orchard Mansion, The First African Baptist Church, and the remains of a plantation and African-American settlement. Others would go by foot along trails cut through the dense saw palmetto understory below live oaks clad with Spanish moss.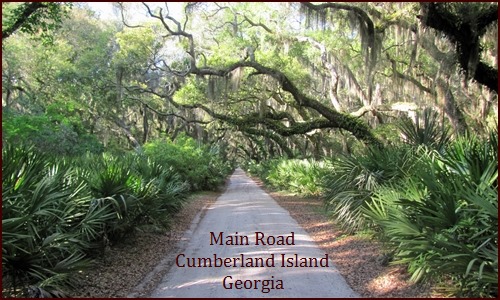 The sandy main road was a challange to ride our rented bicycles on in some places. Most of the way looked just like this.
A short walk from the landing dock to the south end of the island takes you to the ruins of a mansion built by the widow of a Revolutionary War hero and later reconstructed by the Carnegie family. Strolling eastward across the narrow island, you cross over dunes via the boardwalk to the Atlantic Ocean. No visit to Cumberland Island is complete without letting the salt water wash over your toes, or better yet your whole body. It was low tide when I ventured in, but I managed to float in the gentle surf with my hands touching the sandy bottom. Such is Cumberland Island, a peaceful oasis of nature and history waiting to be explored at an unhurried pace.
Some passengers disembarked with numerous coolers and enough camping gear to start their own settlement. Fortunately for them, there were carts at Sea Camp Ranger Station to help haul the loads. Dominique, Cédric and I camped backpacking style, so only our camp chairs didn't fit into our backpacks. It was an easy half-mile walk to our campsite after the introductory presentation by a Forest Service Ranger.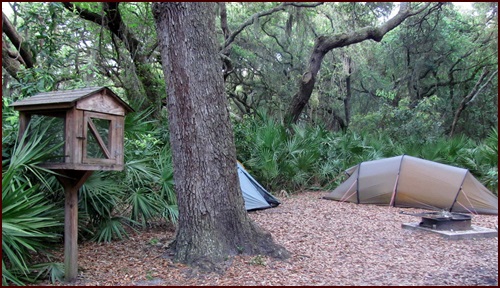 Our campsite with raccoon resistant food storage box.
The main purpose of the Ranger talk is to inform you about the island's notorious, food-stealing raccoons. On a previous trip, my friends put a cooler under a picnic table bench before we went to sleep so that the lid could not be raised. We had seen the eyes of raccoons reflected in the glow of our fire waiting in the saw palmetto for us to go to bed. During the night, a raccoon managed to get a hand in the cooler and extract a sticky bun. A noisy battle over that sticky bun ensued amongst the raccoons. On this trip, our food for two days fit into a small bag which we stowed in the food storage box at our site. We saw only one raccoon, and he walked away disappointed.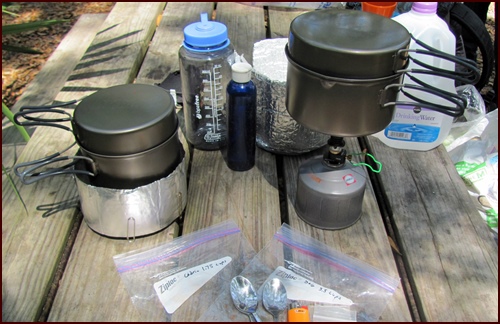 900 ml pot on left over tea light alcohol stove, 1300 ml pot on right over canister stove.
It only took a few rounds in my dehydrator to prepare our meals for the trip. Dominique put in her order for Chili, Unstuffed Peppers, Saffron Risotto with Mushrooms, and Pea Bark Stew. I considered three different ways I might prepare lunch and dinner for three at our campsite. One way would have been to boil water and add it to the dried food in separate containers. This would have pushed my 1300 ml pot to the limit but it would have worked. Another way would have been to cook all three servings in one pot. A 1900 ml pot would have been necessary since our meals required around 1100 ml water (4.5 to 5 cups) plus the food. The largest pot I had was 1300 ml so I ended up cooking our meals with my 900 ml and 1300 ml pots. I packed Cédric's meals in a separate bag and cooked them in the 900 ml pot over a tea light alcohol stove. I combined Dominique's and my meals in one bag and cooked them together in the 1300 ml pot over a canister stove. We ate right out of the pot and used the fry pan lid a couple of times for Dominique's servings.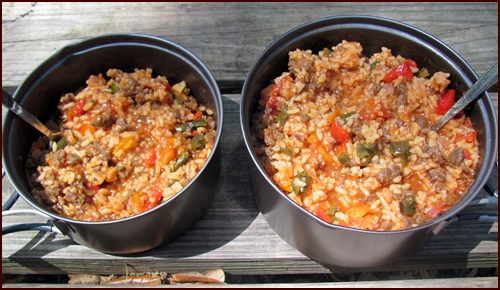 Cédric's meal on the left, Dominique's and my meal on the right.
For breakfast I was able to cook all three servings in the 1300 ml pot and use the 900 ml pot to boil water for coffee and hot chocolate. I added the dried fruit to the water and brought it to a boil before adding the oatmeal. I used one-minute oats with a little sugar and cinnamon. Cédric and Dominique ate their oatmeal out of the fry pan lids. We discovered that the powdered milk we used for hot chocolate and coffee needed to be mixed up in cool or warm water first. When added straight to boiled water it turned into rubbery clumps.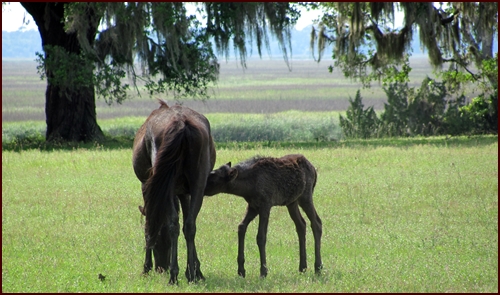 Wild horses with tidal grasses in the background.
Dominique and Cédric loved Cumberland Island. The campsites are well-spaced and surrounded by head-high saw palmetto which affords privacy from the other campers. The wandering limbs of live oak trees provide shade. We saw armadillos walking about during the day sticking their snouts into holes they were scratching into the sandy soil. We heard birds singing all day long up in the mossy canopy and many colorful species visited our campsite including a little blue bird who hopped around a tree by our table, several pileated woodpeckers and smaller woodpeckers, cardinals and hummingbirds to mention a few. We saw wild horses in the field by the mansion ruins and saw a mare with a new born colt when we rode our rented bicycles up the sandy road to Plumb Orchard Mansion. Cédric and I tossed a football on the beach, the American version of the sport he has taken back and shared with his buddies in Switzerland.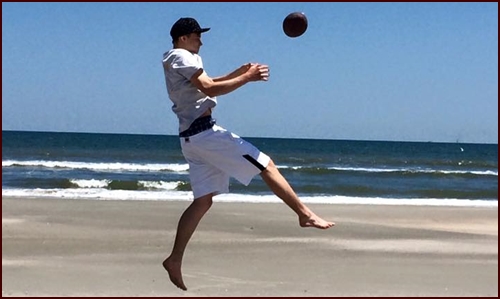 Cédric catching one of my passes.
Dominique and Cédric head back to Switzerland next week and I'll hang back a few more weeks so I can take a section hike on the Appalachian Trail. I plan on taking a Thermos Food Jar so I can precook my lunches in the morning and rehydrate dried fruit after lunch for late afternoon snacks. I'll let you know how it goes next month.
Best regards,

Chef Glenn & Dominique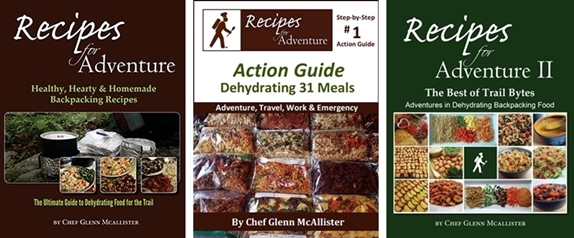 If you have any questions or comments about this issue of Trail Bytes, please reply to this email or use the contact form at BackpackingChef.com.

If you received this newsletter from a friend and would like to subscribe (it's free), click here.

Visit my Facebook page for the lastest posts.