Recipes for Adventure Order Page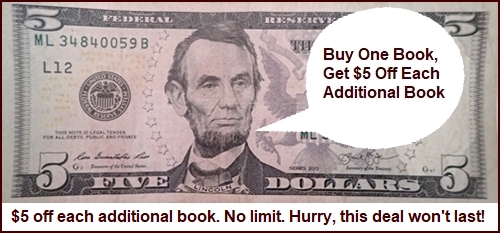 Use this order form to buy Chef Glenn's e-books and/or printed books. The more you buy, the more you save. See sale details below the order form.

---
Read more about what's inside Recipes for Adventure.

---
---
Read more about the Menu Planning & Foood Drying Workbook.

---
Read more about the Action Guide: Dehydrating 31 Meals.

---
Read more about 1001 Miles on the Appalachian Trail.

---
---
---
Sale Details:
Buy any one book at the regular listed price, and get $5 off each additional book purchased. The offer is valid whether you buy multiple copies of the same book, or different books. Discounts will be applied in the shopping cart when you're done ordering.
Examples: 2 books = $5 off, 3 books = $10 off, 4 books = $15 off, etc. The discount cuts off at twelve books. If you need more than that, simply place a second order.

E-books are available for immediate download after purchase.
Printed books generally ship within one week. A $4 shipping charge will be added to printed book orders shipped to addresses within the U.S.A. We cannot ship books outside the U.S.A.

For customers living outside the U.S.A., please use the links below to purchase the Printed books through Amazon:

Recipes for Adventure Print Edition (Paperback)
1001 Miles on the Appalachian Trail (Paperback)
The $5 savings offer is not valid on books ordered through Amazon.
Anyone, regardless of location, can use the order form on this page to purchase e-books for immediate download.
---